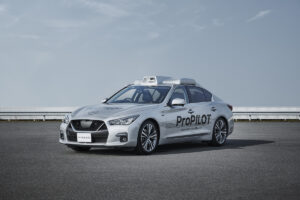 Nissan demonstrates lidar-based collision avoidance system, promises widespread use by 2030
By on
Announcements | Technology
Nissan this week demonstrated a next-generation driver assistance system that it says will use lidar, cameras and radar to dramatically increase its vehicles' ability to maneuver around moving obstacles at speeds of up to 80 mph.
The OEM said it intends to complete development of the technology by the mid-2020s, and to incorporate it into virtually every new model by fiscal 2030.
The "ground truth perception" technology, Nissan said in an announcement, fuses information from advanced driver assistance system (ADAS) cameras and sensors to compile highly accurate, real-time information about the environment surrounding the vehicle.
At a Nissan facility in Yokosuka, Japan, a ProPILOT Concept Zero test vehicle was used to demonstrate how the technology now under development can automatically perform collision-avoidance maneuvers. At speeds of up to 60 mph, the vehicle changed lanes to avoid a tire and a wooden pallet, and stopped in time to avoid striking a pedestrian mannequin and errant vehicles, with no human intervention.
Company officials said the new technology will be a key to the development of truly hands-free autonomous vehicle (AV) capabilities. Even with the Level 3 systems that Volvo, General Motors, Mercedes-Benz and other OEMs are promising to bring to market, a driver must be sitting behind the wheel and ready to take control.
"When we look at the future of autonomous driving, we believe that it is of utmost importance for owners to feel highly confident in the safety of their vehicle," said Takao Asami, senior vice president, leading global research and development. "We are confident that our in-development ground truth perception technology will make a significant contribution to owner confidence, reduced traffic accidents and autonomous driving in the future."
Nissan said the system can also detect slowed traffic and distant road obstacles, and can operate autonomously in areas where there are no digital maps available, a step beyond current technology. On the test track, the test vehicle made its way to a parking lot on a road that was not on the map.
Tetsuya Iijima, the general manager in charge of driver-assist technologies at Nissan, said in a recorded seminar that the next-generation lidar Nissan is developing with Luminar Technologies provides a range of up to 300 meters, with a field of view of 25 degrees, versus the 100-yard range and 10-degree view of current lidars.
This enables the vehicle to detect and avoid obstacles while traveling as fast as 80 mph, Iijima said through a translator. In addition to the lidar unit, the test vehicle relies on data from seven radars and 10 cameras.
Images
The ProPILOT test vehicle has a roof-mounted lidar unit, as well as seven radar sensors and 10 cameras. (Provided by Nissan)
Share This: