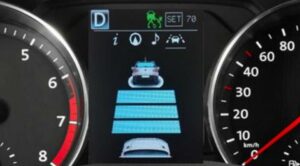 AAA study finds even after 6 months, drivers may not correctly use, understand ADAS
By on
Education | Technology
Owners of new vehicles equipped with driving assistance technology may understand it better after six months of use, but the depth of their knowledge is limited, according to findings from recent research by the AAA Foundation for Traffic Safety.
AAA found that the "'learn as you go' approach still leaves gaps in understanding when compared to another group of drivers who had a very strong grasp of the technology, partially due to a brief intensive hands-on training session."
Researchers also noted the "disturbing emergence of a small, overconfident" group of drivers who falsely believed their time behind the wheel gave them expertise with the system, a AAA news release about the research findings states.
"Our research finds that drivers who attempt the 'self-taught' approach to an advanced driver-assistance system might not fully master its entire capabilities," said David Yang, executive director of the AAA Foundation for Traffic Safety, in the release. "In contrast, drivers who have adequate training are able to effectively use the vehicle technology."
AAA recommends that researchers, automakers, and government agencies work together to better understand driver performance, behavior, and interactions in vehicles with advanced technologies.
Research conducted by the foundation in 2018 found that despite gaps in drivers' understanding of the technologies, at least two out of three owners of vehicles with forward collision warning (FCW), automatic emergency braking (AEB), lane departure warning (LDW), lane keeping assist (LKA), blind spot monitoring (BSM), rear cross-traffic alert (RCTA), and/or adaptive cruise control (ACC) said they trusted them and found them useful. At least seven out of 10 owners said they would want each of the ADAS features on their next car and that they would recommend it to others.
In 2020, AAA tested ACC, which assists with acceleration and braking to maintain a driver-selected gap to the car in front, with drivers who had varying levels of experience using the feature. In three cases, the feature didn't respond to the target object – a work zone, an offset lead vehicle, and a slow-moving motorcycle.
Because less is known about how a driver's grasp of new technology develops and changes over time, the foundation made that the focus of their latest research and again evaluated ACC – one of the most prevalent ADAS features. The foundation examined how the understanding and use of ACC changed throughout the first six months of ownership for new vehicle owners unfamiliar with it.
The study found:
Many drivers demonstrated an improved understanding of the ACC system's limitations;
Despite learning more about ACC through regular use, the drivers failed to achieve the same level of understanding when compared to another group of drivers that received short but extensive instruction on the system; and
A "potentially dangerous" subgroup of over-confident drivers emerged who failed to grasp ACC yet were highly self-assured in their knowledge. This finding is planned to be a future study by AAA.
Some of the gaps in understanding were: falsely believing that the system will react to stationary objects in their lanes, such as construction cones or other obstacles; that the ACC will provide steering input to keep the vehicle in its lane, and that it can operate in all weather conditions.
"This research suggests that today's sophisticated vehicle technology requires more than trial-and-error learning to master it," said Jake Nelson, AAA's director of traffic safety advocacy and research, in the release. "You can't fake it 'til you make it at highway speeds. New car owners must receive training that is safe, effective, and enjoyable before they hit the road."
AAA recommends that new vehicle owners follow its P.L.A.N. – Purpose, Limitations, Allow Time for Practice, and Never Rely On It:
Purpose – Learn the purpose of driving assistance technology by requesting hands-on training at the dealership, reading the vehicle's owner's manual, and visiting the manufacturer's website;
Limitations – Do not make any assumptions about what the technology can and cannot do. A driving assistance system should not be confused with a self-driving one;
Allow Time For Practice – Allow time for safe on-road practice so drivers know exactly how this technology works in real driving situations; and
Never Rely On It – Do not rely on this technology. Instead, act as if the vehicle does not have it with the driver always prepared to retake control if needed.
Thirty-nine experienced drivers between the ages of 25 and 65 participated in the study. Each of them purchased a vehicle equipped with ACC during the previous six weeks and had never previously owned a vehicle with ACC beforehand. Each driver was assessed at the start of the study and several times during the first six months, according to AAA. 
Thirty-seven participants responded weekly to a questionnaire over a span of six months that asked them to provide their odometer reading, the number of miles (if any) driven by someone else, the number of miles driven using ACC, and whether they encountered any situations where the car behaved in a way they did not understand. Two drivers were dropped from the study for not providing the weekly updates.
Twenty-seven drivers completed another simulated drive at the end of the six-month study period.
"There was a nominal increase in overall MMA [mental model assessment] scores between weeks one and 24 (approximately 6 percentage points on average), although the difference between the first and last test sessions was only marginally significant," the study states.
"Mental model" is used to describe drivers' understanding of new technology.
Participants were also presented with three scenarios and asked to describe how they believed the vehicle would respond. Each scenario required that they understand a potential limitation of the system, such as the example below.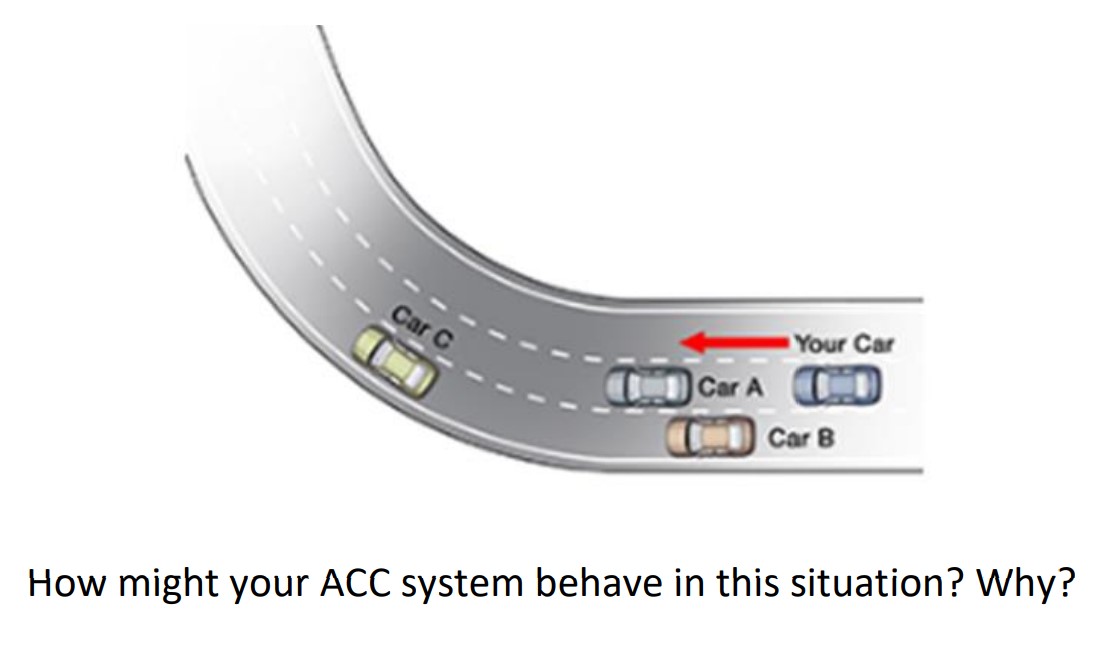 Participants were given credit for answers that incorporated some version of the following: "ACC may detect Car B as it goes around the curve because it is directly ahead of your vehicle," or "my car might lose track of Car A as it goes around the curve and depending on my set speed it may slow down or speed up."
Overall, eight questions dealt with ACC functionality and 15 with the limitations of the system.

"Over the 6-month window, participants in this study showed slight improvements in mental models, reflected by scores on the MMA," the study states. "When the MMA was decomposed into questions pertaining to functionality or limitations, it was clear that understanding of functionality was near ceiling for most of the participants throughout the exposure window and did not change over time. Understanding of system limitations, on the other hand, showed slight increases and seems to have driven the overall change in MMA scores. Confidence in responses on the MMA also increased over the 6-month window."
Other research has shown that some drivers aren't on board with ADAS quite yet. CCC Intelligent Solutions' 2021 Crash Course Midyear Report included results from a survey of 290 consumers about ADAS. Three in five consumers told CCC they purchased a vehicle with ADAS "to keep me and my family safe." Despite that, 54% said they believe that certain ADAS features can actually increase the chance of an accident.
About two-thirds of the drivers said they had the ability to disable some ADAS and 70% of them had done so.
"The reasons behind this vary, ranging from a belief that features were not working properly (41 percent), finding the noises/lights distracting (41 percent), or feeling the technology was not needed (30 percent)," the survey states. "The good news is that…only slightly more than one-third of drivers (38 percent) turn off features regularly."
Drivers ages 35-44 are more likely to regularly disable ADAS features than those both older and younger, according to the survey.
IMAGES
Featured image: Close Up of ACC Interface (Provided by AAA)
All images were taken from the AAA Foundation for Traffic Safety's study "An Examination of How LongerTerm Exposure and User Experiences
Affect Drivers' Mental Models of ADAS Technology." (Provided by AAA) 
Share This: