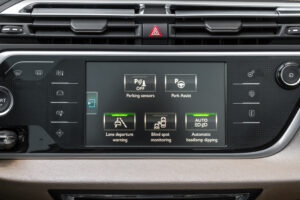 Erie Insurance, IIHS & diagnostics companies agree on importance of functioning vehicle safety features
By on
Collision Repair
A new analysis conducted by Erie Insurance and the Insurance Institute for Highway Safety (IIHS) found that if safety features had been left on that drivers said in 2020 they disabled because they're "annoying or distracting," around 25,000 crashes could've been avoided that year. This serves as a reminder for collision repairers of the importance of following OEM repair procedures for calibration, testing, and post-scans to return the features back to how they were when they left the factory.
A 2020 national survey conducted by Erie found that the largest percentage of respondents (30%) said they didn't use adaptive cruise control — a feature that keeps a vehicle a certain distance away from the car in front of it. And 17% had turned off automated emergency braking while 11% had forward collision warning off.
The new Erie and IIHS analysis found that automated emergency braking could've reduced front-to-rear crashes by 60%, or more than 16,000 instances; lane departure warning could've reduced single-vehicle, sideswipe, and head-on crashes by 14%, or nearly 8,000 instances, and blind spot monitoring could've reduced lane-change crashes by 15%, or about 1,000 instances.
The analysis also looked at the potential safety improvements that could be achieved if all cars had the safety features and left them turned on, according to an Erie news release. For example, if all cars had automated emergency braking and drivers left it on, crashes could be reduced by 750,000.
"We hope that seeing the huge benefits of these safety features will encourage drivers to use them, even if at first they don't like them," said Jon Bloom, Erie Insurance senior vice president of personal products, in a statement. "It's one thing to know intuitively that a certain feature makes driving safer, but it's another to see the impact in hard numbers. These safety features can help prevent thousands of crashes."
AirPro Diagnostics Senior Vice President of Automotive Technology Solutions Chuck Olsen told Repairer Driven News that while diagnostic trouble codes and data will identify most issues with safety and advanced driver assistance systems (ADAS) feature sensors, systems, and modules scan tools "cannot identify changes made to the vehicle by itself, such as changes in suspension or alignment, vehicle geometry or removing and re-installing a sensor, radar unit or camera."
When asked about fault data for the systems mentioned in the survey — including adaptive cruise control, lane keeping assist, driven attention monitor, lane departure warning, automated emergency braking, traffic sign recognition, forward collision warning, pedestrian detection, blind-spot monitoring, rear cross traffic alert, and backup camera — Repairify Global Marketing Communications Director John Wise said the company agrees with Erie's message.
"Leaving on those innovative safety features is the best way to take full advantage of them and reduce the chances of a crash during long car rides over the summer road-trip season," he said.
Repairify Vice President of Training and Development Chris Chesney said there are many situations where an incorrect repair won't set a fault code "until the vehicle is driven and the sensor or system gathers enough information or data to make the decision that something is out of calibration."
"It is typically not easy to point to a one-to-one cause-and-effect based on a single sensor," he said. "This is due to the complex nature of how the OEM fuses data from multiple sensors to make decisions on a single safety system."
For example, when an AEB system is repaired without following exact OEM specifications, the technician might assume it's triggered solely by the forward-facing radar and as such only calibrate that sensor, Chesney said.
"If the vehicle suffered frontal damage, there is a high possibility that the forward-facing camera – which many believe to be the sole input for the lane keep assist system – is often being read simultaneously with the forward-facing radar to provide a more robust data set for the system to make decisions regarding AEB. In this case, the camera may have shifted during the collision and may not be calibrated post repair. This could result in a code after being delivered to the customer or a system that does not react perfectly.
"The key lessons here are to read the service information for the exact vehicle you are repairing, do a pre-repair diagnostic scan (using an asTech or similar) and analyze the results using a third-party data tool (such as adasThink), so they can ensure a complete and proper repair without supplements or a return visit by the customer."
Other reasons respondents said they disabled the features were: to control the vehicles themselves, found the features to not be helpful, that they don't trust them, they send too many false alarms, and have had a bad experience with them.
"Every new feature in a car requires a bit of training to use," said Paul Atchley, a University of South Florida psychology professor who has been studying distracted driving for more than 20 years. "But when it comes to safety features, the data clearly show the time taken is well worth the effort. Even though I find the blind spot monitor in my new car overly protective, even one useful warning can be the difference between a safe lane change and a near crash."
CCC Intelligent Solutions' 2021 Crash Course report states the most popular ADAS features are rear camera and park assist. And less than 20% of all registered vehicles by the end of 2019 only offered "the most basic" ADAS features to support front crash prevention or warning, lane departure warning, and blind spot detection, according to the report.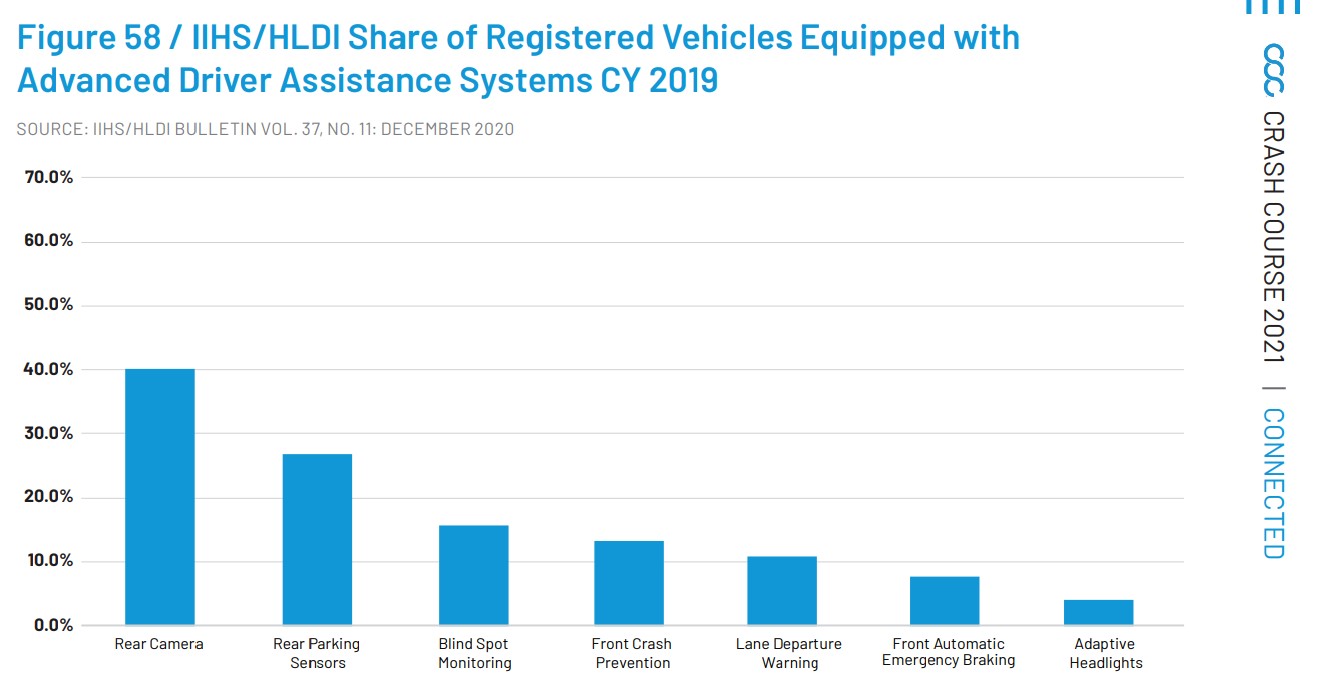 A study commissioned by CCC around the time that the Crash Course report was released found that more than 65% of drivers that operate a vehicle with ADAS features said they could disable them, and more than 70% said they have done so, "citing a belief the features were not working properly (41 percent), the noises/lights were distracting (41 percent), or that the technology was not needed (30 percent)."
A recent AAA study also found that while owners of new vehicles equipped with ADAS features may understand it better after six months of use, their depth of knowledge is limited.
OPUS IVS Business Development Vice President Bob Augustine told RDN that while there are "huge variances" in system reporting across OEMs and between models made by the same OEM, "it is an accepted truth that many motorists are disabling safety systems."
"When a scan tool is connected to a vehicle and requests are made (Diagnostic Trouble Codes, Data parameters, et cetera), the tool will display back what the ECU reports. Nothing more, nothing less. In other words, if the system has a bit for 'system disabled/deactivated' that would be in the data list. There is no requirement for this, nor any standards, so it will vary by year, make, and model."
And while no one in the collision repair industry usually views data logs when they conduct pre-scans of vehicles, "faults will absolutely be set during the repair process," Augustine added.
"When a component is disconnected it will generally set both circuit codes and network communication codes. This is the compelling reason for a post-scan, to make sure all systems are working properly and initialized, coded, programmed, plugged in, et cetera."
For example, a scan of Augustine's 2018 Acura TLX found a DTC in the left blind spot ECU.
IMAGES
Featured image credit: supergenijalac/iStock
"IIHS/HLDI Share of Registered Vehicles Equipped with Advanced Driver Assistance Systems CY 2019" (Provided by CCC Intelligent Solutions) 
Share This: