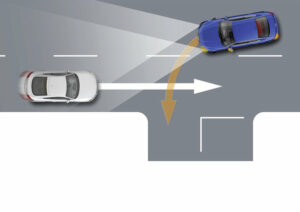 IIHS encourages adoption of new ADAS features designed to help motorists through intersections
By on
Insurance | Technology
Older drivers could especially benefit from advanced driver assistance system (ADAS) features designed to help motorists navigate intersections, according to a study released Thursday by the Insurance Institute for Highway Safety.
The study found that left-turn assist, a relatively new feature, and other technologies that are under development could address a third of the crashes that occur with drivers who are 70 years old and older.
The results of the study, called "Safety potential of crash avoidance features, improved headlights, and V2V-enhanced technologies for older drivers," should "spur efforts to roll these technologies out to consumers as rapidly as possible," Jessica Cicchino, IIHS vice president of research, said.
The research could be particularly meaningful as older drivers become more numerous on American roads, the institute said.
"The number of older drivers in the U.S. is growing rapidly because Americans are living longer and retaining their licenses later in life. That raises safety concerns, as drivers in their 70s and 80s are at a greater risk of certain types of crashes and more prone to severe injuries and fatalities than younger people," IIHS said.
IIHS's conclusions are based on its evaluation of federal crash data from 2016 to 2019. Researchers compared the types of crashes that are most common for older drivers and their middle-aged counterparts. They then estimated how many crashes could be addressed by five existing ADAS features, as well as two others not yet available that depend on vehicles being able to share information about their location, speed and intended path.
IIHS Research Associate Aimee Cox, the paper's author, wrote, "Despite their usefulness, commercially available crash avoidance features are still relatively uncommon in the registered vehicle fleet. Older drivers are also less likely than other age groups to have vehicles equipped with these features because they tend to drive older vehicles than the general population.
"The goal of this study was to understand how many crash involvements, driver injuries, and driver fatalities could be mitigated by these vehicle technologies for older drivers if all drivers used them and these technologies were completely effective," she wrote.
The institute said that "intersection-assistance features," which are newer and less well known than other ADAS features, were potentially relevant to 32% of older driver crash involvements, 38% of older driver injuries and 31% of older driver fatalities.
Middle-aged drivers, too, could benefit, as the features were potentially relevant to crashes involving more than 20% of that age group.
The study looked at a number of ADAS features that have become commonplace: brighter headlights and related improvements, front crash warning and prevention, lane keeping, and blind spot detection.
Left turn assist and other upcoming intersection-assistance features are probably less familiar, IIHS said. Left turn assist, which is currently offered on a limited number of vehicles, uses a camera and other sensors to warn the driver of oncoming vehicles when making a left turn.
Vehicle-to-vehicle (V2V) connectivity, which is "still on the horizon," would enable "similar, more sophisticated features," the institute said.
V2V promises to reduce collisions by allowing vehicles to communicate their positions, speed, and travel path with one another. A vehicle turning left would know the speed and trajectory of oncoming traffic, even over a hill or around an obstruction.
"Intersection movement assist" is another V2V technology under development. This would let vehicles warn drivers of possible collisions with others approaching a crossroads from multiple directions at various speeds and with different intentions.
The study concludes that "all drivers could benefit from crash avoidance features and improved headlights," and that some age groups might benefit more than others because they're overrepresented in the crash types that specific crash avoidance features are meant to address.
"More research is needed to better understand how age-related driver characteristics influence the efficacy of different vehicle safety features, but the evidence is already clear that these technologies have the potential to address thousands of crashes, driver injuries, and driver deaths every year," the paper concludes.
It suggests that "Widely available crash avoidance technologies should be promoted for and adopted by all drivers," and that OEMs should be encouraged to equip all new vehicles with technology to improve safety at intersections.
More information
Intersection assistance tech shows big promise for older drivers
https://www.iihs.org/news/detail/intersection-assistance-tech-shows-big-promise-for-older-drivers
GM patents see-through A-pillar; IIHS focuses on visibility issues in SUV crashes involving pedestrians
Images
Featured image: An illustration of Audi's intersection turn assistance feature. (Provided by Audi)
Share This: