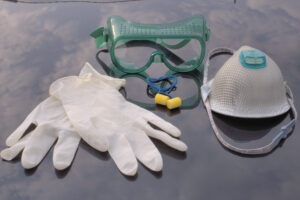 The recent citing of an Ohio-based auto parts manufacturer by the U.S. Department of Labor's Occupational Safety and Health Administration (OSHA) drives home the importance for collision shops to make sure they're following OSHA guidelines, that they have emergency plans in place, and that their employees are properly trained in how to carry them out.
OHSA has cited Woodbridge Englewood Inc., which does business as Hematite Inc., with one willful and nine serious safety violations and proposed penalties of $271,403 for exposing workers to fires and failing to train them on fire identification and the use of fire extinguishers. The violations were discovered during an investigation that was conducted by federal safety investigators after a local fire department informed them they had responded to 13 fires at the OEM between June 2020 and June 2022.
OSHA found the polyethylene material Hematite heats to create molten plastic for automotive parts is prone to catching fire in their ovens, according to an OSHA news release. "The material is easily ignited, even by static, and difficult to suppress or put out when a fire occurs. …Employees used portable fire extinguishers until they extinguished fires or until the fire sprinkler system activated."
"Our inspectors found Hematite's management preferred that workers combat fires with extinguishers, lessening repair costs and production time, rather than allowing sprinklers to activate," said OSHA Area Director Ken Montgomery in a statement. "This practice endangered workers. The company must immediately review its emergency action plans and the process for storing and handling flammable materials. Incorporating training and protective measures will help minimize fires and protect workers on the job."
The Sept. 1 Citation and Notification of Penalty document states there is nothing in the ovens to prevent the polyethylene sheets from making contact with the heating elements. During its inspections, OSHA witnessed three fires and during each, employees had to manually remove the molten polyethylene without being informed of proper PPE to wear during the extraction. OSHA says excess temperature limit interlocks should be installed to prevent fire and, under National Fire Protection Agency (NPFA) standards, Hematite is to have a safety shutdown process of the oven in place. OSHA also says the manufacturer should discontinue the use of flammable or combustible material.
Investigators also found that locked doors obstructed emergency exit routes at the factory. Hematite has 15 business days from receipt of its citations and penalties to comply, request an informal conference with each of OSHA's area directors, or contest the findings before the independent Occupational Safety and Health Review Commission.
In response to questions from Repairer Driven News, Woodbridge spokesperson Eric Turmel said, "At Woodbridge, maintaining a safe work environment for our teammates is our number one priority. Since acquiring Hematite from bankruptcy in 2021, we have been actively implementing numerous safety measures in the facilities to align with Woodbridge's world-class health and safety programs. While any fire event is unacceptable, we are continually working with OSHA and local fire officials to ensure we have protective measures in place to assure a safe work environment for our teammates on the job."
OSHA's guidance on the implementation of emergency action plans (EAP) states that drafting an EAP isn't enough because if there's an evacuation, "you will need responsible, trained individuals who can supervise and coordinate activities to ensure a safe and successful evacuation."
"It is essential that the emergency action plan developed be site specific with respect to emergency conditions evaluated, evacuation policies and procedures, emergency reporting mechanisms, and alarm systems," OSHA states on its website. "…The best emergency action plans include employees in the planning process, specify what employees should do during an emergency, and ensure that employees receive proper training for emergencies."
OSHA provides these general guidelines for employers to follow when training their employees on EAPs:
Individual roles and responsibilities;
Threats, hazards, and protective actions;
Notification, warning, and communications procedures;
Means for locating family members in an emergency;
Emergency response procedures;
Evacuation, shelter, and accountability procedures;
Location and use of common emergency equipment; and
Emergency equipment shutdown procedures.
KPA also provides some useful tips on PPE and hazard communication as well as the types of fire extinguishers to have on hand.
Here, you'll find an assessment that will help you determine what PPE you should have in your shops. A Repairer Driven Education (RDE) presentation delivered by members of the 3M Personal Safety Division at the 2021 SEMA Show also covers OSHA laws regarding PPE and other steps to ensure worker safety. The presentation is one of several sessions that can be accessed on the online RDE platform.
As for hazards in the shop, KPA provides a great deal of information here on how to lay out a Hazard Communication Program including three questions to get started: Does the program reflect the current hazards of your workplace? Are the program manager and other key roles assigned and working effectively? Are procedures adequate to maintain the program?
When it comes to being prepared for fires, shop owners should be aware that not every fire extinguisher will put out every fire — some combustible materials require a certain class of fire extinguisher, so knowing which ones you'll need on hand is essential, according to KPA. For example, shops likely need to be prepared for Class A-D fires, which involve paper, plastic, rags, and wood; oil, grease, gasoline, and paint; electrical items such as motors, heaters, and office machines, as well as metals, including magnesium, aluminum, sodium, and potassium.
"Some types of fire extinguishers have multiple ratings, which makes them usable for different classes of fires," KPA states on its website. "But remember, if you do not know what kind of materials are burning or if you do not have the proper class of extinguisher, do not try to fight the fire; evacuate immediately."
Fire extinguishers, according to OSHA, should be visually inspected monthly by employees and a maintenance inspection should be performed yearly by a professional fire extinguisher company.
IMAGES
Featured image credit: robeo/iStock
Share This: