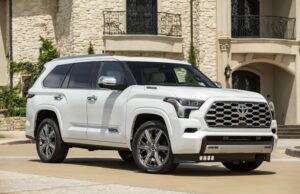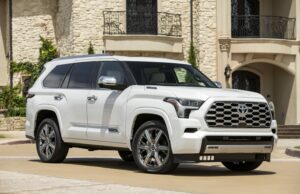 Toyota Auto Insurance (TAI), the OEM's branded insurance product launched in December, is now being sold in Texas — the nation's second largest insurance market, the company has announced. The coverage applies to vehicles built by Toyota and other manufacturers and includes a rider stipulating the use of OEM parts in repairs, when available, unless the customer opts out.
TAI described the news as a "major milestone" for the product, which is now available in eight states: Illinois, Indiana, Ohio, South Carolina, Arizona, Missouri, Tennessee, and Texas.
"Not only is Texas the nation's second most populous state, it's also home to Toyota's North American headquarters and Toyota Motor Manufacturing, Texas (TMMTX)," the company said in a press release. The San Antonio factory produces the Toyota Tundra full-size pickup truck and Sequoia SUV.
When the product was launched, Vincent Bray, a vice president with Toyota Financial Services, told Repairer Driven News that the use of OEM parts "is one of the key benefits of Toyota Auto Insurance and is particularly appealing to customers. When customers contact us, this feature is something we highlight as one of the many great reasons to select this product."
Bray said customers are quoted a starting price that includes the OEM parts endorsement for vehicles 10 years old and newer. The customer has the choice to remove the endorsement, as well as the choice to add it to non-Toyota vehicles that are less than 10 years of age, he said.
Without the endorsement in effect, the standard policy states that payment will be made for "like kind and quality parts," which might come from "other sources such as manufacturers or suppliers of rebuilt parts, quality recycled (used) parts suppliers and non-original equipment manufacturers."
Toyota's official position strongly recommends the use of OEM parts and strongly recommends against aftermarket, rebuilt and salvage parts, "[d]ue to the sensitive nature of safety and performance systems and their effect on vehicle crashworthiness."
TAI is a product not of the automaker directly, but of Toyota Insurance Management Solutions (TIMS). According to the Insurance Journal, TIMS is a joint venture between Aioi Nissay Dowa Insurance Services, Toyota Financial Services International Corp., and Toyota Connected. It is a licensed property/casualty independent insurance agency.
In Texas, TAI is underwritten by Texas County Mutual Insurance Company.
TAI will be sold through Toyota's website, mobile app, call center agents, and at participating Toyota dealerships. The insurance is supported by Toggle, the underwriter owned by Farmers Insurance.
Rob Spencer, Toyota Insurance chief operating officer, said the product will be available "in even more states in the near future," but did not provide specifics.
Toyota is one of several OEMs to offer its own branded insurance. Others include Tesla, General Motors, and Stellantis.
More information
Toyota launches new Auto Insurance product, with OEM parts option as opt-out
Images
A 2023 Toyota Sequoia. (Provided by Toyota)
Share This: