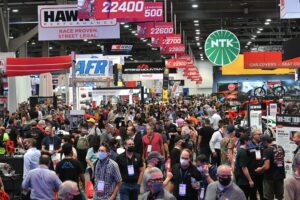 I-CAR and the Society of Collision Repair Specialists (SCRS) will hold their annual live stage sessions during this year's SEMA Show to cover everything from estimating, ADAS calibrations, and increased shops costs to collision repair products, training opportunities, and more at the SEMA Collision Repair and Refinish Stage Booth #32145 in the Upper South Hall.
The first session will be a panel discussion and "pre-game" kickoff on Tuesday with SCRS Executive Director Aaron Schulenburg, SCRS Board Members Dave Gruskos and Amber Alley, and I-CAR Repairability Technical Support & OEM Technical Relations Manager Scott VanHulle. Tuesday will also include live interviews about REVvive by RSG Hyper Concentrated Detail System, structural holding, estimating tips and tricks, and ADAS plus panel discussions on calibrations estimating, I-CAR's new Chicago Technical Center (CTC); Increased Costs of Labor, Materials and Overhead, and an overview of Lucid Motors.
On Wednesday, SCRS Board Secretary Michael Bradshaw and Board Member Kris Burton along with I-CAR Principal OEM Technical Lead Scott Kaboos and VanHulle will discuss ADAS, followed by a live interview with Database Enhancement Gateway (DEG) Administrator Danny Gredinberg and VanHulle about estimating tips specific to RTS.
Others include:
10:00 AM
Panel Discussion: SCRS & I-CAR – ADAS
SCRS – Michael Bradshaw
SCRS – Kris Burton
I-CAR – Scott Kaboos
I-CAR – Scott VanHulle
Live Stream Link
10:35 AM
Break
10:40 AM
Live Interview: Estimating Tips and Tricks – RTS
DEG – Danny Gredinberg
I-CAR – Scott VanHulle
Live Stream Link
11:00 AM
Break
11:05 AM
Panel Discussion: SCRS – Collision Engineering Programs
SCRS – Amber Alley
CE – Laura Lozano
CE – John Helterbrand
Student – Greg Grieve
Live Stream Link
11:40 AM
Break
11:45 AM
Live Interview: 3M – RepairStack
3M – Nic Echeverri
I-CAR – Scott VanHulle
Live Stream Link
12:05 PM
Break
12:20 PM
Panel Discussion: I-CAR – Talent and Schools
I-CAR – Bud Center
I-CAR – Anton Verwijst
I-CAR – Scott Kaboos
I-CAR – John Kelly
Live Stream Link
12:55 PM
Break
1:00 PM
Live Interview: OPUS IVS – The Computer on Wheels
OPUS IVS – Bob Augustine
I-CAR – Scott VanHulle
Live Stream Link
1:20 PM
Break
1:25 PM
Panel Discussion: I-CAR – How to Make Great Aluminum Welds
I-CAR – Brian Wasson
I-CAR – Dan Schwarz
I-CAR – Scott VanHulle
Live Stream Link
2:00 PM
Break
2:05 PM
Live Interview: Chief – ADAS
Chief Automotive – Mike Croker
I-CAR – Bud Center
Live Stream Link
2:25 PM
Break
2:30 PM
Panel Discussion: I-CAR Instructor Recruitment
I-CAR – Lori Barrington
I-CAR – Brian Wasson
I-CAR – Conner Janning
Live Stream Link
Thursday will cover EVs, AirPro estimating tips, how to use SCRS' Blueprint Optimization Tool (BOT) and DEG, overviews of products from ProSpot and Car-O-Liner, PPE overview, remote diagnostics and scan tools, and equipment needs for training. On Friday, attendees can learn about mixed materials, network training, equipment systems from Solidus, ADAS, glue pull, SCRS' blend study results, and headlight tab repair. There will also be a "post game" panel discussion, recapping Show events and high points. The full list of interviews and discussions for each day with live stream links is available here.
"We've curated a robust and relevant mix of presentations, courses, sessions, and live stage demonstrations [that] will provide attendees with the most comprehensive education and hands-on learning we've ever been able to offer," I-CAR Director of Technical Products & Curriculum Bud Center said in a news release.
I-CAR will offer, for the first time during the SEMA Show, a MIG welding training session that will cover basic to advanced techniques and is "ideal for collision repair, classic car, hot rod, and vehicle builders/rebuilders as well as other technicians." Online registration is available here for it and all I-CAR class topics through Nov 3 or in person outside I-CAR classrooms S224 and S225.
I-CAR will also participate in the new SEMA ADAS Showcase (#39007 in the Upper South Hall) — "a dedicated space for the study of advanced driver assistance systems (ADAS)," and SEMA Electrified (#11268 in the North Hall) — "an opportunity to see where this growing segment might take us in the next five to ten years and beyond." More information about both and more can be found here under "Show Features & Events."
And while at the show, don't miss out on the annual Repairer Driven Education (RDE) seminars, IDEAS Collide Showcase, and three OEM Collision Repair Technology Summit sessions from SCRS. There will be 21 two-hour RDE seminars offered Monday through Thursday of the show. The full lineup is detailed as previously reported by Repairer Driven News here. On Friday, IDEAS Collide will include nine fast-paced presentations designed to stimulate thought, innovation, and resolution of business challenges with brash, outspoken, and provoking concepts from thought leaders both in and out of the industry, according to an SCRS news release. Topics range from finances, shop culture, hiring and operations to vehicle history, and more. The Summit sessions will cover OEM repair procedure accessibility, the ongoing technician shortage, and choosing the right scan tools to ensure safe and proper vehicle repairs.
"Our focus is, and always has been, finding ways to provide Show attendees with access to discussions and education that speaks to the heart of issues faced on the ground floor of collision repair businesses across the country," Schulenburg told RDN. "We've worked really hard to curate sessions that lean into the diversity of issues and business models, and to make sure there is valuable content for everyone."
2021 SEMA Show live sessions can be viewed on YouTube here.
Images
Featured image: File photo of the show floor at a previous SEMA Show. (Provided by SEMA)
More information
I-CAR announces education opps at SEMA Show, MIG welding training 50% off
SCRS to offer health care & retirement plan consultations during SEMA Show
Share This: