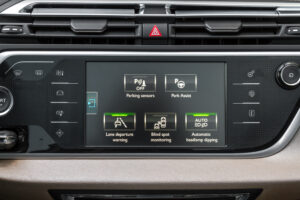 UK research finds use of 6 ADAS features would reduce crashes by nearly 24%
By on
Technology
If all vehicles in the United Kingdom were to have adaptive cruise control, automatic emergency braking, blindspot warning, electronic stability control, forward collision warning, and lane departure warning advanced driver assistance systems (ADAS) installed and in regular use by drivers, a group of researchers believe crashes would be reduced by nearly 24%.
Similar research conducted in the U.S. by the AAA Foundation in 2018 found that the combined use of forward collision warning (FCW), automatic emergency braking (AEB), lane departure warning (LDW), lane keeping assistance (LKA), and blind spot monitoring (BSM) systems have the potential to prevent 40% of all passenger vehicle crashes, 37% of injuries that occur in crashes involving passenger vehicles, and 29% of all deaths in crashes that involve passenger vehicles.
The latest UK research by Lero, the Science Foundation Ireland Research Centre for Software at the University of Limerick (UL), Ireland, and Motion-S, Luxembourg, found AEB is the most impactful technology by reducing three out of the four most frequent accident categories – intersection (28%), rear-end (27.7%), and pedestrian (28.4%).
"It is encouraged that future road safety campaigns include the vehicle's level of autonomy or ADAS equipment to allow for a more accurate estimation," the researchers wrote. "Additionally, the level of reductions achieved in this paper assumes a full market penetration of ADAS in which all vehicles involved in the accident reports have the studied technologies. …Even though the safety benefits of ADAS are notable, a potential limitation is that their functionality and proper application depend on human drivers and their trust in these systems. …Vehicles enabled with Advanced Driver Assistance Systems (ADAS) provide significant societal benefits, but there is a lack of comprehensive literature on their potential accident reductions across various driving contexts."
However, the research notes that environmental and infrastructural conditions influence the performance of ADAS, and accident reductions vary across geographical regions. The most severe accidents occur in dark conditions on rural roads or highways.
German Castignani, co-author and CEO of Motion-S S.A., said road safety reports are a fundamental source of information for the continuous development of the car industry as they help study the distribution of accidents' environmental conditions.
"They provide information about the vehicles and casualties involved and the accident circumstances (e.g., geographical, temporal, and road information). Our work leverages such data to estimate the potential reductions in accidents that ADAS can mitigate."
AEB is the most impactful technology, according to the research, which shows that three out of the four most frequent accident categories were reduced; intersection by 28%, rear-end by 27.7%, and pedestrian accidents by 28.4%.
In general, clear weather and lighting conditions relate to good performance in most technologies, and motorways with well-maintained lane markings lead to good performance of technologies that rely on lane boundary detection. On the other hand, their high-speed ranges imply a constraint on technologies that depend on the braking system, like AEB, according to the research.
"We suggest that road safety organisations and research teams follow a systematic approach to optimising road safety with ADAS," the researchers wrote. "Road safety reports of the target region might be used to prioritise resources according to the current accident loss tied to accident types and contexts. Thus, stakeholders might focus on accident contexts above a specific average loss, and put forward road safety policies, incentivising ADAS development to mitigate particular accident types. For example, accidents on rural roads and in dark conditions are associated with a high expected loss. Then, road safety policies can promote further usage of intelligent systems to increase safety in those contexts, such as a higher deployment of infrared cameras."
Seventy-seven percent of U.S. consumers want auto manufacturers to focus their efforts on improving existing ADAS features rather than developing self-driving cars, according to a recent survey by AAA.
ADAS features performed inconsistently across a variety of makes and models in AAA's most recent round of testing resulting in crashes with a foam car and a dummy cyclist.
"You can't sell consumers on the future if they don't trust the present," Greg Brannon, director of AAA's automotive engineering, said in a statement. "And drivers tell us they expect their current driving assistance technology to perform safely all the time. But unfortunately, our testing demonstrates spotty performance is the norm rather than the exception."
Images
Featured image credit: supergenijalac/iStock
More information
AAA study finds all ADAS-equipped vehicles should have driver-facing cameras for distraction detection
Share This: