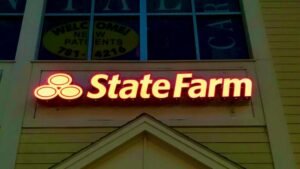 State Farm has informed members of its direct repair program (DRP) that it is reintroducing the use of certain non-OEM parts when adjusting estimates and settling claims, beginning Dec. 12.
The reintroduction will be in effect for Select Service repairers in every state but Hawaii, Ohio, and Wyoming, State Farm said in documentation provided to Repairer Driven News. It calls for the use of non-OEM bumper covers, headlamps, and taillamps, including brackets and housings.
State Farm had carried out an eight-week test program of aftermarket parts use earlier this year in Texas and Oklahoma.
The introduction is meant to address supply chain issues, the carrier told its repair network. "The use of non-OEM parts is expected to improve customer experience and efficiency as some essential OEM auto parts remain in short supply and delivery and repair times can be adversely impacted," it said.
It asked DRP members to "Please begin considering these non-OEM parts when determining the most appropriate parts for your Select Service repairs beginning December 12."
The insurer did not respond to an email from Repairer Driven News seeking more information.
State Farm requires Certified Automotive Parts Association (CAPA) certification for any non-OEM part that is subject to CAPA certification. Headlamps, taillamps, and bumper covers are all subject to CAPA certification.
"There is a considerable and growing body of CAPA tested and certified, cost-effective replacement parts available, including replacement parts for bumpers and lighting," the carrier said.
State Farm encouraged Select Service to notify CAPA if any non-OEM part has "fit or performance issues," and to "replace the part with one that repairs the vehicle in a quality manner."
"State Farm provides a promise that customers will be satisfied with the fit, corrosion resistance qualities, and performance of these parts for as long as they own their vehicle," the insurer said.
Both PartsTrader and CCC One have been adjusted to include these non-OEM parts when sourcing available parts for repairs, the carrier said.
OEMs routinely specify the use of OEM parts in repairing their vehicles. Ford's position statement, for example, reads in part, "Recycled, salvaged, aftermarket and reconditioned parts (including body parts, wheels and safety restraint components) are not authorized by Ford. Departure from repair instructions provided in the Ford Workshop Manual, including alternate repair methods or the use of substitute components, risks compromising crash safety. Failure to follow these instructions may adversely affect structural integrity and crash safety performance, which could result in serious personal injury to vehicle occupants in a crash."
American Honda's statement "recommends that all maintenance and repairs are performed using Honda recommended procedures and Honda Genuine parts, which are designated for use in the specific Honda vehicle.
"Other parts – whether aftermarket, counterfeit or gray market – are not recommended. The quality, performance, and safety of these parts and whether they are compatible with a particular Honda vehicle are unknown. Only by purchasing Honda Genuine parts through an authorized US Honda dealer can you be assured of the replacement part's authenticity, reliability and compatibility."
State Farm had suspended the specification of aftermarket parts in 1999, after two Illinois courts found that it had deceived policyholders by specifying the use of non-OEM parts for collision repairs and breached its contract with the plaintiffs.
The decision in Avery v State Farm, which would have awarded the plaintiff class $1.056 billion, was overturned by the Illinois Supreme Court on a technicality in 2005, after which State Farm announced that it would, in a limited capacity, "consider resuming the use of aftermarket parts, a practice it suspended after the 1999 ruling."
A subsequent suit, alleging that one of the justices who voted with the 4-2 majority in Avery had received $4 million in campaign contributions from State Farm and should not have heard the appeal, was settled for $250 million in 2018.
A complete listing of non-OEM parts that are still suspended is available on the State Farm B2B site. The listing on B2B also includes a listing of other non-OEM parts that can be used. The "Non-Original Equipment Manufacturer Replacement Parts" document on B2B will be updated to reflect these changes on Dec. 12.
Recent data shows that, in general, OEM parts use has increased during the supply chain interruptions repairers have encountered over the past months. There's evidence that in at least some cases, it is the unavailability of aftermarket parts that has forced the use of OEM parts, and not the other way around.
In its 2022 Crash Course report, CCC Intelligent Solutions said that the share of replacement part dollars was split at 64.4% OEM, against 35.6% aftermarket in 2021, an increase of 2.8 percentage points from 2020 and the highest rate in 10 years.
In a May 11 first quarter earnings call, Tim O'Day, CEO of Boyd Group, told investors that supply chain issues had forced Gerber Collision to make greater use of OEM parts.
"We continue to face supply chain disruptions, which resulted in a negative impact on margin as a higher percentage of parts were sourced from non-primary suppliers in order to complete repairs, and our mix of OE parts relative to alternative parts increased," he said during the call.
"If an aftermarket or alternative part's not available to complete a repair, we can rely on the OE part, but if the OE part's not available, we have to set the repair aside and look for other work to work on," he said.
More information
State Farm says it will test expanded use of aftermarket parts in Texas, Oklahoma
Images
Featured image: A State Farm office in Falmouth, Maine. (Dave LaChance/Repairer Driven News)
Share This: