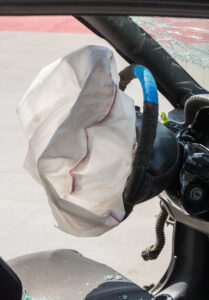 Fourth Takata air bag death this year confirmed, ways for repairers to help mitigate unknown open recalls
By on
Collision Repair | Legal
The National Highway Traffic Safety Administration (NHTSA) has confirmed another death caused by a recalled Takata air bag, bringing the total to 23 in the U.S., and stressed that all vehicle owners should check for open Takata recalls.
Takata airbag inflator issues came to light in 2008 and continue today. Approximately 67 million air bags used by 19 OEMs have been recalled because the air bags can explode when deployed, causing serious injuries or death. In September, NHTSA launched an engineering analysis into 30 million potentially defective and dangerous U.S. vehicles due to more concerns with the inflators.
The inflators use phase-stabilized ammonium nitrate (PSAN) as a propellant that has been known to result in violent explosions and send metal shrapnel into the faces of vehicle occupants. A federal class action lawsuit was filed in May against ARC Automotive, Audi, Volkswagen, General Motors, and Ford for use of the same propellant in their airbag inflators. A $1 million lawsuit was also filed in Texas against Ford Motor Co. and Yaklin Ford in July 2020 for injuries allegedly caused by an inflator explosion.
"These vehicles can and should be repaired immediately," NHTSA states on its website. "Do not drive these vehicles with Takata air bags unless you are going straight to a dealer to have them repaired immediately."
A separate group of defective Takata air bags was recalled in late 2019. Unlike the air bag inflators in the larger Takata recalls, that recall involves non-azide driver inflators, according to NHTSA. The defect in the NADI inflators can result in the air bag either exploding or underinflating during deployment.
NHTSA warns vehicle owners that certain 2001-2003 model year Honda and Acura vehicles containing "Alpha" air bags and 2006 Ford Rangers as well as Mazda B-Series vehicles are at a far higher risk of an air bag explosion that could injure or kill vehicle occupants.
The latest fatality, announced by NHTSA and Honda on Dec. 9, occurred on Feb. 2 of this year in a 2002 Honda Accord on the driver's side. The fatality was the fourth this year. Honda said it has confirmed 17 deaths and more than 200 injuries in the U.S. related to Takata frontal driver's air bag inflator ruptures in its vehicles.
"The vehicle involved in this crash had been under recall since April 2011 for replacement of the original Takata driver's frontal air bag inflator," Honda said. "Starting in June 2011, Honda made more than 300 attempts to reach the owner of this vehicle, who purchased the car in 2008. This included more than 40 mailed notices to the registered address, over 230 phone calls, and over 40 email notifications. Our records indicate that the recall repair was never completed."
Honda urges vehicle owners affected by the Takata air bag inflator recalls to get their vehicles repaired, at no cost, at authorized dealers as soon as possible. Vehicle owners can check their vehicles' recall status at www.recalls.honda.com or www.recalls.acura.com or by calling an authorized dealer.
NHTSA warns that "even minor crashes can result in exploding air bags that can kill or produce life-altering, gruesome injuries." Honda and NHTSA noted that older vehicles are at higher risk of an inflator rupture.
Three fatalities were confirmed by NHTSA last month — two in 2010 Dodge Chargers and a third in a 2006 Ford Ranger crash. That MY Ford Ranger had already been under a "do not drive" warning that was issued in 2018. Fiat Chrysler Automobiles issued a do not drive warning in November for roughly 276,000 model year 2005-2010 Dodge Magnums, Chargers, and Challengers as well as MY 2005-2010 Chrysler 300s.
NHTSA said it's "aware of several other suspected inflator ruptures in vehicles from other automakers potentially due to exploding Takata air bags."
With help from collision repairers, perhaps more injuries and deaths can be prevented. NHTSA has three ways to stay abreast of recalls: use its Recalls Lookup Tool to check VINs for any open safety recalls, including the urgent Takata recall, download the SaferCar app and set up recall notifications, or sign up for email notifications at NHTSA.gov/Alerts.
Chris Caris, with OEM Collision Repair Roundtable, pointed to NHTSA's Recalls Lookup Tool and SafeCar app as good resources for shops to help out their customers by checking for any open recalls as their vehicles are brought into the shop. Some OEMs, he said, require certified shops to check for open recalls.
"There are also resources for larger shops, such as a free batch lookup tool that can search for most OEM recalls, which is available to apply for at www.Carfax.com/recall," Caris said.
There is also a Toyota-only option available to all repairers through a subscription to Techinfo. Pat Blech, with OEConnection (OEC), said repairers can sign up for live VIN-specific recall notifications from participating OEMs through CollisionLink.
During the Society of Collision Repair Specialists (SCRS) 2019 IDEAS Collide session, Wayne Mitchell, who worked for Stericycle Expert Solutions at the time, covered how collision repairers can help notify customers of recalls and/or complete the recall remedies.
"With the world of Big Data, they're [OEMs] dealing with old antiquated systems in the Department of Motor Vehicles where the registration information isn't accurate," Mitchell said. "That's a huge issue. They're mailing to somebody that hasn't been at that address for six months, one month, two years, three years. It's really been a big struggle."
He said he sees an opportunity for the collision repair industry to help since they know the most recent status of vehicles — that they've been wrecked and repaired for those damages but can also find out if recalls have been addressed, including Takata air bag replacements and software updates. It's as simple as letting their customers know about open recalls on their vehicles, Mitchell said.
"If you're doing a scan in and scan out and you have the capability to fix a program module recall… it's most efficient to perform that recall service," he said, especially since many recall issues can be fixed with software updates.
In September, Valient Market Research, commissioned by AutoAp, conducted a 20-question, 12-minute online survey of consumers who intend to buy a car within the next three years on dealer transparency and trust, including the impact recalls have on both. There were 1,000 respondents.
Overall, respondents rated the importance of transparency at 92%, and safety was mentioned nearly five times more than all other reasons for why transparency is important to them. Ninety-six percent of respondents said they prefer dealerships that provide resolutions for recalls.
"Transparency is vitally important to nearly every customer, no matter what age, gender, income level or region; people expect quick and easy access to vehicle and dealership information to help make their purchasing and servicing decisions," Valient Market Research said. "The survey revealed that mismanaging vehicle recalls – specifically, selling a vehicle with an undisclosed, unrepaired safety recall – was a surefire way to lose trust with car shoppers."
Dealers that sell a vehicle with unrepaired safety recalls would lose business, according to the survey results, since 92.5% of respondents said they would not buy a vehicle from that dealership in the future.
The survey also asked if an automated safety recall system in place at a dealership would impact their purchase decisions. Eighty-five percent of respondents said it would positively impact their decision.
Specific automaker Takata information can be found here and additional information from NHTSA here.
Images
Featured image credit: manfredxy/iStock
Share This: