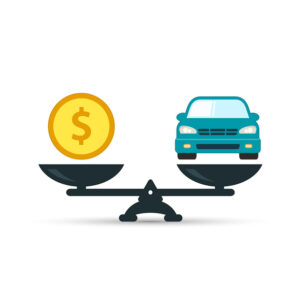 The online publication Forbes Advisor has published an article that examines diminished value (DV) claims, and explains to consumers how they can go about negotiating if their insurer is offering them a lowball settlement.
Among its recommendations, the article suggests that owners consider filing a DV claim if their vehicle has been repaired with "low-quality parts" instead of OEM parts.
The article, written by contributor Angelica Leicht, explains that a vehicle's value "can diminish after an accident, at times dramatically, even if it was properly repaired." A DV claim, it says, "allows you to recover the difference between your car's pre-accident value and the value after repairs from the car insurance company of the at-fault driver."
It calls DV claims "a great tool to recoup losses from an accident, as long as you qualify and your car meets certain requirements."
The article explains the three different types of DV claims: immediate, inherent, and repair-related. In the first case, it says, claims are made to recoup the loss in resale value that occurs immediately after an accident or before a vehicle has been repaired. "This type of claim is primarily used in court and rarely used elsewhere," it notes.
An inherent DV claim accounts for the market value that's been lost even after a repair has been made. It acknowledges that the repaired vehicle will be worth less to potential buyers, even if repaired correctly, and compensates the owner for that difference.
A repair-related DV claim can be made when substandard repairs have been made to a vehicle after an accident. "For example, the repair shop might have used low-quality parts instead of original equipment manufacturer (OEM) parts during repairs. Or there might be an issue with the paint quality," the article says.
To qualify for filing a DV claim, the article says, the damage must have been caused by another party, whether insured or uninsured; the vehicle must be owned, rather than leased; and the claim must be allowed by state law.
The article provides some background on how DV is calculated, and suggests the online calculators provided by the National Automobile Dealers Association (NADA) and Kelly Blue Book (KBB) as resources. It notes that most insurance companies use the 17c formula to calculate DV, though it does not mention that a federal court judge recently found the formula to be fundamentally flawed.
Consumers who feel they've been given a lowball offer "may be able to negotiate to get a higher diminished value," the article advises. It suggests that owners research their car's estimated value on sites such as NADAguides and Autotrader, taking into account all of its special features.
"You can also request a third-party assessment of the damage to your vehicle and provide an estimate that outlines the full damage that occurred during the accident," the article advises. "By asking a third party to inspect and report the damage to your vehicle physically, you may have more room to negotiate with the insurance company, leading to a higher diminished value payout."
Experts weigh in
At the request of Repairer Driven News, two experts on DV claims, Robert McDorman, the managing director of Auto Claim Specialists, and John Walczuk, president of ZB Claim Services, reviewed the Forbes Advisor article and offered some observations.
McDorman called repairer-related diminished value "the most alarming side of the diminished value equation. More times than not the carrier contributes to this with the denial of safe and proper repairs.
"Until an estimating platform that is recognized and approved by the OEMs based on the OEM position statements and procedures is in place as to what constitutes a safe and proper repair we will continue to see the carriers contributing and promoting unsafe repairs based on missed required procedures and operations because this saves them money," he said.
"Repair-related DV is based on poor quality or incorrect repair," Walczuk said. "Stay clear of the non-OEM parts issue or you would likely see the majority of vehicles qualifying under that criteria. You would also be questioning what carriers cover and pay for."
Both experts were critical of the use of 17c, a formula developed by State Farm in response to a 2001 case before the Georgia Supreme Court. That formula limits the claim to 10% of pre-loss value, regardless of level of damage, Walczuk said.
"In my professional opinion, the Inherent Diminished Value should be based upon undamaged comparables listed for sale vs. damaged comparables listed for sale in the same demographic market," McDorman said. "Depending on the severity of the damage we routinely see Inherent Diminished Value settlements with a greater value than 10% of the pre-loss market deviation. Of course, the more specialty the vehicle, the higher the post-loss market deviation is on a collision-repaired vehicle."
Although he strongly disagreed with the article's assertion that 17c is used by many carriers, Walczuk said it "provides an understated claim, is based on a class action suit, and does not provide any measurement for uniqueness." With its 10% cap, "if you have a Porsche, Aston, etc., 10% DV will never cover your loss."
McDorman also noted that the market for correctly repaired vehicles has shifted, as a result of the current shortage of new vehicles elevating the value of used cars to an all-time high.
"We have seen a decrease in the post-loss market deviation of collision-repaired vehicles," he said. "Yes, this is correct, buyer behavior concerning the purchase of vehicles with repaired collision damage has softened over the last 18 months and we are now routinely seeing vehicles with quality collision repair being sold for the same price or greater than vehicles with no previous accidents."
Walczuk offered several other observations:
"DV is based on a best assumption of facts. Attempting to prepare a DV claim based on your own vehicle will in most instances result in a minor claim amount or a denial. You have not proven the loss or provided a reasonable comparison.
"In today's market the measurement of DV is biased based on current used car values. Cars with accident history may and do sell at original MSRP or higher.
"DV based on a 10-year-old vehicle is a waste of time unless it is an exotic that holds its value.
"Mileage is also a factor in any DV claim.
"Uninsured and underinsured use may be limited by a state's rules. It cannot be used in Florida or New York as that type of coverage is for PI only. This type of DV is more common in states with low required coverage (New Jersey and California) which is another issue.
"Knowledge of the statute of limitations in your state should be considered. Delaying a DV claim now might be more beneficial as used car prices will drop as inventory levels return and DV is more evident."
More information
Appraisal experts share why consumers may want to challenge vehicle valuations
Appeals court denies class action bid in Georgia DV suit against State Farm, but acknowledges 'fundamental flaws' in formula
Images
Featured image by Tanya St/iStock
Share This: