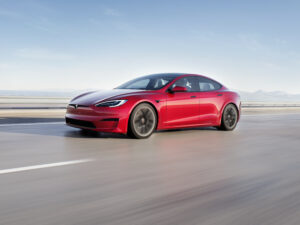 NHTSA investigating 2 more suspected ADAS-related Tesla fatalities, Tesla says its features aren't fraudulent
By on
Legal
The National Highway Traffic Safety Administration (NHTSA) is investigating two more fatalities allegedly related to Tesla's driver assistance features.
According to Reuters and other news outlets, one crash happened on Nov. 24 and involved eight vehicles in San Francisco including a 2021 Tesla Model S, the driver of which said the Full Self-Drving feature malfunctioned. The other recent crash involved a 2020 Model 3 in Ohio and resulted in one minor injury.
CNBC and Reuters report that NHTSA is investigating at least 41 crashes involving Tesla vehicles where automated features including Automatic Emergency Braking (AEB), Autopilot, Full Self-Driving (FSD), and FSD Beta were involved. Since 2016, 19 crash fatalities have been reported as part of Tesla-related investigations, according to Reuters.
In June, NHTSA upgraded its Autopilot probe of 830,000 Tesla vehicles involving crashes with parked emergency vehicles. The upgrade meant the administration would "extend the existing crash analysis, evaluate additional data sets, perform vehicle evaluations, and …explore the degree to which Autopilot and associated Tesla systems may exacerbate human factors or behavioral safety risks by undermining the effectiveness of the driver's supervision," NHTSA said at the time.
Models affected by that investigation include 2018-2021 Model 3s, 2014-2021 Model Ss, 2015-2021 Model Xs, and 2020-2021 Model Ys.
Tesla is also under legal federal and state scrutiny including the California DMV's accusation that the automaker has falsely advertised its Autopilot and FSD features. The accusation is part of complaints filed with the state's Office of Administrative Hearings by the DMV.
In a class action lawsuit filed in September in the U.S. District Court for the Northern District of California, Tesla is accused of "making misleading and deceptive statements regarding the company's advanced driver assistance systems ("ADAS") technology" for years.
"Tesla has deceived and misled consumers regarding the current abilities of its ADAS technology and by representing that it was perpetually on the cusp of perfecting that technology and finally fulfilling its promise of producing a fully self-driving car," the complaint states. "Although these promises have proven false time and time again, Tesla and Musk have continued making them to generate media attention, to deceive consumers into believing it has unrivaled cutting-edge technology, and to establish itself as a leading player in the fast-growing electric vehicle market."
In a Nov. 28 motion for dismissal and arbitration filed by Tesla, the automaker states, "allegations in the Complaint demonstrate that Tesla has been constantly improving its ADAS technology by releasing software updates, with a goal of achieving more and better autonomy capabilities in the future. …Mere failure to realize a long-term, aspirational goal is not fraud."
A separate class action suit was also filed in August in the same court against Tesla over claims that it hasn't warned its customers about unexpected and random braking, often called "phantom braking," in its vehicles, which is an issue NHTSA is investigating.
In August, California legislators passed a bill that requires automakers and dealers that sell "any new passenger vehicle that is equipped with a partial driving automation feature, as defined, or that provides any software update or vehicle upgrade that adds a partial driving automation feature, to provide the buyer or owner with a consumer notice that describes the functions and limitations of those features."
Current law regulates fully autonomous driving technology as "the capability to drive a vehicle without the active physical control or monitoring by a human operator," which "does not include collision avoidance systems, including, but not limited to, electronic blind spot assistance, automated emergency braking systems, park assist, adaptive cruise control, lane keep assist, lane departure warning, traffic jam and queuing assist, or other similar systems that enhance safety or provide driver assistance, but are not capable, collectively or singularly, of driving the vehicle without the active control or monitoring of a human operator."
The new law prohibits automakers and dealers from naming or describing any partial driving automation feature in marketing materials "using language that implies or would otherwise lead a reasonable person to believe, that the feature allows the vehicle to function as an autonomous vehicle… or otherwise has functionality not actually included in the feature."
The bill was signed into law by Gov. Gavin Newsom in September.
Images
Featured image: Tesla Model S (Provided by Tesla)
Share This: