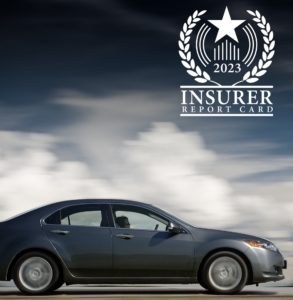 Among more than 87 auto insurance companies graded by collision repairers in terms of how well they work to ensure quality repairs and customer service, 29 received a B or higher to earn a spot on the "Honor Roll" in CRASH Network's 2023 "Insurer Report Card."
Ten companies, including four of the largest U.S. auto insurers — USAA, GEICO, Liberty Mutual/Safeco, and Allstate — received a grade of C- or lower. None of the top 10 largest, best-known auto insurers received an overall grade higher than a C+.  More than 50 insurers scored higher.
More than 1,000 individual body shops around the country graded 30 insurance companies in their state. They were asked to evaluate how well each insurer's "policies, attitude and payment practices ensure quality repairs and customer service for motorists," according to CRASH Network.
North Carolina Farm Bureau (A+), Chubb (A-), and Erie Insurance (A-) finished with the top grades among all insurers, which they have all done since 2020.
"While many of the highest-graded insurers – including Acuity Insurance (B+), Grinnell Mutual (B+) and Pemco Mutual (B+) – do not sell policies in all 50 states, consumers are likely to find one or more of the 'Honor Roll' insurers offering coverage where they live," CRASH Network said in a news release Tuesday.
Shops that participated in the survey told CRASH the highest-graded insurers put "customer safety first and foremost," "are fast and efficient" about claims handling, "employ people who care about what they do," and "actually care about their customers."
"Unlike most consumers, who typically have an auto claim only once a decade, collision repairers interact with the claims departments at these companies on a daily basis," said CRASH Network's John Yoswick. "That gives them an opportunity to see which companies are better at taking care of policyholders when they have a claim – and which ones have room for improvement. That's why we see the 'Insurer Report Card' providing helpful information for consumers as they consider which insurer to choose. They might see companies here they otherwise might not have considered."
Shop respondents also criticized the insurers to which they gave lower grades because those companies have "disorganized claims processes," "don't seem to care about the repair procedures designated by the automakers," and "have us ordering parts all over the country just because of cost, even though they don't arrive in a timely manner and are not quality parts."
The list of highest-graded insurers in 2023 was "remarkably" consistent with 2022's, according to CRASH. Eight of the 10 highest-graded insurers in this year's Insurer Report Card were in the top 10 list last year as well.
A free report with the 2023 Insurer Report Card findings can be downloaded at https://www.crashnetwork.com/irc.
Images
Featured image credit: CRASH Network
Share This: