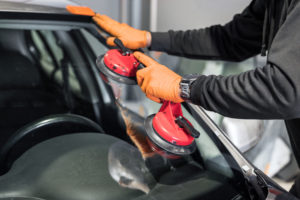 Florida senator introduces bill to discourage windshield AOB incentives
By on
Collision Repair
A Florida policymaker has introduced a bill in the state Senate that would prevent repairers from offering extra incentives to customers seeking to have their windshields fixed or replaced.
Senate Bill 1002, introduced by Sen. Linda Stewart (D-Orlando) would prohibit shops or their employees from "offering anything of value to a customer in exchange for making an insurance claim for motor vehicle glass replacement or repair."
The proposed legislation relates to a contentious practice called assignment of benefits, (AOB) which happens when a vehicle owner signs over their claims to repairers, who can then sue insurers.
There are benefits to AOBs for drivers whose insurers refuse to cover the full cost of repairs. In such situations, repairers can be assigned the benefits and fight for coverage on behalf of the consumer.
Proper windshield calibration can be costly, and some insurance companies have pushed back against covering the cost. However, auto repairers have said it is necessary for vehicles equipped with advanced driver assistance system (ADAS) features so that cars can be returned to the roads safely.
When used for their intended purpose, AOBs are meant to streamline the process for customers by sparing them from going head-to-head with insurers in claims disputes.
However, some insurance companies said that too many people are taking advantage of AOBs for financial gain. According to Florida's Fix the Cracks initiative, which partners with several insurance bureaus, the number of auto glass lawsuits increased by more than 4,000% between 2011 and 2021.
Florida's Office of Insurance Regulation called dishonest AOB practices a concern.
"AOBs have long been a part of Florida's insurance marketplace," the office said. "However, abuses in the way they were being used in the marketplace have driven up costs for homeowners across the state due to unnecessary litigation associated with certain AOB claims."
Backers of Stewart's bill said it was needed to protect consumers who are being offered incentives by repairers with bad intentions.
"For too many years the unscrupulous actions of those seeking to exploit current laws by committing scams and frauds have caused harm by seeking to generate claims and unnecessary litigation which clogs up the courts and increases legal expenses," said Matthew J. Smith, executive director of the Coalition Against Insurance Fraud. "The result of their actions is higher premiums which are ultimately paid by Florida consumers. "
Added Stewart: "We have all seen the signs offering us cash or gift cards to have our windshields replaced. These incentives sound great, but the reality is some of these services are using you to sue your insurance for more money than the replacement actually costs.
"This behavior ultimately contributes to the ever-increasing auto insurance rates as insurers raise rates to compensate their losses from this practice."
The cost to replace a windshield can vary based on complexity. Some industry experts have said a lack of education around the cost and tools needed to properly repair modern auto glass can lead to bad outcomes. The issue was highlighted in a recent IIHS study that found while new technologies are helping make roads safer, they're also making repairs more complicated.
Stewart's bill also includes language on calibration requirements for vehicles with ADAS features. It would require repairers to notify the vehicle owner that calibration would be required so that drivers understand the service is necessary for safe operations.
"Today's cars have a slew of new features integrated into the windshield to improve driver safety," she said. "Without notice that these systems need to be calibrated after a windshield replacement, drivers could find themselves in dangerous situations or at a service provider surprised by the costs and possibly having to pay out of pocket for the calibration of these features."
Companion bill
Stewart's bill is companioned by HB 541, introduced by Sen. Philip "Griff" Griffitts (R-Panama City), which would prohibit vehicle owners from assigning insurance benefits to repairers under certain policies.
Members of the Fix the Cracks initiative are standing behind the bills, saying they'll help keep consumers safe while highlighting the need for legislative changes.
"Auto glass abuse is occurring more and more often, and most of the time the consumer doesn't even know their insurance company has been sued on their behalf," said Michael Carlson, president and CEO of the Personal Insurance Federation of Florida. "The jig is up. It is out in the open for all to see. Lawmakers want to end this madness, and we are grateful to Senator Stewart and Representative Griffitts for being among those stepping up to the challenge."
Also in Florida, a new bill is moving ahead that would make it more difficult for drivers to sue insurers, or be awarded damages in complex lawsuits.
HB 837, passed in the House Civil Justice subcommittee last week, would limit litigation costs for insurers and eliminates Florida's one-way attorney fee provisions.
More on AOBs
This isn't the first time Florida legislators have tried to stop the use of AOBs.
In December 2020, two state Supreme Courts, in Florida and Oklahoma, reversed lower court rulings that prohibited the use of AOBs.
The Oklahoma Supreme Court reversed a lower court ruling holding that a CSAA Insurance Group clause forbidding assignment of a policy also forbade assigning post-loss claim payments. The next day, Florida's 3rd District held that Lloyd's couldn't use an anti-assignment declaration during the policy application process as an exception to Florida's ban on such restrictions in contracts.
In 2019, the Florida legislature approved a bill enacting assignment of benefits restrictions — including the right to sell policies forbidding AOBs — for homeowner insurance but joined the House in declining to set new rules for auto windshield claims.
Jeff Johnston, lobbyist for the Florida Independent Glass Association, told Florida Politics at the time that carriers were only paying independent shops as little as 50% of what they charged forcing shops to sue to get their money — lawsuits that were usually successful.
Johnston told the news outlet he offered to back off on AOB lawsuits with some insurers if they agreed to pay the prevailing rate but was turned down. That led to lawmakers removing glass from the legislation, Johnston said, according to Florida Politics.
A hearing hasn't been scheduled yet for the newly proposed bills.
Images
Featured image: An installer replaces  a windshield. (herraez/iStock)
Share This: