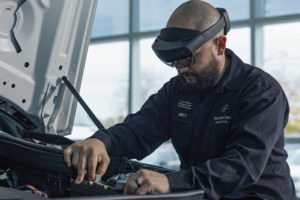 A Maryland nonprofit is showcasing how virtual reality (VR) can be used in schools and prisons to help train auto repair interns amid the skilled worker shortage.
Vehicle for Change (VFC), which repairs donated cars before awarding them to needy families, unveiled a new program this month that uses a "high-tech virtual reality training system" to teach aspiring auto technicians.
Students participating in the new training begin their lessons by putting on a pair of VR glasses, and watching as the instructor shows them how to perform a task before trying it out themselves.
Once they've perfected the computerized simulation, they can begin applying their newly acquired skills on a real car.
"We can have three people actually doing a live instruction of an oil change while I have three other people simultaneously learning that same lesson in the headset – and it's only one instructor necessary," Geoff Crawford, VFC vice president of virtual reality, told CNN.
"It's going to expedite the process of getting folks entry-level, ready to come into the garages."
With modern technologies enabling VFC to do more with less, the nonprofit is now partnering with AAA to expand the program nationally, with plans to expand to 20 locations within the next five years.
"VFC's virtual reality training program will provide even more young men and women with an opportunity to train in the field of automotive repair," Ragina Ali, an AAA spokeswoman, said in a press release.
The program is run through VFC's full circle auto repair and training center, which offers paid auto mechanic training to those with barriers to employment, including a criminal record.
Martin Schwartz, the organization's president and chief executive, said most participants have recently been released from prison.
"Our interns, mostly returning citizens, are trained through our employer-driven paid training program," Schwartz said. "We place 100% of our graduates into employment with a starting salary greater than $35,000."
He described the program as a win-win as it helps put convicts on the right path, and is helping fill a skilled labor shortage within the auto repair sector.
Jeff Peevy,  I-Car's vice president of technical products, programs and services, said there are opportunities for virtual reality and augmented reality to play a larger role in training technicians.
He added that a few things must happen first, including a need for technology to more accurately reflect automotive systems and processes. The costs of utilizing extended reality must also come down before it is likely to become more widely used within the industry, he said.
"It has a future in training," Peevy told Repairer Driven News. "As technology continues to improve, it will become more and more applicable. However, some of the costs make it limiting to do at this point."
The automotive industry has grappled for decades with how to attract and retain skilled workers. A recent Techforce study found that 232,000 techs were needed in 2021 across automotive, diesel, and collision but schools were graduating only 42,000. In collision alone, the demand was 35,000 techs while only 4,500 graduated.
Advocates have worked to draw more talent into the industry through mentorship programs, scholarships, and networking.
Using technology to reach more prospective workers is the latest in recruitment efforts, with some OEMs already using it to train employees on new technologies and practices.
In 2021, Mercedes-Benz Canada announced full deployment of its Virtual Remote Support program powered by Microsoft HoloLens 2 and Microsoft Dynamics 365 Remote Assist. The automaker said Virtual Remote Support would "redefine automotive maintenance and service technician training, leading to faster and more precise vehicle servicing for customers and dealers across the country."
In 2018, augmented reality manufacturer RealWear announced that Volkswagen Commercial Vehicles technicians at 10 United Kingdom Volkswagen Van Centers would pilot the company's innovative headgear — a device that could have benefits for collision repairers as well. Volkswagen more recently said that it recently used VR simulation to train more than 10,000 employees.
In 2018, Audi revealed it was using VR to train apprentices as well.
And in late 2020, an Australian program called Readie, Tradie Go! launched a high school program that used the latest VR technology to teach students how to spray paint a virtual car.
Images:
Featured: Mercedes-Benz shop foreman Joey Lagrasta uses the Microsoft HoloLens 2 device in conjunction with the Virtual Remote Support program. (CNW Group/Mercedes-Benz Canada Inc.)
Share This: