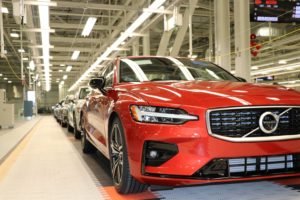 Volvo says it is further restricting its replacement part sales to its network of Volvo Certified Collision Centers (VCCC), effective immediately.
An OEM spokesman told Repairer Driven News that while a list of affected parts was not available for publication, the expansion reflects its commitment to ensuring Volvo drivers receive the best possible service.
"We set standards for Certified Collision Centers to ensure that all work will be performed to Volvo's factory specifications by expertly trained collision repair technicians," Russell Datz said. "Our centers have made all the necessary investments in training, tools, and genuine parts to satisfy Volvo's strict requirements and be recognized as a Volvo Certified Collision Center."
The automaker has been on a mission to restrict designated safety and structural components to VCCCs for years, beginning in 2019 when it announced it would stop selling 11 wheel housing and frame rail parts to those outside its network.
Volvo's Wednesday announcement adds onto that list. It said the affected parts are ones that require specific tools or skills to install. This doesn't mean repairs are restricted to dealerships, however, with many independent repairers counted among the OEM's network.
"This is great news both for the safety of our customers, and for the VCCC network which you are a valued part of," the automaker said in a memo obtained by RDN. "Given that our VCCC network is held to a high standard in terms of proper training and equipment, we entrust you to take care of Volvo customers' cars even when it comes to these restricted components.
"Body shops that are not part of our program will not be able to purchase the newly restricted parts from Volvo retailers. In fact, even our retailers will only be allowed to sell these parts to the VCCC network."
Other luxury repairers have taken similar precautions to prevent unqualified shops from compromising their vehicle structures with incorrect repairs. 
For instance, BMW announced in July 2021 a new ordering and approval process for certain carbon fiber parts to "ensure the repair facility purchasing the restricted part is properly equipped and trained to perform the repair."
Rivian and Mazda are among other OEMS to establish certified repair networks.
Also Wednesday, Volvo announced the appointment of Michael Cottone as its new president of Volvo Car USA and Canada commercial region. The OEM named the executive as it works toward transforming toward electrification and profitable growth, it said.
Cottone has more than two decades of experience within the company and was most recently its regional vice president of Western U.S. 
"There has never been a better time for Volvo Cars than right now," said Cottone. "We are at a pivotal moment in our transformation journey with several years of new, fully-electric models that will underpin our growth ambitions."
Images:
Main image: (Provided by Volvo)
Share This: