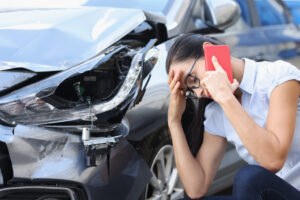 A panel of collision repair, insurance, appraisal and rental professionals agreed in April that "fundamental change" has to happen within the collision repair and insurance sectors to move away from the reliance on supplements because they degrade customer trust and unnecessarily delay the repair process.
Now, as the collision repair industry continues to grapple with a technician shortage and increasingly complex vehicle repairs, the average length of rental (LOR) has reached a record high of 18.7 days during Q1, according to Enterprise's newest LOR report.
The challenges associated with insurance claim supplements were discussed by the Collision Industry Conference (CIC)'s Industry Relations Committee during CIC's April meeting in Richmond, Virginia. Committee Chair Jim Keller said an insurance representative, which the committee agreed not to name, shared that nearly every auto insurance claim made nowadays will have at least one supplement.
"The question is not, will there be a supplement? The question is how many supplements will there be? …Writing supplements often casts both shops and insurers in the bad light of your vehicle owner," Keller said.

The committee brought up five panelists to discuss "the supplement challenge." Panelists were Barry Dorn, owner of Dorn's Body & Paint in Richmond, Virginia; DCR Systems President and CEO Mike Giarrizzo; Enterprise Holdings Replacement & Leisure Division Sales Director Margaret Owen; SCA Claims Service Vice President of Client Services Phil Langley, and Vector Square founder Roger Wright whose work history includes roles in Senior Management positions for industry-leading property and casualty insurers.
Dorn said supplements have been an issue for more than 30 years but their use has increased since the COVID-19 pandemic began.
"Customers will get a very low estimate or way out of the ballpark, and my concern is that we all lose that trust with the customer," Dorn said. "The customer knows somebody is lying to them, they just don't know who. …We're all losing. We're tripping over $20 bills to save a nickel."
Giarrizzo agreed. "It makes it such a challenging situation for a customer to have any trouble in the whole process… things need to happen in a certain sequence… to work correctly and it [supplement] just throws things way out of sequence and creates misleading information, misleads the customer; they don't know who to believe."
Owen noted that while repair times are increasing due to staffing challenges and vehicle repair complexity, LOR gets pushed even higher when multiple supplements are added to claims, especially if they're provided toward the end of a customer's rental coverage.
Langley said the goal of SCA, as a claims management firm, is to streamline the claims process, which comes down to documentation and justification.
"You all know what it's going to take and what you believe it's going to take to repair that vehicle," he said. "The industry really can benefit from better photos from everybody who's taking the photos… The documentation and the justification is really the best practice that, I would say, covers everything and then you can give out the details when we show up."
Langley added that it's best to plan on having someone from the shop walk through the estimate in person with the appraiser, so they understand it better.
Wright noted that insurers are in the risk business and need help understanding why certain repairs are necessary.
"We need to help the OEs to help us clarify some of the procedures they have," he said. "They just don't make some sense to the insurance companies and that's why there's a resistance sometimes to pay for certain things. Working collaboratively with the OEs and insurers will mitigate that risk but they need to understand why."
The proposed notion of simply providing more information to gain approval may be an easier solution in sentiment, than in practice.
The committee brought up Gary Wano, owner of GW & Son Auto Body in Oklahoma City, Oklahoma, who took the empty chair on stage reserved symbolically for the consumer. Wano shared an example of the effect supplements can have on the repair process and timely repairs, depicting a current scenario that he and one of his customers have been going back and forth on a claim with the responsible insurance carrier since August of last year. Wano decided to write a letter to the carrier, which he didn't name, about the situation.
The carrier gave an estimate of $1,960 compared to Wano's preliminary estimate before teardown of $16,600, which he said he backed up with all necessary documentation, including OEM repair procedures that must be followed to complete a safe and proper repair. The carrier said they don't pay for so-called unnecessary parts just because the OEM wants to sell more of them, Wano said.
He added that in addition to waiting on the carrier to cover the more than $12,000 difference between their estimate and Wano's, he's now also waiting on backordered parts since February. The customer brought their vehicle back to Wano in February to be dismantled so that he could prove to the insurance company that the parts he included in his estimate must be replaced.
"How aggravating is that to that client? …I wanted to let that client know that we're there for them," Wano said. "We're trying, we did everything we could, and now this car is immobile in my store because the carrier, at that point in time, did not accept all of the documentation, all of the research, that was in place.
"…between January and that period, I'd already replaced three other repairs that were very, very similar. They call for those same reinforcements and whatnot that were sacrificial and I got all those parts. "The letter to the carrier was, 'Had you listened to me in August, the parts would have been here.'"
Dorn followed by stressing that the collision repair and insurance industries have to get with the times.
"The repair industry has evolved," he said. "We have to get away from the archaic ways that we've been doing things for 30 years. Everyone is frustrated. There's no one that's winning and there's no one that's happy about this so let's change it, let's agree. We have to change the process because it can't continue down this path."
Giarrizzo pointed out that while some may argue that the repair expert is subjective, it can't be argued who should complete the repairs.
"We're very passionate about really understanding who the expert is in the repair," he said. "…[Yo]u've [repairers] gone through all of the training, you've met all the requirements, and you have access to all the information… that's got to be recognized in our industry."
Owen said Enterprise believes, just as repair shops do, that "the more cars you can fix safely but quickly, that's better."
"We don't love it when the customer is stuck in a car," she said. "We certainly don't like a really terrible, somewhat extended situation either."
She added that shops, insurers, and rental companies should work together to keep the customer in mind and help set their expectations.
According to Enterprise's Q1 2023 LOR report, Alaska's LOR was the highest at 22.7 days followed by Colorado and Louisiana – both at 21.6. Oklahoma and Oregon were next highest at 21.4 days. West Virginia, Montana, Georgia, and Rhode Island's LORs were all at 21 days or greater. The highest year-over-year increase was in Montana at 21.1 days, a 3.4-day increase from Q1 2022.
Hawaii's LOR was the lowest at 14 days followed by North Dakota (14.6), Washington D.C. (14.7), Iowa (15.3), and Nebraska (15.8).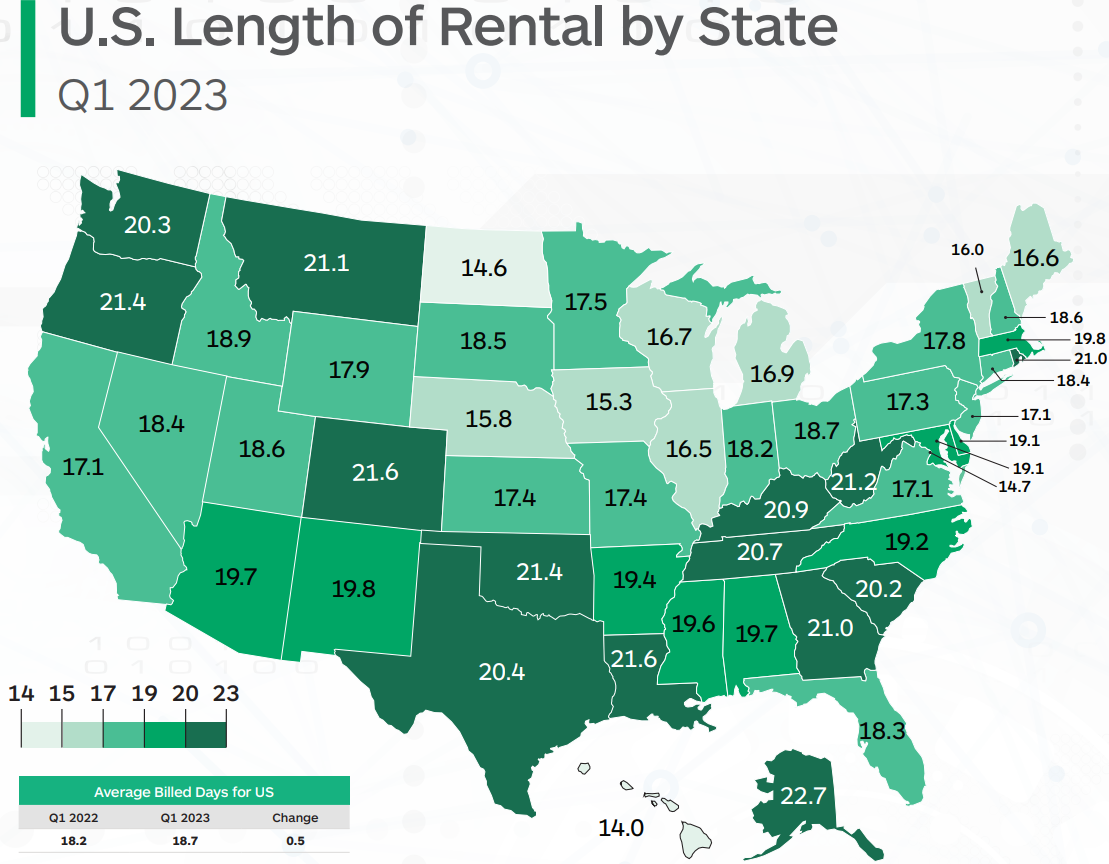 "A year ago, there were no states that had overall LOR decreases; all states were higher with Hawaii showing the 'lowest' increase of 1.5 days over Q1 2021," the LOR report states. "When comparing this quarter to the last quarter (Q4 2022), only six states plus D.C. had increases less than a full day, again with no states seeing decreases."
John Yoswick, editor of the weekly CRASH Network newsletter, shared that the national average backlog of work at U.S. shops set another record-high in January, reaching 5.8 weeks last month, up from 5.3 weeks in the last quarter of 2022.
For the first time since backlog tracking began in 2017, 60% of shops were scheduling work four or more weeks into the future in January. Of the more than 700 shops that responded to the survey, almost 9 in 10 (87%) were scheduling two weeks or more into the future, and only eight shops (1.1%) said they currently had no backlog and could schedule work immediately.
While understaffing contributes to work backlogs, the LOR report notes that the percentage of shops with an opening for one or more body techs dipped slightly in Q4 2022 for the first time since the early days of the pandemic. However, 65% of shops still said they want to hire another body technician.
At a state level, PartsTrader tracked 7 of the 10 states showing similar decreases to Enterprise's LOR results. The remaining three states where Enterprise showed a decrease in LOR from Q1 2022 showed the delivery days were identical between Q1 2023 and Q1 2022.
"Replacement parts make up the majority of costs of an estimate, and delays in parts delivery will impact length of rental," said PartsTrader's Chief Innovation Officer Greg Horn. "However, body and paint labor are the second-highest cost component and also drive cycle times. Parts fulfillment is improving, but shop technician shortages still impact overall cycle time."
Nearly 40% of shops said in December that they were experiencing fewer parts challenges in recent months than they had in late 2021, according to Yoswick. A third of shops said they had seen no change in parts challenges. One in 4, or 27%, of shops said parts-related issues had increased.
Drivable LOR in Q1 2023 was 16.1 days, a 0.6-day increase over Q1 2022, compared to an LOR of 27.5 days for rentals associated with non-drivable claims was 27.5, which was an increase of 0.8 days over Q1 2022. Total loss LOR in Q1 was 18.4 days, a small decrease of 0.1 days over Q1 2022.
Images
Featured image credit: megaflopp/iStock
(From left) Barry Dorn, owner of Dorn's Body & Paint in Richmond, Virginia; DCR Systems President and CEO Mike Giarrizzo; Enterprise Holdings Replacement & Leisure Division Sales Director Margaret Owen; SCA Claims Service Vice President of Client Services Phil Langley, and Vector Square founder Roger Wright. (Lurah Lowery/Repairer Driven News)
"U.S. Length of Rental" graphic provided by Enterprise Holdings
Share This: