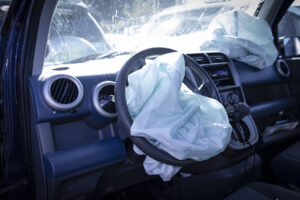 An Oregon bill to prohibit the manufacturing, importing, distribution or sale of counterfeit, nonfunctional, or non-federally compliant airbags has passed the state's House and Senate.
Senate Bill 256, sponsored by Sen. Chris Gorsek (D-Gresham), would also make it illegal to sell or lease vehicles with containing airbags that don't meet federal motor vehicle safety standards. The proposed legislation is now headed for Gov. Tina Kotek's desk for signature.
Although critics of the bill agreed that banning the sale of counterfeit airbags was a positive step, they expressed concern about prohibiting the sale of vehicles containing them.
Emil Nusbaum, Automotive Recyclers Association (ARA)'s vice president of government and regulatory affairs, said the bill would interfere with processing total loss vehicles for reuse or recycling.
"SB 256 would make it illegal for automotive recycling facilities to purchase crash-damaged vehicles that have had their airbags deployed – even though automotive recycling facilities are dismantling these vehicles for parts and the recycling of materials," he told the House Committee on Judiciary.
"This would have a tremendous impact on all commerce involving end-of-life motor vehicles and would have a serious negative impact on the automotive recycling industry and every industry engaged with the handling of end-of-life/total-loss vehicles."
Darrell W. Fuller, a lobbyist representing the Northwest Automobile Trades Association, the Oregon Vehicle Dealer Association, and the Oregon RV Dealers Association shared similar concerns.
He said while the associations support the intent of the legislation, it could have unintended consequences by restricting the sale of vehicles with nonfunctioning airbags or restraint systems.
"This restriction will impact thousands of sales in Oregon," he told the committee. "Dismantlers buy and sell wrecked vehicles with nonfunctioning airbags and restraint systems. Dealers sell vehicles with nonfunctioning airbags and restraint systems. Insurance companies sell vehicles with nonfunctioning airbags and restraint systems. The key in these transactions is disclosure of the vehicle defect prior to the sale."
Bill proponent Howard Handler, a senior director with the National Insurance Crime Bureau, said counterfeit airbags are putting lives in danger when urging the Senate to pass the legislation.
"The National Highway Traffic Safety Administration (NHTSA) has warned consumers that counterfeit airbags have been shown to consistently malfunction, from non-deployment to the expulsion of metal shrapnel during deployment.," Handler told lawmakers. "Vehicle safety equipment as important as airbags are subject to strict quality control standards to keep the public safe.
"Counterfeiters are much more likely to skirt these standards which can lead to disastrous consequences."
Handler referenced the case of a Philadelphia mechanic who pleaded guilty earlier this year to trafficking "hazardous" airbags into the U.S. from China and selling them to unsuspecting customers.
According to the U.S. District Attorney's Office, Emilano Rodriguez fraudulently imported airbags from China from Jan. 2017 through Oct. 30, 2019. He then installed the defective parts in salvaged vehicles, which were then resold to consumers
"No matter how counterfeit airbags are obtained and installed in the vehicles of unsuspecting motorists, the results can be deadly," Handler said.
Honda expressed strong support for the bill as well with Craig Orlan, its director of state and local government affairs, saying the OEM has worked with a coalition of stakeholders to push for legislation in states across the country to supplement federal law.
"Hundreds of these imitation airbags have been tested over the years and in every case the knockoffs have failed to meet federal crash worthiness standards, often catastrophically," he said. In 2012, the National Highway Traffic Safety Administration (NHTSA) issued a consumer advisory warning the public about this problem and released a now famous video showing just how dangerous these products can be.
"Because of the cost and precision involved in replicating airbag technology, many counterfeiters do not even bother to try replicating the technology. Instead, they chose to fill airbags with sawdust, newspaper, paper towels, Styrofoam or other debris that is not intended to provide vehicle occupants with protection during a crash."
Once signed, the legislation will make fake airbags part of Oregon's Unlawful Trade Practices Act to protect consumers and allow them to sue for damages. The law would also allow the state's attorney general to file civil action against those selling or manufacturing counterfeit airbags.
Meanwhile, Florida Gov. Ron DeSantis has signed a bill into law that will eliminate assignment of benefits (AOB) on insurance claims.
SB 1002 will prohibit shops or their employees from "offering anything of value to a customer in exchange for making an insurance claim for motor vehicle glass replacement or repair," otherwise known as AOB. AOB is a measure collision repair shops can use to fight insurance companies over underpayment on behalf of their customers.
The bill will also prohibit insurance carriers and auto glass shops from steering customers to certain businesses.
Insurance Journal reports that the passage of SB 1002 is just the latest piece of legislation designed to reduce claims litigation in Florida coming after lawmakers' decision in December to end AOB in property claims and limit one-way attorney fees in insurance litigation. In March, calling Florida "a judicial hellhole," DeSantis signed into law a tort reform bill that, among other things, is meant to "decrease frivolous lawsuits and prevent predatory practices of trial attorneys."
Image
Featured image credit: Benjamin Clapp/iStock
Share This: