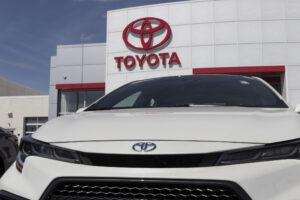 Toyota to offer promotional parts pricing to shops, hopes to boost use of Genuine parts
By on
Collision Repair
Toyota Motor North America is now using CCC Promote to offer promotional and discounted pricing to parts dealers and shops in hopes of encouraging an increased use of Genuine Toyota parts, and at the time estimates are written.
Most, if not all, automakers recommend using OE parts for correct fit, impact force absorption, and occupant protection in the event of a collision as some aftermarket parts that claim to be like kind and quality don't hold up to those standards.
Toyota spokesperson Victor Vanov told Repairer Driven News the business move will help Toyota dealers reach the large number of shops on CCC's platform and be more competitive in the wholesale collision parts market.
CCC shared with RDN that Promote has been in place for several years and is used daily by auto manufacturers and thousands of dealers to present their parts inventories to thousands of shops that use CCC ONE to write estimates. It's part of CCC Parts. CCC estimating software is used by more than 28,500 repairers and processes more than 26 million repair estimates annually.
"Shops using CCC ONE can see dealer's parts pricing within the estimating process — as estimates are being written and parts decisions are being made," CCC said. "When the manufacturer puts parts into the CCC Promote program, dealers within the CCC Network can automatically quote promotional pricing to their shop customers.
"With CCC Promote enabled, shops don't have to make phone calls or use an extra system to understand if there is a manufacturer supported promotional price for the part(s) they need."
The promotional parts prices will be available to all shops on CCC ONE and that transact with Toyota and Lexus dealers. The prices offered through CCC ONE goes live on Aug. 1. Toyota wouldn't share with RDN which parts will be priced lower but said parts that will be included are currently highly competitive in the market.
When RDN asked if Toyota's use of CCC Promote would ensure more OEM parts are allowed to be used by insurers in collision repairs due to lower prices, Vanov responded, "Toyota and Lexus customers, vehicle owners, will benefit by increased OEM parts being used to repair their vehicles, helping to keep their Toyotas with Genuine Toyota parts."
Images
Featured image credit: jetcityimage/iStock
More information
Vermont lawmakers mandate labor rate & aftermarket, recycled parts study
Texas lawmaker contends Safe Auto Repair Bill would mandate carriers uphold policy contracts
Share This: