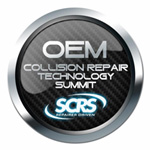 SCRS Publishes Schedule For OEM Collision Repair Technology Summit at 2014 SEMA Show
By on
Announcements
The Society of Collision Repair Specialists (SCRS) has published the full schedule and lineup of speakers for the inaugural OEM Collision Repair Technology Summit being held Wednesday, November 5th at the Las Vegas Convention Center during the SEMA Show. The Summit will allow the industry to explore ways in which automotive design, technology and materials impact repairability, and how in turn how repairability influences structural design and development. Registration is required, and can be selected as a stand-alone event or as part of the RDE Full Series Pass. Event is held in the upper level of the Las Vegas Convention Center, North Hall in Rooms N231-N241. Register today at www.semashow.com/scrs.
To print schedule, click here.
9:00am – 9:15am
Welcome AddressAaron Schulenburg
SCRS | Executive Director
9:15am – 10:00am
Presentation: Aluminum Transportation GroupDoug Richman | Technical Committee Chairman, the Aluminum Association's Transportation Group and Vice President-Engineering/Technology, Kaiser  Aluminum
10:00am – 11:15am
Panel I – Automobile    Developments: How Automotive Manufacturing is Driving Change in the  Repair IndustryA panel of automaker technical experts will discuss advancements in vehicle design specific to materials and architecture that will impact repair process and approach.Mark Allen
Audi of America | Specialist – Collision Programs & Workshop EquipmentTom Brizuela
BMW of North America | Body & Paint Technical Team LeaderLeo Gruzas
General Motors | Manager, Body/Exterior Service EngineeringBenito Cid
Mercedes-Benz, USA | Collision Business Manager

Andy MacDonald
Tesla Motors | Body Program Manager

Joseph DiDonato
Toyota Motor Sales, USA |Collision Training Administrator, Technical Training & Body Department

Moderated by: Jason Bartanen
I-CAR | Director, Industry Technical Relations

11:15am – 12:00pm
Presentation: Auto/Steel PartnershipDavid Rigg | Advanced High-strength Steel Repairability Chair, the Auto/Steel Partnership and Global Service Lead, Structures, General Motors Company
Lunch Break
 (1 hour)
1:00pm – 2:00pm
Panel II – Equipment    Development: How vehicle design and materials relate to equipment longevity and designA panel of collision repair equipment manufacturers will discuss howvehicle design and substrate materials relate to tool and equipment design, application and longevity.Per Madsen
Car-O-Liner Company | Managing Director, SingaporeKen Boylan
Chief Automotive Technologies | Global Training ManagerStéphane Jourdan
Celette France SAS | Technical DirectorBrandon Lowder
Global Finishing Solutions | Vice President of Refinish

Ron Olsson
Pro Spot International | CEO

Tim Morgan
Spanesi Americas | Managing Director

Moderated by: Lou DiLisio
Automotive Industry Consulting, Inc. | President

2:10pm – 3:35pm
Panel III – Marketplace Development: How specialization is shifting collision repair business practicesA panel of collision repair professionals will discuss the commitment to certified collision repair programs and advancing technology, how their businesses differ from traditional collision repair businesses and the costs associated with training, equipment and resources. They will illustrate business cases for how such investments can produce an ROI, even when faced with current market pressures.Kye Yeung
European Motor Car Works (California) | OwnerPaul Sgro
Lee's Garage (New Jersey) | OwnerEric McKenzie
Park Place Dealerships (Texas) | Director of Body Shop OperationsRon Reichen
Precision Body and Paint (Oregon) | Owner

Luis Pineda
Spectrum Collision Center (California) | General Manager

Rodney Antepenko
Westmont Body Werks (Illinois) | Owner

Moderated by: Dusty Womble
Roger Beasley Collision Center (Texas) | Operating Partner / General Manager

3:45 – 4:45pm

Panel IV – OEM Certification Development: The programs behind OEM partnership 

A panel of automakers and their designated certifying partner companies will discuss the development and implementation of OEM certification programs. The sessions will discuss what they look for, the advantages such programs create for the marketplace, and how the programs are changing the future outlook for the industry.
Mark Allen
Audi of America | Specialist – Collision Programs & Workshop Equipment
Gary Scott
Axalta Coating Systems | Business Segment Manager, OEM Aftermarket
Paul Massie
Ford Customer Service Division | Collision Product Marketing Manager
Scott Biggs
Assured Performance | CEO
Benito Cid
Mercedes-Benz, USA | Collision Business Manager
Vic Mueller
Summit Consulting Int'l | Mercedes Benz Collision Business Manager
Rick Leos
Toyota Motor Sales, USA | Wholesale Parts & Collision Strategy Consultant
Bob McDonald
Summit Consulting Int'l | President and Toyota/Lexus Certified Collision Business Manager
Moderated by: Jordan Hendler
Washington Metropolitan Auto Body Association | Executive Director

5:00pm
Closing Remarks
The OEM Collision Repair Technology Summit is produced by the Society of Collision Repair Specialists and supported by PPG Refinish Products; AudaExplore, a Solera Company; BASF; Ford Motor Co.; The Hertz Corporation; 3M Automotive; CrashRepairInfo.com and Toyota Motor Sales, USA.
For more information about SCRS' Repairer Driven Education (RDE) series, and to register for the OEM Collision Repair Technology Summit and other RDE sessions, please visit www.semashow.com/scrs. Discounted pricing available through Friday, October 17, 2014.  
See Also:
About SEMA and the SEMA Show: The SEMA Show is a trade show produced by the Specialty Equipment Market Association (SEMA), a nonprofit trade association founded in 1963. Since the first SEMA Show debuted in 1967, the annual event has served as the leading venue bringing together manufacturers and buyers within the automotive specialty equipment industry. Products featured at the SEMA Show include those that enhance the styling, functionality, comfort, convenience and safety of cars and trucks. Additional details available at www.semashow.com or www.sema.org, (909) 396-0289.
About SCRS' RDE Series: REPAIRER DRIVEN EDUCATION (RDE) series will feature 4 days of seminar offerings, many of which are uniquely designed and being offered only at the 2014 SEMA Show. Each of the courses has been individually selected or crafted by SCRS because the content specifically focuses on information that is relevant to the diverse array of marketplace perspectives within the collision repair industry. Register atwww.semashow.com/scrs.
About SCRS: Through its direct members and 44 affiliate associations, SCRS is comprised of 6,000 collision repair businesses and 58,500 specialized professionals who work with consumers and insurance companies to repair collision-damaged vehicles. Additional information about SCRS including other news releases is available at the SCRS website: www.scrs.com. You can e-mail SCRS at the following address: info@scrs.com.
Share This: