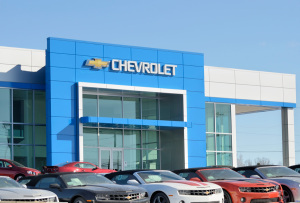 GM's Competitive Pricing Platform Rescheduled to Launch Early 2015
By on
Business Practices
On Tuesday, November 4th, General Motors (GM) announced a new initiative to effectively change the way collision repairers obtain list pricing on parts from the manufacturer. The tool – www.MyPriceLink.com (MPL) – would eliminate GM's  provision  of  a  list price to
information providers (IPs) in favor of a web-based portal that would allow GM to provide a more dynamic list price direct to the repairer based on the market at the time the estimate is written. GM executives made a priority to arrange several meetings with the Society of Collision Repair Specialists (SCRS) leadership prior to the initial launch, and during the 2014 SEMA Show, GM's Wholesale Dealer Channel General Director Kris Mayer sat down for an exclusive interview with SCRS. As he explained, the new process has been designed to simplify the repair process for customers while also providing competitive pricing and encouraging use of OEM parts.
"Today, we provide a list price and then a body shop can use our conquest program to try and get a more competitive price to compete against the aftermarket parts," he said. "With MPL, we'll be able to provide a competitive price without having to use any conquest initiatives or program disruptions at the end of the estimate process. We'll provide more competitive pricing up front, versus after the fact."
In response to questions about the decision-making process leading up to the unveiling of MyPricingLink.com, Mayer stressed the intent of providing more fluid pricing and improving a "clunky" process. "We felt that it was [previously] an after-the-fact way to be competitive," he said. "With this, based on market conditions, we can look at the market or a particular price and its competition and offer a price based on our intelligence and market pricing. Our pricing is currently updated once a month; in the future, we'll be able to update pricing much, much more dynamically."
"Our focus is on the GM customer and the collision repairers fixing their vehicle; our  end result is  to offer the best OEM part that has been designed, built and produced for that vehicle, so that it can be repaired in a safe manner to pre-crash condition," he continued. "The safety of our customer is the most important consideration, and they should be offered the best and safest parts up front."
Then when asked if MyPricingLink.com would affect shops' profitability, Mayer maintained that the aim of the program is to ease repairers' troubles, not increase them. "It really isn't our intent to change margins, and acquisition pricing to the dealers is not changing," he said. "[MyPricingLink.com] does affect our ability to be more dynamic and provide mark-up pricing, but we don't see it changing margin structure for the people who are involved. That is not our goal – we're just offering the price in a different way. Shops just want to be able to get a decent price, be competitive, repair the vehicle and move onto the next. They shouldn't have to be procurement experts."
On November 10th, GM announced that it had rescheduled the previously-announced December 1st launch date of the initiative to early 2015, citing "workflow pressures on outside parties [that have] brought to light enhanced solutions and the increased desire for integration opportunities…To this end, GM has listened, and has agreed to pause and extend the implementation of MyPriceLink.com…[allowing] for all parties to prepare and adjust as needed in order to begin getting GM list prices from the MPL.com price engine."
"The objective of MyPriceLink.com – to provide dynamic pricing up-front in the estimate versus at the end of the process, at no charge to the user – has remained the same," Mayer states in a follow-up interview with SCRS. "We are listening to some of our technology partners who have come forward with more seamless, less disruptive solutions for us to explore. The willingness, support and input from our industry partners is really what made us change directions and say, 'Okay; let's see if this makes it better for everyone.'"
Without mentioning which facet of the industry in particular influenced the decision, Mayer noted that "we do have good workarounds with our dealers that would have been in place by December 1st; they would have been the least disrupted. We'll have some more upcoming announcements in the near future that will clarify our position and provide more information. For now, we are working on fine-tuning MPL to make it as seamless and helpful to our industry partners as possible."
GM will continue to publish list prices until the platform has been launched in earnest. For more information on General Motors, please visit www.gm.com.
About SCRS: Through its direct members and 44 affiliate associations, SCRS is comprised of 6,000 collision repair businesses and 58,500 specialized professionals who work with consumers and insurance companies to repair collision-damaged vehicles. Additional information about SCRS including other news releases is available at the SCRS website: www.scrs.com. You can e-mail SCRS at the following address: info@scrs.com.
Share This: