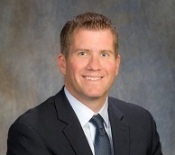 Massachusetts Insurance Commissioner Submits Resignation
By on
Legal
Insurance Commissioner Joseph Murphy won't be trying to stick around under a new Baker administration.
Murphy submitted his resignation on Thursday and plans to move into the private sector, according to administration officials.
A Quincy native who worked in the State House for Majority Leader Ronald Mariano, Murphy took over as insurance commissioner in February 2010, appointed by Gov. Deval Patrick to the post after serving as first deputy in charge of day-to-day operations of the division.
"Commissioner Murphy has been an invaluable member of the Patrick Administration, helping to advance Governor Patrick's efforts to bring health care cost increases under control for the Commonwealth's small businesses and families and oversee the introduction of managed competition in auto insurance, bringing new entrants into the Massachusetts marketplace and increasing choice and value for consumers. His leadership will be missed," Housing and Economic Development Secretary Greg Bialecki said in a statement.
Officials said Murphy planned to enter the private sector, though it was not immediately clear whether he has already accepted a job. His resignation will become effective on Dec. 10.
First Deputy Commissioner Gary Anderson, a former aide to Senate President Therese Murray and Sen. Anthony Petruccelli, will assume the responsibilities of the office, according to Bialecki's office.
Murphy was not immediately available for comment.
As insurance commissioner, Murphy worked as the state's chief insurance regulator monitoring licensed carriers and reviewing rates from insurers in the health and auto sectors, among others.
According to his biography, Murphy was involved in helping Patrick transition from a regulated automobile insurance market to a system of managed competition that led to 15 new companies, including some of the largest auto insurance carriers in the country, entering the Massachusetts market.
The Division of Insurance also played a key role as Gov. Patrick sought to tamp down rapidly rising health insurance rates.
Murphy holds a bachelor's degree in history and political science, and currently resides in Charlestown.
Share This: