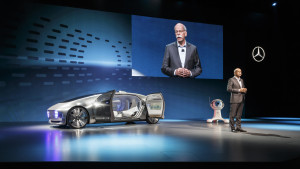 Mercedes, Valeo, Audi self-driving cars shown off at CES
By on
Technology
The Consumer Electronics Show in Las Vegas gave journalists more opportunity to look at self-driving cars, an admittedly cool technology with some potentially harmful consequences
Mercedes heavily plugged its F 015, which sounds like a very tiny Ford truck more than a luxury autonomous car, according to a New York Times writer.
More RDN coverage

Self-driving cars: 2014 vehicle tech trend predictions likely to hold up for 2015

Toyota at CES: Toyota joins Tesla in releasing patents
"The single most important luxury goods of the 21st century are private space and time," Daimler AG Chairman Dieter Zetsche said in a statement. "Autonomously driving cars by Mercedes-Benz shall offer exactly that. With the F 015 Luxury in Motion, this revolutionary concept of mobility becomes tangible for the first time."
According to Mercedes, the car includes rotating passenger seats, kind of like what you see in luxury planes, carrying passengers who can use touchscreens, gestures, or eye motions to control the car.
The car itself communicates with other people on the road with commands and other sounds, has LED displays for more interaction, and can project images with lasers ("capable of projecting a zebra crossing onto the road, for instance," according to Mercedes. It's a little unclear why you'd want to project a zebra, but it sounds cool.)
According to Mercedes, it will run on some sort of combination of fuel cells and battery. Its body is made up of a composite of carbon fiber, aluminum and high-strength steel — which could make for more difficult repairs.
One Slate writer questioned whether or not a Mercedes S-Class would really resemble the F 015 15 years from now, calling it more of a concept than a concrete blueprint.
One Business Insider writer covered a different self-driving car, riding in a Volkswagen featuring Valeo technology. He speculated that self-driving cars might not be completely on autopilot; instead, it'd be used during situations a human driver would find boring — highway or traffic-jam driving — while the human driver plays Angry Birds on his phone.
And "Jack," the self-driving Audi A7, successfully made it to CES in Las Vegas on Tuesday, Digital Trends reported. The car left San Francisco on Monday.
The Times post raises an interesting point on whether self-driving cars will mean fewer vehicles, citing Atlantic coverage of a new study. New Ford CEO Mark Fields told the Times he envisions more ride-sharing in the future, but dismissed the idea that this would hurt his industry. (Of course, what is the new CEO going to say? His business is doomed?)
But fewer cars could mean lower volume for shops, particularly if the cars themselves aren't crashing as much.
On the other hand, smarter cars could be much more difficult to repair after being damaged. This could lead to more billable hours and specialized services which could produce expanded revenue streams within a traditional collision repair business (good) but require expensive investments in shop infrastructure and employee training (bad). It also could hinder smaller shops and competitive pricing if only a few larger entities (dealerships, for example) are approved make the repairs on a customer's Jetsons car.
The Insurance Information Institute also projected fewer cars, pricier repairs, and intriguingly more liability concerns for manufacturers as a lawyer or competing insurer lays blame for a crash at the feet of a onboard computer instead of a driver. No-fault insurance or some sort of different method for paying victims (and tort lawyers) that wouldn't stifle innovation were thrown out as solutions to that issue.
More information:
Mercedes F 015 on the official Daimler AG site.
Valeo Cruise4U on the official Valeo site.
Share This: