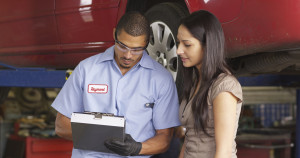 KFOX: After accusations against local shop, Texas auto body repairers give tips for consumers
By on
Business Practices
After reporting on a local collision repair business owner's allegations of deceptive trade practices, KFOX of El Paso, Texas, took the welcome step of interviewing other shops about the impact such accusations have on the industry and soliciting advice for consumers.
The collision repair practitioners — John Morales, general manager of Body Masters Collision, and Sergio Lewis Body Shop owner Sergio Lewis — were good ambassadors for the industry, offering tips on picking a shop. Conversely, a shop might want to adopt some of these practices to distinguish their customer service if they haven't already.
Morales urged customers to ask shops about offering warranties, and both told customers to avoid shops that won't guarantee work. He said Body Masters attempts to provided daily updates to customers and urged customers to check on progress.
Lewis also warned of telemarketers trying to drum up business using car crash police report details.
More information:
"Body shop owner awaits trial, local independent shops feel negative impact on industry"
KFOX, Jan. 19, 2015
Featured image: Auto body shops can take steps to make customers happy and secure a good reputation for their business. (viafilms/iStock/Thinkstock)
Share This: