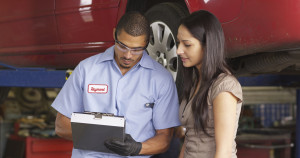 Though customers are satisfied by the work done at both, they are happier overall with the experience at independent auto repair shops than dealership repairers, Consumer Reports found.
The 2014 study, announced Thursday, revealed that indies got higher marks in overall satisfaction, completion time, courteousness, price and quality than dealerships for work on 41,000 independent vehicles and 80,000 dealershop jobs.
"To be fair to mechanics at franchised dealerships, our respondents also reported being very satisfied overall with their repairs despite being outscored by independent shops," Consumer Reports cars content development team leader Mark Rechtin said in a statement.
NOTE: It's unclear if Consumer Reports counts multi-shop operators as "independents." We've put in a call to them for clarification.
Consumer Reports' article and detailed breakdown on the study is online now and will be in the Jan. 29 magazine.
The only manufacturer whose dealerships beat out independent shops was Tesla (Consumer Reports probably means official service centers), though Consumer Reports noted its small customer base and short time in existence might have affected the results. Plus, there's presumably not as many independent shops working on Tesla. (Also, Tesla owners appear to have the same cultlike brand devotion as Apple fans, which could influence the results.)
Luxury/upscale dealership shops received the highest marks behind Tesla, with Elon Musk's company followed by runners-up Buick, Lincoln, Cadillac, Lexus, Porsche, and Acura, according to Consumer Reports.
But as Rechtin noted, all manufacturer dealerships still got good reviews in overall satisfaction, so you guys who work in the industry should still take pride in that. The lowest satisfaction score was 76 from Dodge Ram owners, which still means "fairly well-satisfied."
Both types of shops were willing to haggle — though only 19 percent of customers even tried to do so, the magazine found. Those that did saved a median of $120 at dealerships and $94 at independents.
More information:
"Independent shops outshine dealership repair centers in Consumer Reports car repair satisfaction survey"
Consumer Reports, Jan. 22, 2015
"Best places to get your car repaired"
Consumer Reports, Jan. 22, 2015
Featured image: Consumer Reports found good customer satisfaction results at both independent and dealership shops, though indies scored higher. (viafilms/iStock/Thinkstock)
Share This: