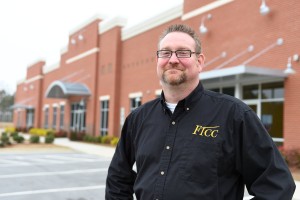 It's known as an Army town, but Fayetteville, N.C., is developing a reputation for collision repair as well.
Wednesday at 10 a.m., auto body repair, equipment and insurance dignitaries will visit the city to celebrate the opening of Fayetteville Technical Community College's revolutionary Collision Repair and Refinishing Program. Classes have already begun; the first 17 students, who call themselves "Team One," will graduate in 2016.
The buy-in from industry players, both in helping to design the program and committing to serve on its executive board, has not gone unnoticed by the students. On their first day, program coordinator Paul Gage dealt out business cards from industry participants and stressed their personal support for the program.
"Everyone recognized how much is riding on the success of this program," Gage, a 17-year veteran of the Nationwide training division, said in a statement. "I tell them, 'When you graduate, you're going to feel like you're a part of the NFL draft!'"
Collision Repair Education Foundation Executive Director Clark Plucinski, who is expected to speak at the ceremony, called the program "a true paradigm shift."
"FTCC's curriculum will shape the future of education in the collision space," he said in a statement.
FTCC: Program a bargain
The program is heavily influenced by I-CAR. Anyone passing it will get six I-CAR platinum designations and three welding certifications, as well as Auto Service Excellence B2-B5 certifications.
They'll also get a job. Gerber Collision & Glass has guaranteed positions for "Team One," and other employers are doing so as well, FTCC said. Even if that wasn't the case, a shortage of qualified techs means a graduate could write their own ticket. The college estimates 180,000 jobs will need to be filled in collision repair and insurance over the next few years.
"Gerber Collision & Glass is excited with the program initiated by FTCC and looks forward to hiring its graduates," Gerber Collision CEO Tim O'Day said in a statement. "The industry needs qualified graduates and FTCC's focus on I-Car curriculum and significant hands-on experience is exactly what Gerber needs. We expect what FTCC has developed to become a model for other educational programs around the country."
Below: This video by the North Carolina Business Committee for Education gives a look inside the collision repair program at Fayetteville Technical Community College:

FTCC estimates that graduates of the associate's program will receive $10,000 in certification and training for $5,500 in tuition, making it an even better deal for students. There aren't textbooks to buy — program resources are online, and students are given tablets to share for lessons. (Even if you bought a computer or tablet, it'd probably be cheaper than the cost of several college textbooks.)
The college also has the necessary tools onsite for students, saving them what could have been as much as a few thousand dollars.
Fayetteville, N.C., is heavily influenced by nearby Fort Bragg, and the program helps discharged veterans — and alleviates worker shortages — by starting a new semester of classes every eight weeks. The collision repair brochure itself issues a recruiting-poster challenge: "The collision repair industry is in need of the best."
Below: The end of this tour video highlights the new collision repair building:

The shop
In addition to a shortage of qualified technicians, the industry also must contend with increasingly complicated automotive technology and repair processes — not just with materials like aluminum but more advanced diagnostics and safety-related sensors.
"As an industry we are beginning to see a 'tsunami' of new vehicles, new technologies and new materials–like aluminum, magnesium, carbon fiber and advanced high-strength steels," I-CAR President and CEO John Van Alstyne said in a statement. "In a typical model year, OEMs launch 65 or more new or significantly re-engineered vehicles. In this era of rapid technology change, it is imperative that the collision repair industry embrace a robust and earnest learning culture, keeping pace through up-to-date and continuous training. The FTCC program, with the I-CAR Professional Development Program Education Edition as the foundation curriculum, represents an innovative model of what collision repair education could and should be."
The collision repair building on Procurement Circle is 25,000 square feet and will make local body shops jealous. It has two frame alignment systems; an aluminum clean room; two frame alignment systems, waterborne equipment and a waterborne paint refinishing system; welding options running the gamut from smart MIG for aluminum, silicon bronze and steel to squeeze-type resistance welders to nitrogen plastic welders. It's state-of-the-art — or at least until automotive technology changes yet again.
The college cost $4.45 million, including a $3 million loan from Cumberland County, N.C., $1 million in donations and discounts, and $450,000 from FTCC in upgrades to the building.
Its final price tag was unclear, but the college received $3 million in financing from Cumberland County, N.C., as well as help from industry players, according to a Fayetteville Observer report and FTCC.
Below: The location of the new collision repair center at FTCC:


Insurers
Insurance companies — which are facing the same complexity in damage appraisals and shortage of incoming skilled workers as the collision repair industry — will also benefit from the program in the form of more experienced appraisers. The college offers three tracks: refinish technician, nonstructural technician and estimator.
The two industries have a complicated relationship, and perhaps the students and executive committee members working together in such close proximity will allow a greater understanding of each other.
"We are excited about working with FTCC to identify and train future repair technicians, adjusters and management leaders to fill the growing and unmet needs of our industry both on the insurance and body repair sides," Geico claims Vice President Ryan West said in a statement. "Fayetteville provides us with a perfect mix of capable and proven talent to introduce to our industry."
Editor's note: FTCC provided some clarification into questions we posed in the initial version of this article about hiring guarantees, students' tools, and the cost of the facility. The article has been updated to reflect its answers.
More information from Fayetteville Technical Community College:
"Collision and insurance industries celebrate new model for collision repair education at Fayetteville Technical Community College"
"New associates degree curriculum in collision repair and refinishing tackles industry's lack of skilled labor"
"Reshaping the collision repair industry"
Featured image: Fayetteville Technical Community College collision repair program coordinator Paul Gage poses in front of the program headquarters. (Provided by Fayetteville Technical Community College)
Share This: