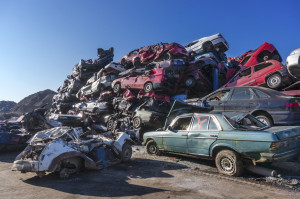 The true history of more than 30,000 seriously damaged or total-loss vehicles for sale in Indiana and Illinois was being obscured, experts told a WLS investigative team.
Experts showed the reporters how the car's condition was hidden from buyers through erased odometers, missing information and phony titles. The station published their report Tuesday.
"And they actually folded this document back and forth and rubbed it and you can see they removed the 'salvaged'," Sgt. Elmer Garza of the Illinois Secretary of State told the station.
A CARFAX staffer told WLS that scammers would alter a title from a car in one state and sell it in another state. Sometimes, you don't even need to alter it — damage from one state might not even show up on another state's title, the team found.
Besides checking a source like CARFAX, a simple Googling of a VIN number could produce the truth in some cases.
Illinois law lets you advertise a car without revealing its condition until the sale is done, making it easier to fool a buyer.
WLS' coverage did note the potential for a skilled collision repairer to rebuild a car, cautioning not everyone could do it.
"The parts, the labor, the knowledge that you need to rebuild today's cars – I wouldn't put my family in a car that had a salvage title. Not on your life," auto expert Greg Jacobi told the station.
Across the ocean
Two days before that, a British police commissioner gave a similar warning to his jurisdiction
Cheshire County crime Commissioner John Dwyer was slated to appear on the BBC show "Inside Out: North West" on Monday, the Chester Chronicle reported that day.
According to the newspaper, which appears to be quoting from Dwyer's appearance on the show, Dwyer said that he found that "many structurally damaged vehicles were being repaired by people who didn't possess the necessary skills, materials or equipment to carry out these repairs."
He said that Category B vehicles which "should be crushed" are available "on many online auction sites and sold second hand," the Chronicle said.
The Chronicle reported that Dwyer also put in a plug for professional collision repair.
"If it is a write off, the car should be crushed so it can never see the light of day," he said, according to the newspaper. "If it's not a write off, it should be repaired by a British Standard PAS125 approved body shop and nowhere else."
More information:
"Salvage for sale: Potentially dangerous cars may have hidden history"
WLS, Feb. 3, 2015
Share This: