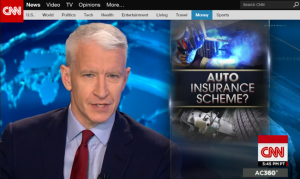 An "Anderson Cooper 360" piece Wednesday night criticized insurers for mandating salvage or aftermarket parts and "steering" customers to corner-cutting body shops.
The nearly 11-minute report, featuring CNN reporter Drew Griffin and produced by Scott Bronstein, spotlights the lawsuits against insurers against "steering" by what the report called more than 500 shops in 36 states now. It accuses insurers of a "deliberate system" to send consumers to shops who will do the "absolute bare minimum."
It focuses particularly on the use of salvage and aftermarket parts — probably because they're more visual — highlighting shoddy ones that in some cases were packaged "like a new part," in the words of a Monroe, La., shop owner on the show.
It ends with Cooper calling the report "unbelievable" and asking what can be done.
Griffin urges viewers to check their policies carefully before they get into a crash — he notes earlier that the language about using non-OEM parts is often buried in a policy — and see what the insurers will actually pay for.
That's welcome advice for collision repairers, as it gets the customer aware about what's going on before they show up in your shop.
You can watch the entire video here.
The piece also talked to Republican Louisiana Attorney General Buddy Caldwell, who has filed a lawsuit against State Farm, the biggest insurer, and Mississippi Attorney General Democrat Jim Hood, who is planning to sue the insurance industry too.
State Farm offered CNN this statement: "Our customers choose where their vehicles are going to be repaired. We provide information about our Select Service program while at the same time making it clear they can select which shop will do the work."
Griffin also cites a State Farm legal filing that denies it mandates aftermarket parts.
The company referred all other CNN questions to Neil Alldredge, who says that "most" insurers don't require aftermarket, repaired, or salvage parts, but when they do, the parts are cosmetic. He also says that often, aftermarket parts "are no different."
"That's not true," Griffin reprimands him.
Caldwell condemns the use of unsafe aftermarket and "junkyard" parts, and Hood had choice words for the insurance industry on the show.
"They would force a body shop to put junk parts, to weld and patch," Hood says. If a body shop doesn't play ball, he said, insurers steer business away and inconvenience them.
"They use their economic power to grind down working people," Hood tells Griffin.
Aftermarket, salvage responses
The report seemed to target insurers more than aftermarket manufacturers and salvage suppliers, but both industries reacted to their mostly negative depictions on the show.
"The bad news: we all know that substandard parts exist in the market," Certified Auto Parts Association Executive Director Jack Gillis said in a statement. "The good news: CAPA's independent, fully transparent, non-profit, rigorous quality certification program enables shops, insurers and part distributors to identify high quality, safe, and good fitting alternative parts."
A spokeswoman for the Motor and Equipment Manufacturers Association and its "subsidiary," Automotive Aftermarket Suppliers Association said she hadn't seen the piece but neither group would likely have any comment.
The Auto Care Association offered this statement:
"The CNN piece leaves car owners under the false impression that aftermarket parts in general are of inferior quality to the original equipment component.  There is absolutely no truth to this impression.  Non-original equipment parts are as good and often, better than the OE parts they replace.  In fact, they are often produced by the same company, but may come in a different box.  Companies producing parts in the aftermarket often have the opportunity to correct defects in original equipment parts that are frequently only discovered once the vehicle has been on the road.
"Further, should car owners choose not to accept the non-original equipment parts, the repair likely will cost more since original equipment parts are normally priced higher in comparison to a similar aftermarket component.  However, the additional cost to the consumer will have no resulting benefit to either the quality or safety of the repair."
Automotive Recyclers Association CEO Michael Wilson also challenged the report in an open letter to the show:
"If you had dug a little deeper to ensure balanced reporting, you would have learned of ARA's September 2014 response to Louisiana Attorney General Buddy Caldwell in which we took issue with his mischaracterizations and disparaging statements," Wilson wrote. "He, like your reporters, wrongly referred to these parts as 'nothing more than junk yard parts.'  That is simply untrue.  Parts sold by professional automotive recycling facilities are recycled genuine original OEM parts that meet OEM requirements.  They are OEM parts, designed by the OEM, and built to meet the OEM requirements for fit, finish, durability, reliability and safety.  The legal precedent that exists for this response was also missed in your reporting — an historic ruling by the West Virginia Supreme Court of Appeals just last June which affirmed the use of salvage/recycled OEM crash parts in vehicle repairs and found that recycled parts are diametrically different from aftermarket parts. "
Other highlights
At the federal level, the show interviewed U.S. Sen. Richard Blumenthal, D-Conn., whom Griffin said has asked the Department of Justice to investigate insurers for using shoddy aftermarket and recycled parts.
"I have been concerned for years about it," Blumenthal, a former Connecticut attorney general, says on the show.
Another highlight comes when Griffin and an auto body expert examine a repaired vehicle visually and with a boroscope and find all sorts of problems with the work done, included a ripped tail frame.
Griffin is filmed while he takes the car out on the road, and calls the driving "clumsy."
"This thing is really shaking now," he says at one point. The steering wheel also begins to shake.
The owner said the repair was done at a Progressive-preferred shop, a local Service King, whose manager tells Griffin to leave when he shows up with a camera. Progressive told CNN that the customer chose the shop, not the company.
In another interview, the Service King said they did what the insurance company approved. Service King's corporate office told CNN it wasn't aware of any complaints.
Progressive ultimately declared the car a total loss after the policyholder got an attorney and CNN started investigating, Griffin reported.
Automotive Service Association President Chairman Darrell Amberson was mostly critical of the segment in an interview with FenderBender. Aaron Schulenburg, executive director of the Society of Collision Repair Specialists, offered a different take:
"It is important to recognize that there are both 'good' and 'bad' market representatives in every trade and profession. It would also be inaccurate to make the assertion that simply because a collision repair business works with an insurance company that they must be performing sub-par work. What the newscast helped to highlight, was that the system is broken, allowing those with the financial responsibility to indemnify for loss to interject themselves into influencing price and thereby the process and/or quality of services provided. Ultimately, if the consumer market demands from their insurance carrier to cease the practice of indemnifying losses based on low cost principles, rather than high quality expectations, the market shift would provide necessary incentive for more of the industry to focus on quality adherence and consumer experience. For those looking to save the largest percentage in the shortest period of time when shopping for auto insurance, it is important to remember that not every policy has the same coverage, and not every repair is created equally."
More information:
"Auto insurers accused of pushing cheap and sometimes dangerous repairs"
Featured image: This screen shot shows an image from a Wednesday "Anderson Cooper 360" show looking at auto insurance company tactics. (From CNN.com)
Share This: