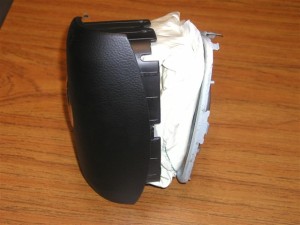 Though it's probably more applicable to DIY auto repairers than collision repair professionals, auto body shop owners might want to take a look at a Feb. 10 WUSA report on counterfeit auto body parts — some of which are very dangerous.
"Even some mechanics would not be able to tell a legitimate one from a counterfeit one," National Intellectual Property Rights Coordinator Center Director Bruce Foucart told the station.
The WUSA report appears to apply to imposter parts pretending to be actual OEM ones (a fake Rolex, for example, billing itself as a real one) — not aftermarket ones.
Some of the counterfeits are safety-related — perhaps the worst offender being air bags, Foucart told WUSA.
"We tested some of those airbags and found that there was an almost 100 percent fail rate," he said. "And, some of those airbags either exploded or failed to open up."
Collision repairers should take the time to take a second look at the parts they've received — particularly when customers bring them in. According to WUSA, most of the counterfeits are sold online.
Report fake parts or suspicious parts: www.iprcenter.gov or 1-866-DHS-2ICE.
More information:
"A growing trend in counterfeit auto parts"
WUSA, Feb. 10, 2015
Featured image: An apparently counterfeit air bag is shown in this image posted on the National Intellectual Property Rights Coordination Center website. (Provided by National Intellectual Property Rights Coordination Center)
Share This: