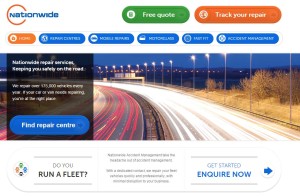 Service King co-owner Carlyle Group announced Wednesday an offer to buy United Kingdom's largest auto body chain for $64.02 million.
Ironically, Nationwide Accident Repair Services had just closed on a deal to buy the 10th largest multi-shop operation in the country, Seward Accident Repair Centres, for $5.62 million. That deal was announced Wednesday.
The Carlyle deal, which was supported by Nationwide's management, is subject to shareholder approval. Investors will get $1.48 a share, 45 percent higher than the stock traded on weighted average during the first quarter of 2015 and 13 percent higher than the $1.31 the stock closed at Tuesday.
"The Board of Nationwide is pleased to announce that agreement has been reached with Carlyle on the terms of a recommended cash offer for Nationwide," Nationwide Chairman Michael Marx said in a statement. "This Offer enables Nationwide shareholders to realise value today in cash for their shares at a significant premium to the recent historical share price and a meaningful premium to the company's share price immediately prior to the date of this announcement. It also provides the business with the opportunity to realise its growth ambitions and build its UK presence in an accelerated way.  Carlyle has a well-respected track record in the automotive sector and specific experience in the vehicle accident repair market.  We believe that the Offer is a good outcome for all Nationwide stakeholders."
The shareholders seem like a done deal; 60.59 percent of the company's investors have already given Carlyle "irrevocable undertakings" to vote in favor of the purchase.
Nationwide has more than 70 collision repair operations — which means the deal would loosely translate to $927,000 a shop — and 2,500 employees. Its business includes auto body and glass work and claim handling for fleets and insurers, and it fixes at least 175,000 vehicles a year.
"It will be interesting to see how things progress, whether they will seek to buy up more independent shops, continue to court insurers in order to secure more volume and buy smaller shops at a low price, move away from insurer contracts to more direct repairs, or use their scale to apply pressure on insurers in order to increase the price they pay for repairs," Frank Harvey, head of the National Association of Bodyshops, wrote in an email Thursday.
"Despite Nationwide's reputation for being the largest body repair group in the UK, they still only had a relatively small share of the market, less than 5%. So if they try to turn the screws on the insurers there are still plenty of other shop ready and willing to take on the work if the insurers decide to move away from Nationwide."
Though Nationwide's management thinks there's still room to grow, they thought that the company didn't have much potential as a publicly traded stock, according to details of the deal filed with the London Stock Exchange. The company has a huge pension deficit — $32.68 million, meaning the company owes more than half of its $56.49 million market capitalization. Another factor raised, and rather a bleak one for the British collision repair industry, was that the market for auto body repairs has been "historically declining."
"The level of notified insurance claims in relation to vehicle repairs as a percentage of cars insured has steadily declined in recent years, from 19.4 per cent. in 2000 to 12.5 per cent. in 2012," the document states. "This has clearly reduced demand for bodyshop repair.  Capacity in the bodyshop repair market has also fallen significantly. Although there are presently some indications that there is a better balance between supply and demand, there can be no certainty that this will be sustained or that the overall size of the market will materially recover."
Despite the pension shortfall, Carlyle has said that that "employment rights, including pension rights, of all NARS employees will be fully safeguarded," according to the filing.
"Save for its general intention to implement a long-term growth strategy with the Managers, CSP Bidco has no current intention of changing NARS's strategic plans, the location of NARS's operations or redeploying NARS's fixed assets or of effecting a material change to the operations of the business or any conditions of employment of NARS employees," the document states.
However, a planned review of the Nationwide operations could affect "employee base, locations and operations," according to the filing. So it sounds like the door is still left open for layoffs or closing down shops if Carlyle thinks that's the way to go. The trend seems to be towards consolidation in the U.K., though, which could mean Nationwide stays big and gets even bigger.
Carlyle bought the majority of Service King in 2012 but announced last year it would sell part of its stake to Blackstone while keeping "a significant minority stake."
More information:
"Offer for Nationwide Accident Repair Services plc"
Nationwide Accident Repair Services via Investis, April 1, 2015
Featured image: Nationwide Accident Repair Services' website is shown in this screenshot. (Screenshot of www.nationwiderepairs.co.uk)
Share This: