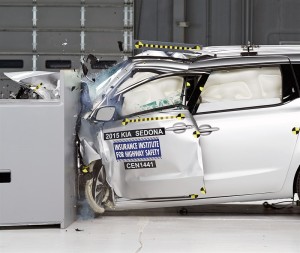 Though only a few thousand were sold last year, collision repairers might still want to take note of the 2015 Kia Sedona minivan — and its increased high-strength steel body — after recent developments.
Kia announced Wednesday that the Sedona received a National Highway Traffic Safety Administration five-star overall safety rating and won five stars on pole, front- and side-impact tests.
That's more evidence for the safety of the Sedona, which in late 2014 was found by the Insurance Institute of Highway Safety to earn a "good" safety rating — the only minivan besides the Honda Odyssey to win that score. The Odyssey also was the only other minivan to win an overall five-star crash rating from the NHTSA.
In fact, the two most popular minivans in the country last year (the Dodge Grand Caravan and the Chrysler Town and Country, according to GoodCarBadCar)  — were regarded as "poor" by IIHS, as was the low-selling Nissan Quest. The Toyota Sienna was rated "acceptable" by the IIHS. All of these except the Quest, which so far hasn't been rated by the NHTSA, received four stars overall from the feds.
Also of note, the Sedona was the No. 5 minivan in the country in 2013, according to GoodCarBadCar — selling only a tenth of the top four, but impressively doubling sales from 2013 from 7,079 vans to 14,567. (The next biggest increase was the Town and Country, up 12.9 percent.) This year, Kia has already sold more Sedonas in three months than in all of 2013.
So while it's only the No. 169 vehicle in the country, it's on the move and has the potential to eat up more of its niche's market share with these seals of approval. (Of course, research in "Accident; Analysis and Prevention" found evidence that specific safety features matter more to some buyers than safety ratings.)
OK, so there might be more of them trickling into your shop, and they're safer.  Those are good things, but why should you care beyond that?
Well, the Sedona body that protected your customers probably did in part because it is now 76 percent high-strength steel — and some of this includes the subset of "ultra high-strength" press-hardened steel. These metals can't be repaired the same way as you would with mild steel, as we also discussed with the increase in high-strength steel in Kia's 2016 Optima.
Kia said its chassis' static torsional stiffness beats out "its closest segment competitor" by 36 percent, and the high-strength steels offer "exceptional rigidity, durability and crash protection."
The minivan also is intended to spread impacts throughout the body — a concept discussed at a recent SCRS Repairer Roundtable — with ultra high-strength steel tubes in the A-pillars.
"NHTSA's recent 5-star rating of the 2015 Sedona is a testament to Kia's commitment to safety.  The Sedona is all-new for 2015 and combines CUV-like styling, inside and out, with exceptional quality and the tremendous value our brand is known for," Kia product planning Vice President Orth Hedrick said in a statement."As families begin planning summer vacations in their Sedonas, they can feel confident in the engineering that went into their vehicle and that NHTSA has validated the product with its highest safety rating."
More information:
"2015 Kia Sedona Earns NHTSA 5-Star Safety Rating"
Kia, April 15, 2015
"Safety gains ground: More vehicles earn top honors from IIHS"
Insurance Institute of Highway Safety Safety Report, Dec. 23, 2014
National Highway Traffic Safety Administration SaferCar.gov, accessed April 15, 2015
Featured image: The 76 percent high-strength steel Kia Sedona undergoes a frontal crash test for the Insurance Institute of Highway Safety. (Provided by Insurance Institute of Highway Safety)
Share This: