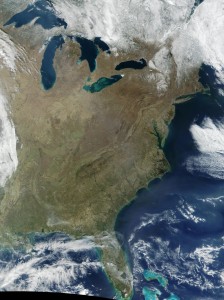 Amazing! In less than a month, Michigan dethrones N.J. as most expensive auto insurance — sort of
By on
Insurance | Legal
Michigan is the most expensive state to insure a car, and Maine is a real deal! Just read the news from this week:
But wait — less than a month ago, New Jersey cost the most, and Idaho was the cheapest! What's going on?
Well, they're both right. It depends what you're studying.
The most recent data is from a Insure.com study of new cars with collision, comprehensive, and liability insurance. The March reports came from the National Association of Insurance Commissioners' 2012 data of every car — the brand-new and the beater — insured in the various states.
Some media used the NAIC's average premium, which will be lower because not everyone takes out more than the bare minimum liability. We also like to look at the combined rate, since that takes into account people buying comprehensive and collision, too.
If you go back to 2012 with Insure.com so you're at least comparing the same year, you find the same discrepancy. Insure.com ranks as most expensive Lousiana, Oklahoma and Michigan and the cheapest as Maine, Iowa and Wisconsin.
But NAIC says New Jersey, Lousiana and New York were costliest, with Idaho, Iowa and Maine the cheapest, if you use the combined rate.
So whichever piece of research gets bandied about by lobbyists — whether representing collision repair or insurers — at your Legislature, know the difference and what else is out there to support or hinder the argument.
And by the way, while Insure.com consumer analyst Penny Gusner noted that state regulations "make a big difference," they're just one part of the premium and it doesn't mean that laws favoring consumers and repairers in the state were necessarily bad. Virtually any reform is going to increase business costs. In some cases, it's an unnecessary bureaucratic annoyance. In other cases, the societal benefit of not letting a business do whatever the hell it wants is worth paying more — or just lowering the business' profits.
Plus, other factors completely unrelated to collision repair matter — theft, fraud (typically injury fraud) and population density, according to Gusner.
"Your driving record and your car are the same no matter where you live," she said in a statement. "but change your ZIP code just a couple of towns the wrong way and your rates can double."
More information:
"Press release: Maine cheapest state to insure a new car; Michigan most expensive"
Insure.com, April 14, 2015
Featured image: Michigan and New Jersey, the most expensive states for car insurance depending on how you calculate it, are seen in this satellite image. (Stocktrek Images/Stocktrek Images/Thinkstock)
Share This: