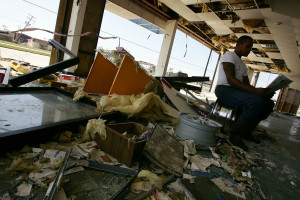 Mississippi AG sues State Farm, says insurer tweaked Katrina damage type to shift cost to state
By on
International | Legal
Mississippi's attorney general sued State Farm on Tuesday for allegedly misclassifying damage to lower the amount they owed policyholders, raising issues similar to what insurers have been accused of doing with auto insurance estimates.
Jim Hood, a Democrat whom "Anderson Cooper 360" reported has also been critical of auto insurance tactics, sued the No. 1 insurer to recover the tab State Farm allegedly foisted on Mississippi by improperly calling covered wind damage flood damage.
"We are still reviewing the lawsuit filed earlier today, which was not expected considering what we have done in resolving claims as a result of Hurricane Katrina," State Farm spokesman Phil Supple said in a statement reported by the Associated Press and published on ABC News' website.
Flood damage wasn't covered by the kind of policies thousands of Mississippi residents used to recover from Katrina, and so the state created a Homeowner Assistance Program to help them with it and other rebuilding. But millions in damage costs shouldn't have been the state's burden, according to Hood — State Farm should have paid it off under the terms of wind coverage, he said.
"State Farm caused Mississippi to pay hundreds of millions of dollars that the State otherwise could have allotted to other recovery efforts," the Attorney General's Office said in a news release.
His office noted that a jury already found that State Farm forced an engineering company to alter a damage report that way. State Farm has appealed that ruling, according to the AP, and alleged that the plaintiffs stole company documents.
"The Mississippi Homeowner Assistance Program was set up to pay homeowners for Hurricane Katrina damage that was not covered by insurance," Hood said in a statement. "State Farm took advantage of our program by causing HAP to pay for wind losses that State Farm should have covered under its homeowner policies. Remarkably, State Farm and other insurers walked away from Hurricane Katrina and experienced record profits in the years following, while Mississippi continues to suffer."
As for auto insurance, Hood has also requested a federal investigation into alleged car insurance "steering" and parts requirements, the Mississippi Business Journal reported in March. Hood was also planning a lawsuit similar to one in Lousiana over car insurance practices, "Anderson Cooper 360" reported in February.
Collision repairers have made similar accusations against insurers, including that they've denied non-excluded repair procedures to save money or instructed independent adjusting agencies how to write an estimate.
More information:
"ATTORNEY GENERAL JIM HOOD FILES SUIT AGAINST STATE FARM FOR ALLEGED KATRINA SCHEME INVOLVING 'HOMEOWNER ASSISTANCE PROGRAM'"
Mississippi Attorney General's Office, April 21, 2015
"Lawsuit: Aid Program Paid Claims State Farm Wrongly Rejected"
Associated Press, posted on ABC News' website, April 21, 2015
Featured image: Ivan Anthony Richard reads a newspaper Sept. 7, 2005, in Bay St. Louis, Miss., Thousands of residents of the Gulf Coast are still without electricity or access to basic amenities after the devastating hurricane Katrina that has claimed the lives of thousands.  (Spencer Platt/Getty Images News/Thinkstock file)
Share This: