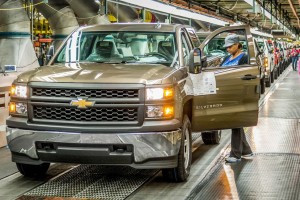 General Motors has revealed another piece of the $5.4 billion it's spending on American plants through 2018 to be $1.2 billion for the Fort Wayne, Ind., factory manufacturing the GMC Sierra and Chevrolet Silverado.
However, while the automaker offered a few tidbits about painting facility upgrades in a news release Tuesday, it didn't reveal as much about the "expanded body shop" the money will also buy.
We wonder if the change will aid General Motors with major lightweighting changes on the Sierra and Silverado bodies. Other media have reported signs that next-generation versions of the two trucks in 2018 will go the Ford F-150's aluminum route.
---
Other GM RDN coverage
AutoBlog: New Chevy Silverado to feature more aluminum
GM details remove-and-replace methods for Chevrolet Silverado collision repair
2016 Chevrolet Camaro 200 pounds lighter, GM says, but gives few materials specifics
Morning News: $1.29B for Arlington, Texas, plant could mean big changes to GM SUVs
---
Unfortunately for collision repairers eager for details on what GM will do with the popular trucks (and what equipment and training will be needed to repair them), the automaker declined to elaborate any further Wednesday on that topic.
"We're not sharing any details regarding specifics," GM manufacturing and labor communications manager Bill Grotz said regarding materials handled by the improved body shop, echoing only that GM was "upgrading" the plant's infrastructure.
The work at the plant will take "several years," GM said in its news release. The automaker will also use the $1.2 billion to build a new electro-coat paint and sealing facility, upgrade and add materials sequencing capabilities and improve the assembly area.
Its truck production schedule won't be disrupted, GM said.
The news release states that the money will pay for "equipment that accommodates the many variations of the truck cab and box being placed on the chassis" and "improve the plant's competitiveness in assembling high-quality light- and heavy-duty models."
"This investment is more evidence that the customer is at the center of every decision we make," GM North America manufacturing Vice President Cathy Clegg said in a statement. "Truck customers demand top quality. The upgrades at Fort Wayne Assembly will enable our team to continue delivering for them for years to come."
Featured image: A Chevrolet Silverado is inspected May 26, 2015, at the General Motors Fort Wayne, Ind., Assembly Plant.(Shane Pequignot for General Motors/© General Motors)
GM to Invest $1.2 Billion in Full-Size Truck Plant
Share This: