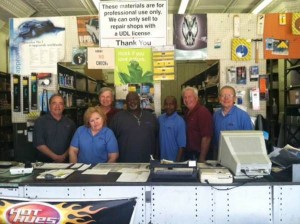 Changes in the paint manufacturer and jobber industries could have a trickle-down effect on smaller body shops, "Supplement!" auto body financial blogger Bradley Mewes wrote in a recent lengthy Aftermarket Business World column that's worth a look.
Mewes argued in Aftermarket Business that jobbers will consolidate alongside collision repairers, "as only the largest, best-capitalized and best-organized distributors will be able to meet the needs of the large collision consolidators on a nationwide scale," and the easy access to investment money these days means FinishMaster, LKQ, NCS and Single Source can grow further.
For example, NCS only a week ago announced a merger with Erkert Brothers Inc., which dates back to the 1930s and was the first jobber in the Chicago region to supply DuPont finishes.
The larger distributors are asked to intertwine themselves with the big MSOs' business and meet key performance indicators (!), but the MSOs don't require as much customer service from the companies and give 5 percent to 8 percent gross margins, Mewes wrote in Aftermarket Business.
For smaller jobbers, he wrote in the Aftermarket Business piece, your choice is to sell or concentrate in a region "creating a near impenetrable moat by providing a level of service and expertise difficult for larger nationwide organizations to overcome." That kind of support — particularly if paint manufacturers aren't helping as much and a collision repair staff is small, can be valuable, he writes.
However, paint manufacturers know paint is treated as a commodity, and price competition can cause them to cut service and support, according to Mewes.
"Whereas only a few years ago many jobbers and collision repair facilities leaned on manufacturers to provide such support, now the onus of responsibility rests on the jobber to provide such support," Mewes wrote in Aftermarket Business.
More information:
"The changing face of the jobber industry"
Aftermarket Business World, June 4, 2015
Featured image: NCS announced June 6, 2015, a merger with Erkert Brothers, the staff of which is pictured above. (Provided by NCS)
Share This: