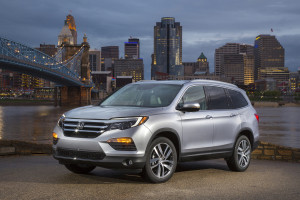 The next-generation 2016 Honda Pilot SUV officially announced Wednesday should be a whole new ballgame for repairers, with huge swaths of the popular SUV's body made out of ultra-high-strength and advanced-high-strength steels for a nearly 300-pound-lighter curb weight.
The Pilot's body only contains 34.5 percent mild steel of 270 megapascals, and more than half of the full-size SUV is advanced-high-strength (590 MPa) or tougher steel around twice to five times as strong.
That breaks down into 32.1 percent 590 MPa and 21.3 percent 980-1,500 MPa ultra-high-strength steel for the car that sold more than 100,000 last year. (Honda didn't even bother with the 780 MPa "low" end of the ultra-high-strength steel range.)
For comparison, there was only an average of about 13.8 percent steel above about 170 MPa in an entire vehicle in 2007, according to Ducker Worldwide data.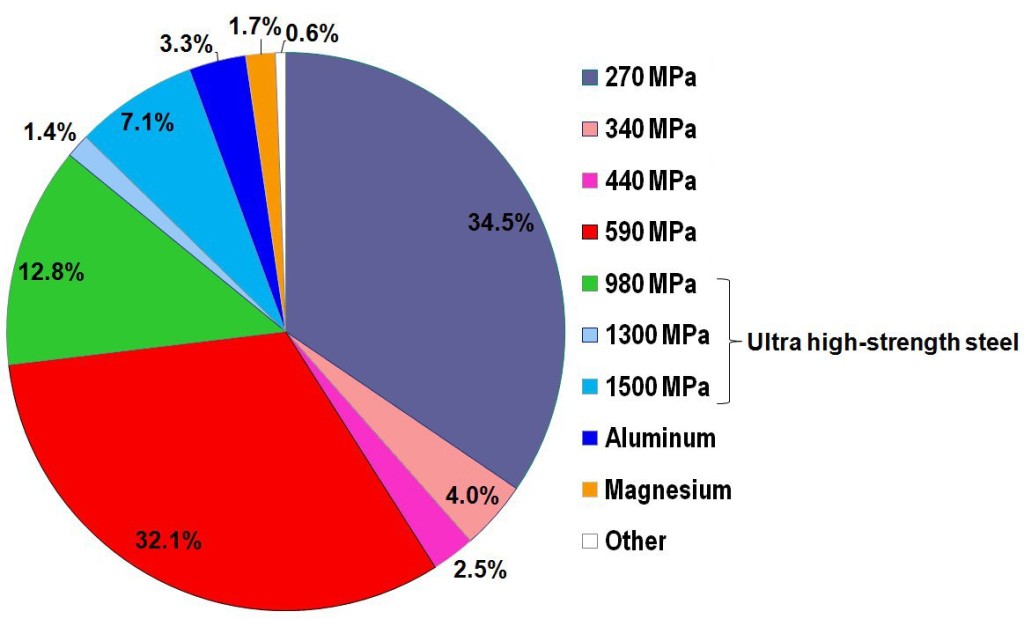 The entire front door ring is made of 1,500 MPa steel, and the door reinforcement beams are 1,300 MPa, according to spokeswoman Angie Nucci. 980 MPa steel extends from it down the A-pillar and along the roof rails and sills.
Oh, and by the way, the hood and bumper beam are aluminum and the instrument panel is magnesium.
But setting all that interesting engineering and metallurgy aside, here's the real takeaway from the 2016 Pilot and which Honda stresses in a collision repair bulletin provided this month by I-CAR:
Do not repair this SUV the way you might have repaired past generations, and check with Honda about how to do it appropriately.
Honda did throw repairers one bone: Nucci wrote in an email that panels and closures were kept mild steel for repairability.
"For areas that are typically subject to high repair (fenders, front bumper, door skins, etc), we still use mild strength steel," she wrote in an email. "One reason is that the mild steel is much more ductile and easier to form or stamp during the production process.   If there is a dent, for example, in the front door, it is much easier to fix or 'pull out' the dent with 270 MPa vs. 1500 MPa."
"The ultra-high-strength steel, by nature, is extremely difficult to bend, kink and deform.  For this very reason, we use it in areas required to absorb high energy or in other words, in our crash deformation areas."
But as for the higher-strength steels — be prepared and make sure you know what you're doing and have the right equipment.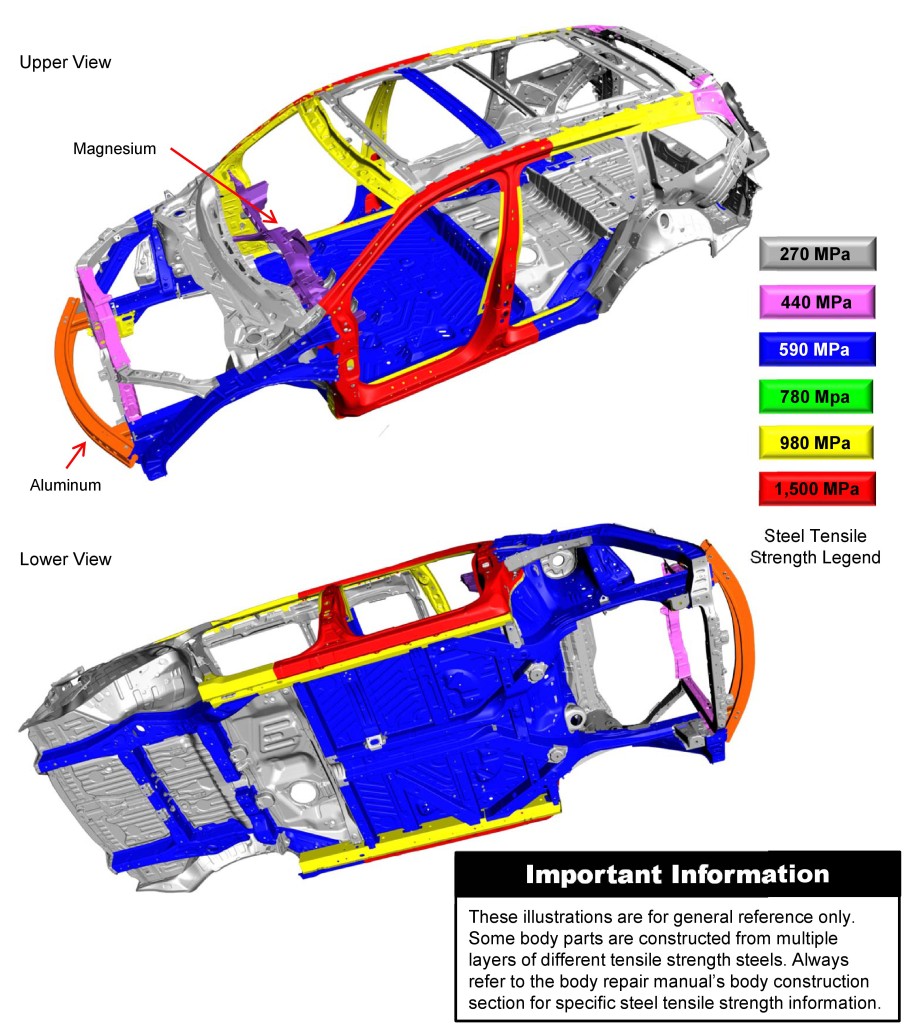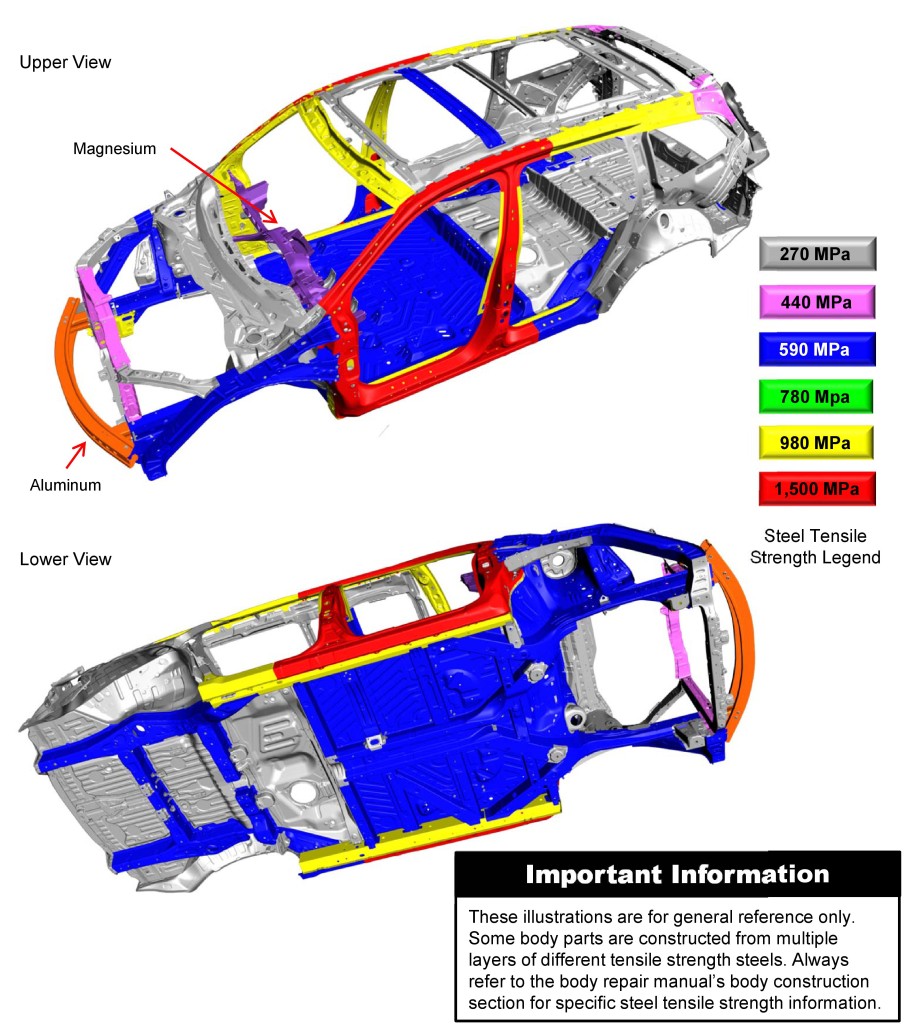 "Parts made of (1,500 MPa) must be installed as a complete part," the bulletin cautions. "No sectioning allowed. Ultra High-Strength Steel requires special welding equipment, procedures, and settings. See the welding section of the appropriate body repair manual. Failure to use the proper equipment or follow the proper procedures can result in an unsafe repair."
Most of that instruction also applies to the 590-980 MPa steel, too.
In terms of welding, be sure you're ready to weld and how you should be doing it. Honda is very specific — and cautionary. For example:
"Never do MAG welding on 1,500 MPa steel,"Honda states, for example, bolding the "never."
"The heat generated during MAG welding will significantly reduce the strength and structural integrity of 1,500 MPa steel parts."
The MIG welder must be pulsed, too. Other restrictions apply on how to MAG- and MIG-weld the 590-980 MPa steels.
As for straightening: No heat.
"Do not apply heat to any body part during straightening," Honda writes. "This may compromise the internal structure and strength of high-strength steel parts. …
"Any part that has heat applied to it during straightening must be replaced with new parts."
Correction: A diagram provided by Honda and headline in a prior version of this article gave an erroneous breakdown of the amount of mild steel in the 2016 Honda Pilot as well as misclassifying 340 MPa steel as mild.
More information:
Images:
The 2016 Honda Pilot Elite poses. The 2016 Honda Pilot generation weighs nearly 300 pounds less than the last version. (Provided by Honda)
The next-generation 2016 Honda Pilot SUV should be a whole new ballgame for repairers, with huge swaths of the popular SUV's body made out of ultra-high-strength and advanced-high-strength steels for a nearly 300-pound-lighter curb weight. (Provided by Honda via I-CAR)
The breakdown of steels and other materials in the 2016 Honda Pilot body. (Provided by Honda via I-CAR)
Share This: