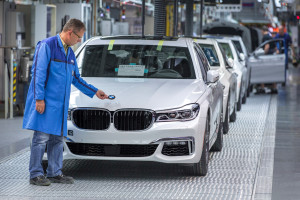 BMW last week confirmed what repairers might have already guessed: Collision-damaged "Carbon Core" 7 Series sedans will require some BMW body components to be replaced altogether.
The car starts at $74,000 and sold fewer than 10,000 last year, so the only owners crashing them might be villains in Bond chase scenes. But auto body shops should still pay attention in case BMW brings carbon fiber to an even more popular mass-produced series — something it hasn't ruled out.
Carbon fiber can be found in the 7 Series' B- and C-pillars, rocker panels, roof bows and rails, transmission tunnel and rear deck of the 7 Series. In some cases, such as the B-pillar, it pairs with ultra-high-strength steel. BMW also said that the doors and trunk lid are aluminum for the first time on the 7 Series.
---
More RDN BMW coverage
BMW: 7 Series shows 'highly economical large-scale production' of carbon fiber, has aluminum trunk, doors
The costly mystery of the Opt-OE BMW tail lamp
Is carbon-fiber 'gimmick' or 'paradigm shift'? Experts rave about BMW i3, pan expensive material
---
BMW spokesman Hector Arellano-Belloc wrote in an email that BMW 7 Series repairs overall "will be comparable to the current 7 series," though some of the structural carbon fiber elements must be replaced if damaged.
"If a carbon fiber panel is damaged to a certain extent you can't just fix it by sanding it for example, you will have to replace an entire section," he wrote.
Hector Arellano-Belloc wrote that BMW required all certified collision repairers to take a "Fundamentals of Carbon" course this year because of the i and 7 Series cars.
"This course provides the fundamental skills and knowledge to process carbon fiber components to BMW specifications," he wrote.
BMW will also hold a 7 Series-specific course "covering all new vehicle systems, body adjustments, and overview of structural repairs," he wrote.
Besides training repairers how to fix the 7 Series, Arellano-Belloc wrote that BMW considered repairability on the car itself.
"For example the sectioning locations for the side frame are positioned outside the carbon reinforcement," he wrote. "The cut and join locations will be made in the steel areas (away from carbon) with traditional BMW repair methods."
Here's a gallery of BMW 7 production and carbon fiber-related elements (works best on desktop):
Images:
BMW credited the wet pressing and hybrid pressing carbon-fiber techniques used by its Dingolfing, Germany, plant for helping make the production run of the 7 Series possible at the Dingolfing, Germany plant. (Provided by BMW)
Carbon fiber can be found in the 7 Series' B- and C-pillars, rocker panels, roof bows and rails, transmission tunnel and rear deck of the 7 Series. In some cases, such as the B-pillar, it pairs with ultra-high-strength steel. BMW also said that the doors and trunk lid are aluminum for the first time on the 7 Series. (Provided by BMW)
Share This: