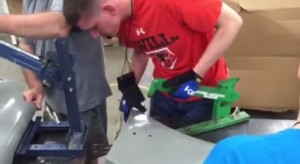 In the opposite of an automotive assembly line, volunteers worked to ding and dent 90 fenders in preparation for the SkillsUSA Nationals this week in Kentucky.
More than 6,100 students are expected to compete this week in all SkillsUSA events, and more than $36 million in equipment and volunteers have been donated for the gathering. Thursday, Day 2 of the competition, "is considered the largest single day of volunteerism in America annually," according to SkillsUSA. 
Video provided by SkillsUSA judge Kye Yeung, owner of European Motor Car Works and vice president of the Society of Collision Repair Specialists, showed the kind of precise destruction volunteers have contributed so high school and post-secondary students' collision repair skills can be fairly judged.
The collision repair competition includes work in metal straightening, plastic repair, welding and structural analysis and is derived from National Institute for Automotive Service Excellence and National Automotive Technicians Education Foundation task lists. Here are bumper covers lined up for the plastic repair portion of the competition: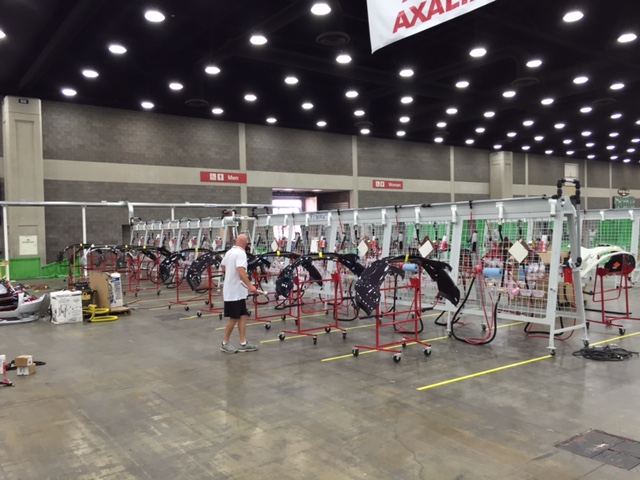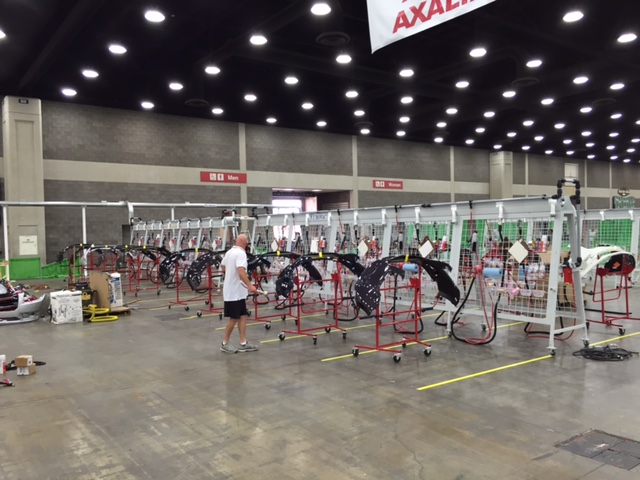 The competitors will be judged on speed, safety and the appearance of the repaired/welded item, and they'll have to take structural analysis, estimating and ASE tests as well as be interviewed by a judge.
In addition to collision repair, budding painters will compete this week in an automotive refinishing category also derived from NATEF and ASE task lists. The competitors will have to demonstrate paint mixing and matching; painting and spray gun use; surface preparation; figuring out application problems and finish defects; and of course be safe. Like collision repair, they'll be judged on safety, speed and aesthetics and complete an ASE test and interview; the students will also have to prepare an estimate.
Here are paint booth stations housed in a trailer at the Kentucky Exposition Center:
SCRS and the March Taylor Memorial Fund will reward winners in both categories with $1,250 tool scholarships as well as give the competitor's school a free SCRS membership for a year. Find out more here.
Images:
Volunteers can be seen denting fenders ahead of the SkillsUSA collision repair competition this week in Lousiville, Ky. (Screenshot from video by Kye Yeung/Society of Collision Repair Specialists)
Plastic bumper covers are lined up in preparation for the plastic repair portion of the SkillsUSA Championships in June 2015 in Louisville, Ky. (Kye Yeung/Society of Collision Repair Specialists)
A modified trailer contains separate paint stations for the automotive refinish competition at the SkillsUSA Championships in Louisville, Ky., in June 2015. (Kye Yeung/Society of Collision Repair Specialists)
Share This: