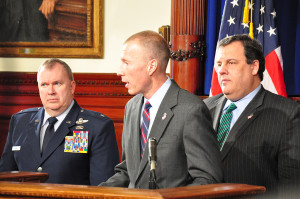 N.J. Insurance Commissioner Kobylowski to step down; nominated successor another insurer attorney
By on
Announcements | Insurance
Republican Gov. Chris Christie announced Monday that New Jersey Insurance Commissioner Ken Kobylowski will step down later this summer and he will nominate corporate trial attorney Richard J. Badolato as a successor.
Christie also announced Treasurer Andrew Sidamon-Eristoff and Health Commissioner Mary O'Dowd would resign as well shortly.
"I want to personally thank these three talented and dedicated individuals for their service to this administration and to the citizens of New Jersey," Christie said in a statement. "Acting on some of the most challenging issues facing our state, each has responded with utmost professionalism in working on solutions that have balanced six state budgets and provided a framework for long-term pension reform; ensured that residents have the healthcare access they need through our health care delivery system; and protected consumers by calling for more accountability from insurers. The Garden State is a much better place because of their hard work and I wish Andrew, Mary and Ken all the best in their future endeavors."
We'll check with the Alliance of Automotive Service Providers-New Jersey to see what they thought about the outgoing commissioner and his possible replacement. Continue to check Repairer Driven News for updates.
Kobylowski was confirmed Dec. 20, 2012, to lead the Banking and Insurance Department. He had previously worked as the agency's chief of staff since 2010, also serving as acting director of banking in 2011. Prior to that, he worked as a corporate lawyer representing insurers, banks, lenders and developers, most recently at Herrick, Feinstein LLP.
"I want to thank Governor Christie for giving me the opportunity to serve as Commissioner," Kobylowski said in a statement. "It has been an honor and a privilege to lead the Department and work for New Jersey residents and businesses.  I am proud of all that we have accomplished and confident that the Department's work will continue seamlessly under my successor."
Baldolato, who is scheduled to start work Aug. 1, is a partner at Connell Foley, former New Jersey Bar president and chairman of the New Jersey Supreme Court Advisory Committee on Professional Ethics. His practice has included civil litigation representing manufacturers (including automakers), insurers and malpractice defendants.
Christie's news release said Kobylowski brought "brought a pro-business regulatory culture to the department that promoted growth and strengthened New Jersey's major insurance markets without sacrificing consumer protection."
In 2013, Kobylowski "enacted sweeping changes" to the auto personal injury protection rules in New Jersey, which the governor's office credited in the release for bringing more major insurers back to write auto insurance in the state.
Kobylowski also changed insurance and surplus law to allow captive insurance companies, fought civil insurance fraud by creating the Bureau of Fraud Deterrence and helped establish an interstate insurance compact, according to Christie's release.
The governor's office called the outgoing commissioner key in getting the insurance department reaccredited by the National Association of Insurance Commissioners, an organization for which Kobylowski also held a variety of leadership roles.
More information:
"Governor Christie Announces Departure of Three Long-Serving Cabinet Officials"
New Jersey Gov. Chris Christie's Office, June 22, 2015
Featured image: Ken Kobylowski speaks Jan. 30, 2012, at an event in which New Jersey Republican Gov. Chris Christie, right, announced he had nominated Kobylowski as insurance commissioner. (Provided by Gov. Chris Christie's Office)
Share This: