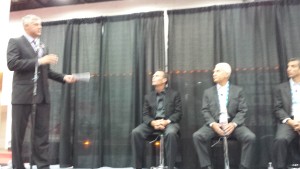 General Motors' MyPriceLink service could go national as soon as October and will be seamlessly available through the CCC, Mitchell and AudaExplore estimating systems, GM and information provider executives said Friday.
GM wholesale dealer channel general director Kris Mayer said during a panel at NACE that a pilot version of MyPriceLink had launched Wednesday in Denver.
"Estimates are flowing through," Mayer said, and five of the top 10 insurance carriers are involved, he said.
He said the company could have MyPriceLink ready nationally by the fall.
"We'd like to do it before the collision winter season," he said.
The program will offer real-time pricing online rather than the current 30-90 days needed to change a price and hassles of the Bump the Competition system, which sees GM "spend a lot of time disrupting our shops and our dealers," Mayer said.
Customers will get the new MyPriceLink quotes while producing an estimate in CCC, Mitchell or AudaExplore — there's no need to check another source for the price.
GM caused a ruckus when it announced MyPriceLink at SEMA. But now, Jesse Herrera of Mitchell said he's hearing from customers "That was not very sensational" because of how seamlessly GM's service integrated with the estimating platform. Other panelists echoed how "business as usual" it would feel to collision repairers.
The pilot program right now uses list prices minus a tiny percentage simply to test that the system works, GM wholesale dealer channel manager John Eck said. The real-time pricing hasn't started yet.
And even then, it doesn't mean that GM will be slashing prices left and right in real time. Certain parts will be strategically picked, Mayer said, just as GM does with the Conquest program today.
Continue to check Repairer Driven News for MyPriceLink updates.
Share This: