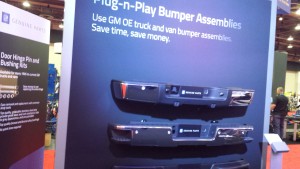 Collision repairers will likely replace more nonstructural parts in the future as automakers convert hoods and bumpers from mild steel to stronger, lighter materials and improve the technology in headlamps, a Mitchell analyst predicted Tuesday.
Industry relations Vice President Greg Horn also concluded in Mitchell's third-quarter trends report that auto body shops should ensure technicians are up to speed on bumper cover assessment and be sure if replacement or repair is appropriate.
Horn, who analyzed both damage and replacement rates for the 10 parts most often affected by a collision, confirmed what common sense suggested: Bumper covers are the part most frequently affected by a crash (68 percent of the time), based on Mitchell estimates.
The covers are replaced 72 percent of the time, according to Horn, who studied a 3 million-estimate subset of Mitchell data. Repairing one takes an average of 2.5 hours.
"More time needs to be devoted to training for bumper cover repair as it is the part most involved in collisions, and the accuracy of the repair versus replace decision is critical," Horn concluded.
Headlamps were the most commonly replaced part, swapped out 95 percent of the time in the 29 percent of collisions in which they were damaged. (Bumper absorbers, which Horn noted often contain one-time-use material, were second with a 91 percent replacement rate and a 29 percent damage rate.)
Horn noted that this replacement would grow more expensive as automakers switch to technology like projector beam bi-xenon lights and lamps which can turn as the car does (an option, for example, on the 2016 Kia Optima).
Finally, while hoods and bumper beams/reinforcements aren't as frequently damaged as other parts and panels, shops, insurers, and customers should anticipate higher costs when it does happen, according to Horn.
"As metallurgy of commonly involved parts such as hoods shifts to aluminum and bumper reinforcements move to lighter alloys that cannot be straightened, the replacement rates for these parts will go up, increasing the average repair severity," Horn wrote.
Bumper reinforcements, damaged 21 percent of the time, are swapped out 86 percent of the time already, and that's likely to grow even further as they switch to stronger steels or aluminum and can't be repaired. That's likely to lead to more insurers seeking non-OEM parts, which as the Insurance Institute for Highway Safety pointed out in 2010 can be problematic.
More replacements are also likely for hoods, which were damaged 24 percent of the time and repaired in 44 percent of those estimates. Ducker Worldwide has projected 80 percent of new vehicles will have aluminum hoods by 2025.
Given aluminum's repair difficulty, more shops in the future will likely be forced to swap them out. Again, this could seem like an attractive non-OEM replacement, but that too can be problematic from a safety perspective, according to Nissan.
More information:
Mitchell 3Q Industry Trends Report
Mitchell, Aug. 11, 2015
Featured image: A display at the 2015 NACE touts General Motors "Plug-n-Play" bumper sets. (John Huetter/Repairer Driven News)
Share This: