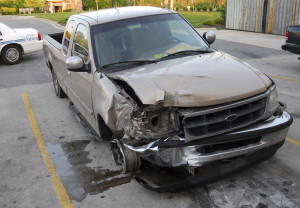 State Farm has bolstered LKQ's bottom line with a boom in aftermarket chrome bumper orders over the past year and a half, according to transcripts of the supplier's earnings calls archived on Seeking Alpha.
The collision parts trend continued in the second quarter of 2015, as CEO Rob Wagman told analysts LKQ's chrome bumper sales were up nearly 17 percent and attributed it predominantly to the nation's No. 1 auto insurer.
"We still want to be meeting with them constantly. No decisions have been made, but as far as chrome bumpers go, I can give you an update on that quarter,"  Wagman said during the July 30 call. "Up 16.9 percent, so they clearly are driving that product type for us."
An LKQ spokesman on Tuesday said he couldn't elaborate on the company's sales to State Farm. State Farm declined Thursday to comment.
The Seeking Alpha earnings call transcripts indicate that State Farm began heavily buying aftermarket bumpers from LKQ as early as the first quarter of 2014. State Farm in 1999 announced it would temporarily cease using aftermarket collision parts, though it appears State Farm repairs began receiving them again sometime between then and 2014 based on reports to Repairer Driven News on Thursday.
We've contacted State Farm for better clarification on this point.
Wagman told investors on April 29, 2014, that the insurer's return to LKQ certified aftermarket chrome bumpers came "in close conjunction" with its partnership with PartsTrader, according to the transcript.
"While these are still early days, we are encouraged by the fact that State Farm is looking at the aftermarket parts industry once again," he said, according to Seeking Alpha. "As of now, they have not given any indication of a broader program. However, we obviously view this as a positive move after nearly 15 years on the sideline.
"Looking at these particular part types, year-over-year sales of aftermarket chrome bumpers were up 30 percent in January, 29 percent in February and 33 percent in March. While some of this increase may be weather-related, we believe that some of the increase is related to State Farm's new policy regarding aftermarket certified chrome bumpers. We continue to have open dialogue with State Farm, and we hope that they will continue to expand their use of our aftermarket product offerings."
Wagman later said in the call that LKQ wasn't involved in the decision, according to Seeking Alpha's transcript.
"They came this — upon this on themselves, and they did it in conjunction with the rollout of PartsTrader," Wagman said, according to the transcript. "And as PartsTrader has gone across the country, obviously, we've seen more and more sales. Our reps that are on PartsTrader reviewing those estimates know about those 2 part types and are pushing them hard."
The chrome bumpers were for use on pickup trucks, according to Wagman. "It is pretty limited in that respect," he said.
State Farm appears to have later that year formally outlined an aftermarket parts policy in "Replacement Parts Promises" to consumers which state the insurer will use "new non-OEM" parts certified by either the National Standards Foundation or the Certified Aftermarket Parts Association.
Though State Farm said in the documents, which seem to be dated July 2014, would use certified aftermarket bumper parts; panels; and radiator supports, tie bars and other mounting components, LKQ only discusses the bumpers in the calls.
In its July 31, 2014, second-quarter call, Wagman said chrome bumper sales were up 22 percent, "which we believe is partially attributable to State Farm," according to the Seeking Alpha transcript.
"At this point, we are not aware of State Farm considering a broader use of our aftermarket offerings, but we do remain encouraged, given that we estimate they are witnessing savings of approximately 20% on this part type alone," Wagman continued. "Clearly, a broader program which includes aftermarket other sheet metal and body panels, offers State Farm and its policyholders tremendous economic benefits."
On Oct. 30, 2014, Wagman boasted "again really good growth on chrome bumpers" for the third quarter, with the company up 22.4 percent likely partly because of State Farm interest, according to the Seeking Alpha transcript. He also told investors that GEICO had just become the No. 2 auto insurer, and "they're very active users of our products."
On Feb. 28, 2015, Wagman reported a 22.3 gain in fourth-quarter 2014 chrome bumper sales and told analysts LKQ was "cautiously optimistic" State Farm would use more aftermarket parts, according to the Seeking Alpha transcript.
Despite the big 2014 first quarter of chrome bumper sales, purchases of the parts were still up 19.5 percent, Wagman said April 30, according to Seeking Alpha.
"We continue to really raise the number on the products they (State Farm) are writing in the aftermarket, in the bumpers," he said.
Clarification: Though LKQ reported to investor analysts in early 2014 that State Farm had just resumed buying aftermarket parts from it, that does not appear to be the first time since 1999 that State Farm repairs had received aftermarket parts. We've revised this article to clarify that distinction.
More information:
"LKQ Management Discusses Q1 2014 Results – Earnings Call Transcript"
Seeking Alpha, April 29, 2014
"LKQ's (LKQ) CEO Robert Wagman on Q2 2014 Results – Earnings Call Transcript"
Seeking Alpha, July 31, 2014
Seeking Alpha
Q2 2015 LKQ Corp Earnings Conference Call
LKQ, July 30, 2015
Featured image: State Farm has bolstered LKQ's bottom line with a 2014 return to aftermarket chrome bumpers, according to transcripts of the supplier's earnings calls archived on Seeking Alpha. (Joseph C. Justice Jr./iStock/Thinkstock)
Share This: