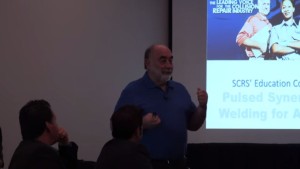 Synergic pulsed MIG welding not only is a necessary skill to repair new aluminum vehicles, it's also going to help pass a new 1 mm butt weld I-CAR test taking effect this summer.
If you missed Toby Chess' presentation on the technique and the MIG welders themselves during the open Society of Collision Repair Specialists board meeting during the Detroit Collision Industry Conference, you're in luck. SCRS in conjunction with Collision Hub has released a video recap of the presentation by the SCRS Education Committee member.
If you haven't bought a pulsed MIG welder yet for your shop or are considering an upgrade, make sure you check out this excellent comparison chart complied by Chess. It not only shows specs, but it also indicates which OEM aluminum certification programs have approved each welder.
On Wednesday during SEMA, Chess will lead a "Welding Technologies – A Comprehensive Tutorial on Modern Equipment" Repairer Driven Education session.
One of the most frequent questions posed by collision repair businesses looking to adapt to the changing landscape of automotive repairs is "what do I need, and where do I start?" The equipment necessary to repair the modern fleet continues to evolve as quickly as the vehicle architecture does, and understanding tool and equipment options that provide the most capability can save repair businesses from unnecessary investments in wrong or outdated repair technology. Register for the RDE course here.
Besides Chess' description of the technology and how users performed with it during a 1 mm welding pop quiz, the board meeting also stressed the importance of practice on the welders.
Because while the F-150 and other more aluminum-intensive vehicles will eventually hit your shop, it could be a long time before they do, participants noted.
This could be problematic if you only see one F-150 a year — or as it was put during the meeting — one aluminum vehicle between I-CAR five-year welding recertifications; you don't want to be in the position where your skills grow rusty.
More information:
"SCRS Releases Pulsed Synergic MIG Welding for Aluminum and Collision Repair Video"
Society of Collision Repair Specialists, Aug. 21, 2015
Featured image: SCRS in conjunction with Collision Hub has released a video recap of Toby Chess' pulsed synergic MIG welding presentation. (Screenshot of SCRS, Collision Hub video)
Share This: