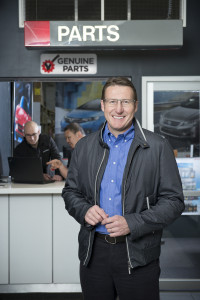 Australian racing champion Mark Skaife has been appointed ambassador to the "Genuine Is Best" new OEM parts campaign, the campaign and the Federal Chamber of Automotive Industries announced Monday.
"People need to know that this is a serious safety issue," the winner of multiple Australian Touring Car (now known as the V8 Supercars Championship) and Bathurst 1000 races said in a statement. "Only genuine original equipment parts have been designed, engineered and selected by the manufacturer of your motor bike or car. And only genuine parts have been tested by the manufacturer of your vehicle as an integral component for safety and quality. …
"So if your vehicle needs repairs after an accident or even if it's just a service, it's crucial that genuine parts are used to ensure your vehicle operates the way it was intended.
"… My motorsport career was built on safety and reliability. … Your vehicle's manufacturer is the team behind your car or bike. Out on the roads you're not in a race, but you should trust the manufacturer to know what your car needs to get you home safely, too."
Genuine Is Best account manager Richard Berry wrote in an email Thursday that the ambassadorship was meant to be a "long term arrangement."
"He's a well-known and trusted authority on automotive safety and this makes him ideal for the role as Genuine Is Best ambassador," Berry wrote, earlier noting that Skaife had worked on V8 Supercar vehicle safety and track design.
"Mark knows first-hand how critical it is for the parts of your car to work together properly and the risks connected to parts that aren't designed, engineered and built specifically for your car. That's why he sees genuine parts as being essential for your own vehicle's safety and reliability," FCAI Chief Executive Tony Weber said in a statement. "We're very happy to have Mark join Genuine Is Best."
Asked about if Skaife was a paid or volunteer spokesman, Berry wrote that the campaign couldn't discuss the specifics of the partnership.
"However we approached Mark to front the campaign and found that he too was very passionate on this subject, and was therefore a natural fit to be our ambassador," Berry wrote.
Berry wrote that no ads featuring Skaife were planned, but "nothing is off the table." For now, Skaife will talk to the media and public about OEM and official Opt-OE parts.
"Mark is passionate about the importance of using genuine parts – he see it as a serious safety issue – and his aim is to help educate consumers about how crucial  the use of genuine parts are in repairs and services," Berry wrote.
In June, the FCAI announced the launch of the Genuine Is Best website promoting OEM or official Opt-OE parts to Australian consumers.
According to Berry, consumers have give the campaign a 'very encouraging" response — "visiting the website … asking questions and wanting to know more."
The biggest reaction has been from the country's repairer community, Berry wrote.
"At a state repair association meeting we attended recently a veteran repairer stood up and said: 'Every repairer prefers to use genuine parts – they're the only parts that fit properly.'  The vast majority of repairers take enormous pride in their craft and strive to ensure a car is repaired properly and safely," Berry wrote. "Having a Australian motorsport hero like Mark Skaife on board is just going to add to the momentum in getting the message out there that using genuine parts in repairs and services ensures your car or motorcycle will drive, function and protect you the way the vehicle manufacturer intended."
Featured image: Australian racing champion Mark Skaife has been appointed ambassador to the "Genuine Is Best" new OEM parts campaign, the campaign and the Federal Chamber of Automotive Industries announced Monday. (Provided by Federal Chamber of Automotive Industries)
More information:
"Mark Skaife joins Genuine Is Best"
Federal Chamber of Automotive Industries, Aug. 24, 2015

Share This: