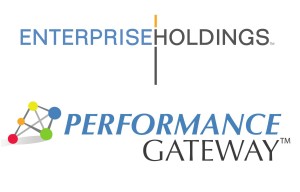 It's been about a year since Enterprise Holdings bought Performance Gateway from Axalta, but nobody seems to want to talk about it.
None of the three companies met our request to discuss Performance Gateway's Axalta relationship or how it has and will in the future fit in with Enterprise's vision.
The "radio silence" with media on Performance Gateway actually seems to have been in place since about Enterprise's acquisition of the company, which provides key performance indicator measuring among other services for collision repairers and insurers.
The deal isn't mentioned on the Performance Gateway news release page; in fact, no news releases have been issued since Aug. 1, about a month before the apparent sale date. The company's last blog entry posted in November 2014. Neither Axalta nor Enterprise Holdings, which perhaps most notably owns Enterprise Rent-A-Car, seem to have produced news releases on the deal either.
Still, there's a few details available in the companies' public filings and digital footprint. Here's what we know about Performance Gateway's path to Enterprise: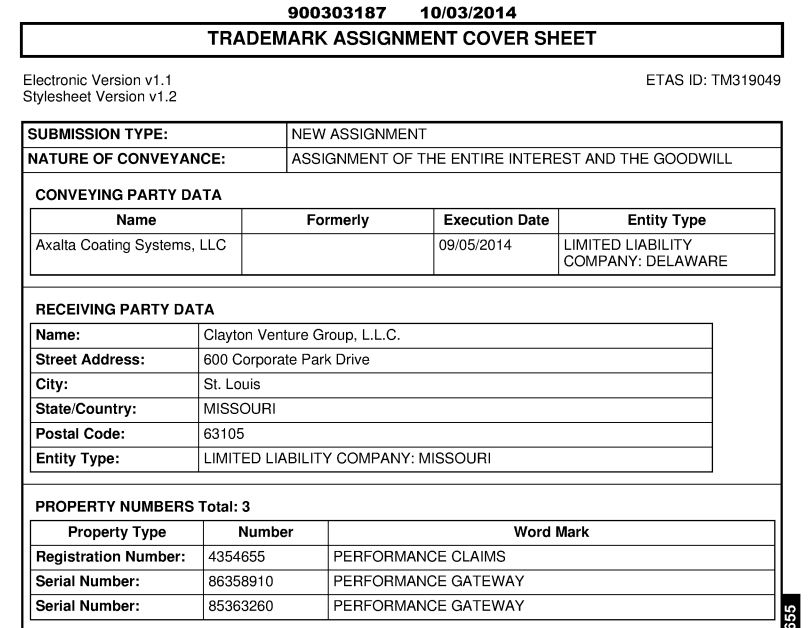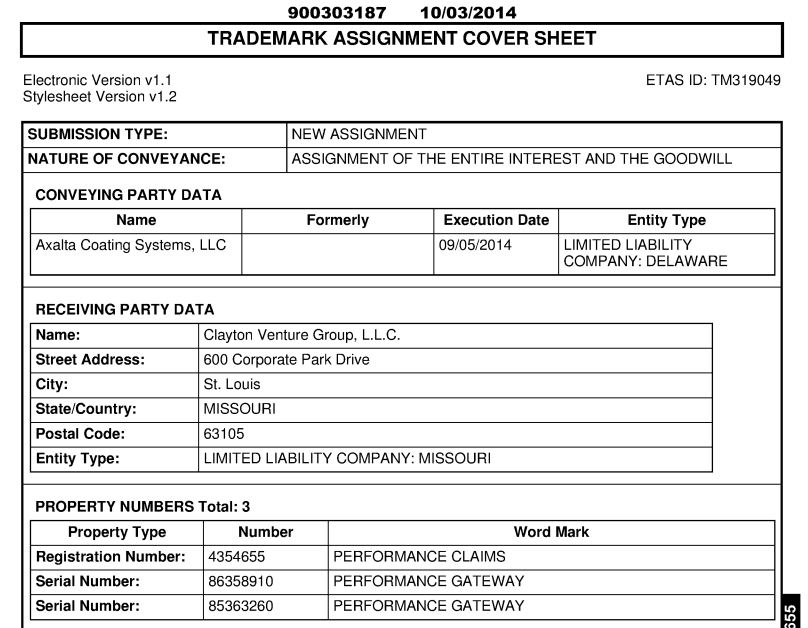 The deals
U.S. Patent Trademark Office documents note DuPont originally registered "Performance Gateway" and "Performance Claims" as trademarks in 2011-12. At the time, DuPont registered the marks as being protected under the category of refinishing software. (Trademarks must be filed separately for every type of good and service you want to brand. For example, "Service King" is trademarked for automotive paint and body repair, but "Service Kings" is trademarked for managing building cleaning and maintenance services. Neither is in conflict with the other.)
The Carlyle Group, which at that point still controlled a majority of Service King (Today, it's a minority owner.), created what we know today as Axalta with its Feb. 1, 2013, acquisition of DuPont Performance Coatings for more than $4.9 billion. That deal included the "Performance Gateway" and "Performance Claims" trademarks.
On Aug. 6, 2014, less than a month before Axalta apparently sold both brands to Enterprise Holdings, Axalta sought to register "Performance Gateway" also as a trademark for "Software-as-a-service (SAAS) services featuring performance management software for use in network management, vendor and employee feedback and training, vehicle rental, automotive insurance, automotive refinishing, and collision repair applications."
The trademark was officially granted this summer, though initially the PTO argued that "Performance Gateway" was too general a term before relenting.
About that same time, AudaExplore announced July 31, 2014, a "long-term strategic partnership" with Performance Gateway, with the first phase being AudaExplore customers' estimate data being integrated into the Performance Gateway Balanced Scorecard.
On Sept. 5, 2014, Enterprise Holdings appears to have closed on the sale of Performance Gateway, as PTO documents indicate all three trademarks transferred that day to Enterprise's Clayton Venture Group. Intriguingly, Axalta's first quarterly report ever notes the company earned $17.6 million by selling off assets from Jan. 1-Sept. 30, 2014, but of course, it's unknown how much of that, if any, was booked from the Performance Gateway deal.
Axalta became publicly traded Nov. 12, 2014.
Today
As mentioned above, none of the three companies met our request to discuss Performance Gateway's time under Enterprise Holdings or its future with its relatively new parent company.
However, Enterprise's job board indicates Performance Gateway is certainly hiring. There are seven open positions right now for the subsidiary, six directly related to programming and information technology work and one business analyst who will be overseeing such digital offerings.
In those job listings, Enterprise describes the company as "a web-based vendor providing services and software solutions to insurance companies, vehicle manufacturers, fleets and collision repair centers. Our mission is simple: to bring all stakeholders in the collision repair industry together in a way that benefits everyone. Our open, web-based software solutions are designed to enhance performance management with complete transparency, concise measurements, and seamless data integration. We believe in the power of key performance indicators to drive improvement."
Performance Gateway also is still providing rebate services through the General Motors-OEConnection Collision Link service, an OEConnection staffer confirmed Monday.
Unfortunately, we couldn't easily determine much else about 2015's Performance Gateway. Which is a shame, for given its past adoption by top MSOs and apparent value to major collision repair industry partners like Enterprise and AudaExplore, it's certainly a company to watch by collision repairers and insurers. Hopefully, it'll provide a little more of that "complete transparency" about itself soon.
Images
The Enterprise Holdings and Performance Gateway logos are shown. (Provided by Enterprise Holdings, Performance Gateway)
On Sept. 5, 2014, Enterprise Holdings appears to have closed on the sale of Performance Gateway, as PTO documents indicate all three trademarks transferred that day to Enterprise's Clayton Venture Group from Axalta. (Provided by Patent Trademark Office)
Share This: