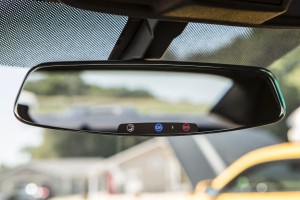 General Motors will let OnStar users opt-in to share driving data with insurance risk data provider Verisk Analytics, a move towards creating usage-based insurance standards in both industries.
Usage-based insurance was already a hot topic this year, and Consumer Reports turned up the temperature by reporting that credit scores and other socioeconomic factors were being used to calculate insurance rates — perhaps even more than driving records.
"Auto insurers have historically assessed risk using proxies such as age, marital status, and credit-based insurance scores," Verisk Insurance Solutions underwriting President Neil Spector said in a statement Wednesday. "However, the most accurate and fair measure of driver risk is how, where, and when policyholders drive. Many insurers have launched UBI programs using plug-in devices or smartphones to capture driving data. But the cost constraints and technology challenges of those data collection methods have limited the widespread adoption of UBI programs."
General Motors isn't being compensated by Verisk for helping to fill the auto insurance data exchange, according to Deana Alicea, GM connected customer experience spokeswoman. Rather, it's trying to spur "level playing field" standards in the automotive and insurance industries for a product its customers might want.
"The more people that are involved, the better it is for consumers," Alicea said.
Verisk said GM is the first OEM to join the program. Alicea said the program will only be available to OnStar subscribers ($19.99-$34.99 a month), as OnStar isn't active otherwise.
"We believe that the Verisk Telematics Data Exchange will bring incredible benefits to our customers," GM connected products and programs Director Greg Ross said in a statement. "The exchange will give customers a clear choice to seamlessly share their driving data with the insurance company of their choosing, and obtain financial benefits tied to good driving."
Usage-based adoption
Verisk has already created two usage-based insurance models and filed them with state regulators, and it plans to create more. Other insurers — both with and without telematics offerings — could also connect to the exchange for data about "consenting customers," the company said in a news release.
Some insurers, perhaps most notably Progressive, have already begun offering discounts based on "usage-based" driving data. Progressive's Snapshot even now cuts both ways in some states, raising rates for some bad drivers (though on the whole Progressive says Snapshot drivers have kept teaser rates or received even lower premiums).
Other insurance companies are now solely usage-based, such as Metromile.
GM customers' privacy
GM was already working with Progressive to give OnStar users a driving score based on factors such as night trips, sudden acceleration or hard braking, doing above 80 mph and trip duration, according to Alicea. The driver could then decide whether to share it with Progressive to see if a discount would be possible.
That's still being developed, Alicea said. However, that arrangement won't prevent GM customers who want to share data with Verisk to obtain usage-based insurance from a Progressive competitor, she said.
GM will be clear with customers about what data is being released under the new partnership, Alicea said. OnStar customers will have to opt-in to a separate terms of use beyond the standard OnStar terms before GM will share anything with Verisk.
"Our customers are first and foremost," she said.
She said the Verisk terms of use will be specific, and not include generic concepts which could be interpreted as permission for insurers or Verisk to collect anything you did with OnStar or your vehicle. 
"You know exactly what you're opting in to," she said.
GM will also still retain its general OnStar policy of keeping data private barring a subpoena, she said.
Connected cars seem to offer a very immediate means of steering customers to insurer direct repair networks or certified OEM shops; Mike Anderson of Collision Advice has already given a hypothetical example of how the latter could happen. Either of these could be problematic depending on your shop's perspective.
However, Alicea said GM's new partnership with the insurance industry won't signal the start of OnStar Accident Response changing the conversation with collision victims to push OEM or DRP networks.
Other considerations
Besides privacy and steering, the other long-term telematics question for collision repairs will be how customers react to their higher/lower rates under a usage-based model. (There's also the specter of hacking, but for the sake of this discussion, we'll stick to items insurers, automakers or customers can actually control.)
Will the proportion of drivers with collision and comprehensive coverage see a net increase or decrease — or stay much like today? The technology probably isn't common enough or refined enough for anyone to know, but it's something for repairers to also keep in the back of their mind as usage-based insurance develops.
More information:
"Verisk Insurance Solutions Announces GM as Inaugural Auto Manufacturer to Join Telematics Data Exchange"
Verisk, Sept. 2, 2015
"Usage-Based Insurance and Telematics"
National Association of Insurance Commissioners, April 24, 2015
Featured image: An OnStar-equipped rearview mirror is shown. (Provided by General Motors/© General Motors)
Share This: