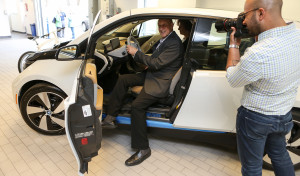 Though substrates like carbon fiber pose a greater painting challenge for OEMs, collision repairers shouldn't have too difficult a time refinishing new lightweight materials on body panels, a BASF expert said.
Mike Carroll, BASF refinish group new product introduction manager, discussed refinishing advanced auto bodies and new products for collision repair paint departments this week in an interview with Repairer Driven News.
Carroll said BASF has studied paint lightweighting, but "it kind of is what it is," particularly as certain monomers and polymers "are a given weight."
However, while the impetus remains on the auto body engineers to reduce mass, BASF and other paint OEMs are at least able to coat and refinish the materials they're using to do so without much difficulty.
Aluminum refinishing
Though aluminum panels on vehicles like the Ford F-150 do require extra care on the refinisher's part to avoid corrosion, it's not anything they wouldn't have experienced already for "many, many years" with luxury aluminum vehicles or mainstream aluminum hoods. (Read more on aluminum-steel corrosion here.)
"It really didn't change too much," he said. "… It's always keeping the aluminum and the steel separate."
The other big corrosion consideration: Move quickly and pretreat the aluminum after the surface has been readied for refinishing.
"There's a time factor there," Carroll said, because the exposed aluminum could start to oxidize within a couple of hours.
"Once I get the pre-treatment on … then it's covered," Carroll said. "… It's the same as the other substrates then."
Otherwise, you wind up with the typical excuse: "It's always the paint's fault," Carroll joked.
---
BASF at Repairer Driven Education
Those wanting to learn more from BASF should check out "Scheduling and Work in Progress (WIP)" with Tom Hoerner of BASF and the panel "Our Journey to Become a "Successful" Collision Center" hosted by Craig Seelinger of BASF. The presentations will be at this year's SEMA Show as part of the Society of Collision Repair Specialists' Repairer Driven Education series. Register here.
---
Carbon fiber refinishing
Carbon fiber coating can be more difficult, but it's more likely the OEM's problem than the repairer, according to Carroll.
While auto coatings typically adhere without issue to carbon fiber, the porosity of the substrate (which is really carbon fiber-reinforced resin) can make it difficult to produce a smooth paint job, he said. "Fish eyes" are very possible.
"Coating it the first time's the hard part," Carroll said.
But so long as the OEM already handled the initial coating on a replacement carbon fiber part, it should be a "piece of cake" for a refinishing technician to paint.
Otherwise, it could be fairly difficult for a body shop, though "it's not that it can't be done," Carroll said.
The solution usually involves spraying overreduced clearcoat on top to flow into the substrate's holes, then sanding it flush.
High-strength steel
As Carroll noted, most high-strength steels are internal. However, given the dent resistance of aluminum and the potential to cut weight, it doesn't seem unlikely that OEMs would consider higher-strength steel closures and panels.
Were that to happen, it'll be business as usual for refinishers even if it changes life for the body techs.
"It hasn't changed a thing," Carroll said.
Productivity assistance
Cycle times are a major concern in modern collision, and Carroll said BASF had taken some steps to cut curing, particular for smaller panel repairs, with products like the Glasurit Rapid Repair clears. He gave one example of being unable to "get down the side of a car because it's already starting to set up on me."
Carroll said the paint manufacturer also sought to give repairers the same option as automakers, in which primer became the first basecoat.
"We are working on that," he said.
BASF was also working on different colors of sealers and primers so "transparent" colors like a troublesome Honda red would take fewer applications to deliver the right finish.
He cited a Glasurit example in which a spot treated with L Shade groundcoat reached the proper OEM shade much more quickly than a spot simply receiving sanded primer.
The company also was planning a first-quarter enhancement to its 90 Line, he said.
Images:
The first U.S. BMW i3 went to Tufts University professor Charles Rabie on May 2, 2014. (Provided by BMW)
Glasurit 923-240 low-VOC Rapid Repair Clear is shown here. (Provided by BASF)
Share This: