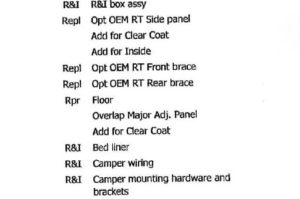 True Opt-OE components can be a way for OEMs to compete with aftermarket pricing without straying too far from the genuine, new OE part ideal.
Unfortunately, a body shop can't always be sure they're even getting the genuine Opt-OE ideal.
The different OEM programs can create confusion in the collision repair industry and leave the door open for a "grey market" of parts purporting to be "Opt-OE" but potentially far from the quality of an officially sanctioned OEM program.
Whether the supplier knows it or not (the confusion probably exists there as well), such so-called "Opt-OE" parts could in fact have been stolen, counterfeit or not intended for that region (as one repairer experienced).
To help clear up this confusion, the Society of Collision Repair Specialists earlier this year polled several major automakers about their Opt-OE programs and recently shared their email responses with Repairer Driven News.
Armed with this information, body shop employees will have a better chance of weeding out dubious Opt-OE sources and ensuring that the alternative part ordered truly has the OEM's blessing — if not always their warranty.
FCA (Fiat Chrysler)
FIA doesn't offer any officially sanctioned alternative FCA parts. So if anyone claims to have Opt-OE Fiat or Chrysler parts, be very wary.
"FCA (Mopar) is one of the few manufacturers that does not offer Alternative OEM parts," Mopar collision portfolio marketing manager Erica Schaefer wrote in an email to SCRS Executive Director Aaron Schulenburg. "So anything in the marketplace would not be coming from FCA directly."
Ford
Ford powertrain and collision product marketing manager Paul Massie wrote that Ford's Opt-OE parts are offered through the standalone, independent OE Reman Direct program.
Such parts are sold to "OERD" through authorized Ford affiliate Ford Component Sales, Massie wrote.
"FCS procures the parts from our manufacturing and return centers and sells them to OERD," Massie wrote. "OERD then has to hold some of these parts for 18-months before they can sell them.  Ideally, they find Ford and Lincoln dealers who purchase them and sell the as a better alternative to salvage."
Massie referred SCRS to William Bejin of OE Reman Direct, who further explained OERD's definitions and its parts' pedigree.
Refinished: Such parts were blemished when received by OE Reman. The company has "refinished them by etching the factory finish off and priming the cover with two coats of waterborn primer," Bejin wrote in an email.
Surplus: "Parts that we have received from Ford that have no blemishes and require no repair," Bejin wrote.
"All of our parts come directly from Ford assembly plants, tier 1 suppliers or other authorized Ford manufacturing facilities," Bejin continued. "All of our parts are manufactured from the Ford tools and meet all of Ford's quality specifications other than cosmetic standards.  These are not take offs nor have they been installed on any vehicle."
The parts themselves are kept in Monroe, Mich., and sold exclusively by participating Lincoln and Ford dealers.
"We send the dealers OE Reman inventory to CCC, Mitchell, Audatex, and a number of other smaller estimating systems and part search engines on behalf of the dealer," he wrote.
The parts have the Ford service number but include an "R" suffix for refinished parts and "REC" for surplus, according to Bejin. They'll show up on the information providers as "surplus," "reconditioned" or "Alt OE" depending on the service, he wrote, and he noted he hadn't seen an IP with a "refinished" definition.
"The nature of what we are doing is a hybrid between multiple definitions," he wrote.
General Motors
"GM Outlet Shop parts are excess or cosmetically imperfect Original Equipment (OE) parts," General Motors wrote about its Opt-OE program. "Outlet Shop parts may come from a GM assembly plant or directly from the part supplier.  They may be denoted as OE discount parts or Optional OE parts in estimating systems. GM Outlet Shop parts are dimensionally correct and functionally usable to the same extent as original equipment production parts."
GM Outlet Shop manager Daniel Schell also elaborated further on the program in emails to SCRS. Perhaps most notably, he wrote that the parts aren't warrantied and only are sold through the GM dealer network.
Also, the component part numbers include an alpha suffix and are designated "Outlet Shop."
Honda
Like FCA, Honda doesn't technically offer Opt-OE parts. However, "conquest" parts might be designated as Opt-OE in an estimating service, which complicates things.
"Honda does not have any 'blemish' parts or 'seconds' or anything of that nature," wrote Gary Ledoux, Honda assistant national manager, collision parts and service marketing. "We only have original equipment Honda / Acura Genuine parts.
"That said, I believe when these same parts are referred to on an estimate or repair order as coming through our 'conquest system', they are referred to as 'alt-OE' or 'Optional OE' or something of that nature but it is the exact same part.  The only thing different is how it is referenced in the estimating or billing systems."
So if the part advertised by a supplier as "Opt-OE" doesn't appear to be a conquest part, be wary.
"We do however know there are counterfeit parts out there and are doing all we can to identify the parts and their source, alert the proper authorities, and prosecute them," Ledoux added.
Hyundai
Hyundai has an OEM alternative parts program, Car Care Parts, Hyundai confirmed in November 2015. However, it only includes mechanical repair components (e.g. brake pads and rotors), not collision parts.
For the mechanical repairers who were wondering, the Car Care Parts components are created and distributed by Mobis and carry a unique part number with an "S" prefix. They're warrantied for 12 months or 12,000 miles.
Mercedes
"I've been trying to find out what Opt-OE is myself," a Mercedes-affiliated audience member said at the Collision Industry Conference on April 22, 2016. Mercedes doesn't have an Opt-OE or Surplus OE program, he said, so it was unclear what was being listed as such on the estimating platforms.
"We don't know what that is," he said.
Nissan/Infiniti
Nissan collision parts aftersales growth manager Mark Zoba confirmed in an email that the manufacturer does have an alternative OE program. However, it's "primarily focused on mechanical parts," though Opt-OE radiators are now offered for the "collision side of the business."
Nissan calls the parts Value Advantage, Zoba wrote, and the components are "OE engineered and source parts with second line suppliers." They are only distributed by dealers and have unique part numbers.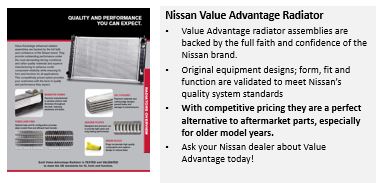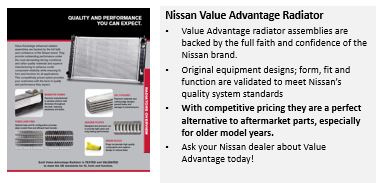 Opt-OE radiators are listed in CCC as Value Advantage, Zoba wrote (it's unclear if they're listed in AudaExplore or Mitchell) though "shops must go in and set Nissan up as an alternative supplier to gain visibility to these parts in the system."
Infiniti Opt-OE parts appear to be handled in the same fashion. In response to a query about whether Opt-OE parts on an Allstate estimate were sanctioned through an Infiniti program, Zoba stressed that official Opt-OE parts will only come from an Infiniti dealer.
"If they were not purchased from an Infiniti Retailer, then they are not guaranteed to be genuine parts," Zoba wrote. "Since we do not sell our parts outside the dealer network, these could very well be gray market or counterfeit in nature.  … Again, if the parts are not purchased through our retailers I cannot determine the authenticity of the parts.  This could be dangerous for the shop or insurance company involved."
Toyota
Citing answers from wholesale parts and collision manager Jeff Hilton, Toyota wrote in an email that it doesn't have any formal Opt-OE programs. Since it doesn't, be very wary if you see one advertised.
"There is definitely some confusion across the industry regarding the use of the term 'Opt-OE, and the types of parts it represents and where they come from," Toyota wrote.
"The'Opt-OE' parts category that is utilized in all three estimating systems commonly refers to parts supplied by OE surplus/grey market suppliers. Toyota does not have nor support such programs."
However, Toyota does offer remanufactured parts but only for "selected mechanical parts," not collision.
Toyota calls them "remanufactured," not Opt-OE, and they have both a warranty and a unique part number.
"These are remanufactured by their original supplier or a Toyota approved supplier to Toyota quality specifications," Toyota wrote. You can obtain them from "normal parts distribution channels," which means the official Toyota network of dealers and suppliers.
Other OEMs
SCRS and Repairer Driven News' queries focused on the nation's largest OEMs. But just because we didn't feature one here doesn't mean the manufacturer lacks an Opt-OE program.
However, we'd encourage repairers, suppliers and insurers to check with those OEMs before blindly buying a part listed as "Opt-OE." We'd also encourage checking with the OEMs here to see whether or not the parts are warrantied; as the GM example indicated, this might not always be the case.
We'd also encourage any other OEMs to contact us with similar details about what they do or don't offer in the Opt-OE space. Email info@repairerdrivennews.com.
Images:
True Opt-OE components can save customers money without straying too far from the genuine, new OE part ideal. Unfortunately, a body shop can't always be sure they're even getting the genuine Opt-OE ideal.
Nissan collision parts aftersales growth manager Mark Zoba confirmed in an email that the manufacturer does have an alternative OE program. However, it's "primarily focused on mechanical parts," though Opt-OE radiators are now offered for the "collision side of the business." (Provided by Nissan)
Share This: