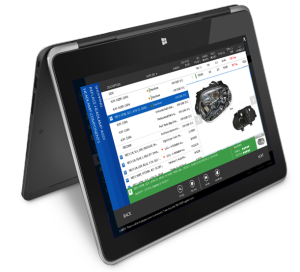 Rather than integrating entire systems into the estimating services, CCC is betting that signing up individual distributors will be the way to cut through the inefficient Gordian Knot of competing parts procurement systems.
On Tuesday, CCC announced live parts pricing already available for tablet users would come to the desktop version of CCC ONE. Most collision repairers use the desktop edition.
"Our objective with electronic parts ordering and the desktop shopping functionality is to provide repairers with smart, simple solutions for improving the parts management process," CCC market solutions Vice President Mark Fincher said in a statement Tuesday. "Because parts shopping is available in our mobile estimating solution and now on the desktop, the technology meets users where they are and how they want to work. We think this will help move vehicles through the shop more efficiently. For example, a repairer can write an estimate at the vehicle, save needed parts in the shopping cart for either the estimator or the parts manager to view, select and order from wherever they work – in the office or the shop floor."
The integration allows participating suppliers to adjust prices as often as they like let repairers writing desktop estimates to compare costs and inventory in real-time. Availability and prices will be displayed for OEM, recycled and aftermarket parts.
"It does it just like you're shopping on the Internet," CCC Parts Service Group Vice President David Boden said.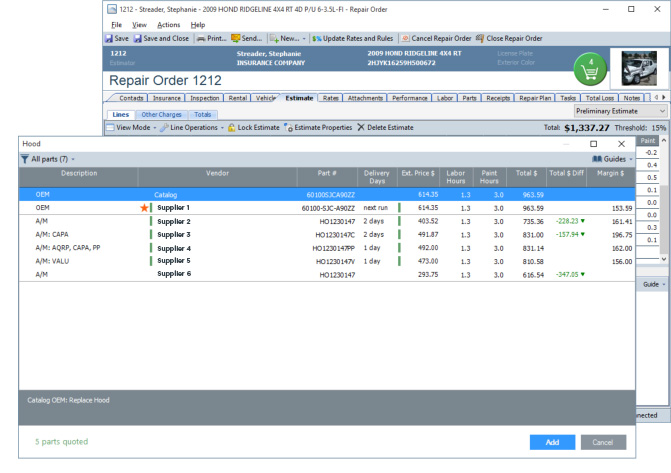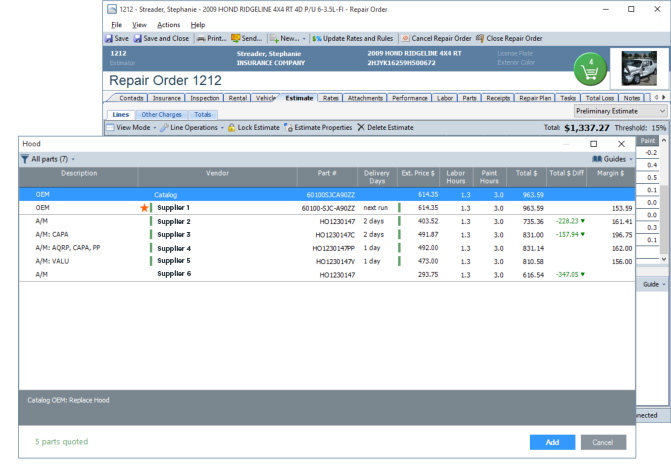 By getting their area suppliers to sign up for the program, shops can avoid having to leave the estimating process to go hunt down parts through the various systems.
"The shops don't want one more application, they want one application," he said.
However, Boden said CCC ONE's parts model won't be able to replace PartsTrader, which is mandated by State Farm for Select Service shops, as that program gives suppliers time to bid for the order.
Still, many insurers support CCC's plan, according to Boden. "Most of the carriers are customers of ours," he said.
Boden said CCC won't launch the OEM parts procurement for a region until it brings enough local dealerships on board to represent the different OEMs. The system is available nationwide, but only four markets currently have all supplier types.
"We try and build out a robust network in an area," he said. "… We're open to everybody."
Still, "it's a guideline, not a rule," Boden said, and CCC wouldn't necessarily delay a launch for a single OEM.
Aftermarket parts in real-time will be available nationwide, and recycled will be offered market-to-market, CCC spokeswoman Michelle Hellyar wrote in an email.
Hellyar wrote that dealerships can offer "conquest" pricing or any other amounts they want into the system. However, she wrote it hadn't experienced any OEM concerns with list price erosion.
He said the live pricing isn't too difficult to integrate into a dealer management system, and the transition can usually be done in 30-45 days.
"It's pretty turnkey," he said.
For dealers, the appeal is similar to that for body shops. "We're not giving him another website," Boden said.
In additional to a percentage of a dealer's sales made through the system — he wouldn't disclose the amount — Boden said there were one-time implementation costs for integrating the program with their DMS.
"I don't think any of our existing dealers are groaning about the cost they have to pay," Boden said.
The largest auto parts warehouse in the West, Portland, Ore.-based Tonkin Parts Center, praised the program in a statement Tuesday. Tonkin was among the first shop suppliers to use the system.
"The CCC parts shopping functionality is a winner because it's integrated into the product repairers already use, day-in and day-out," Tonkin senior manager Keith Burtram said. "Our live inventory appears on the screen as the estimator is working, so they don't need to disrupt their current workflow or learn a new tool to do business with us, they simply view and purchase our parts as they go. The shop can even see our invoices, by purchase order number, in the same system. We're already seeing how this solution will help us sell more parts and provide even better service."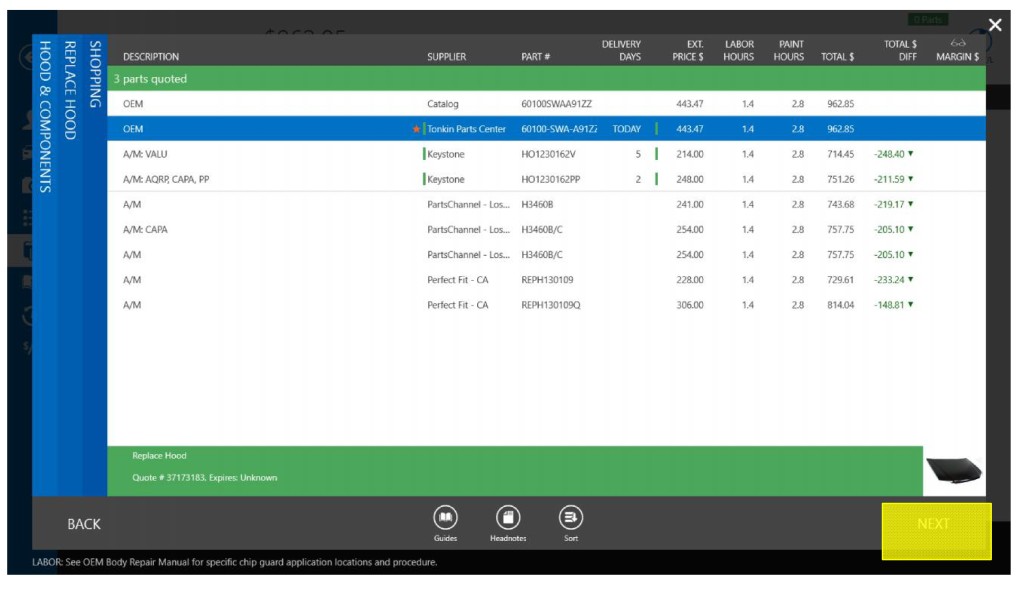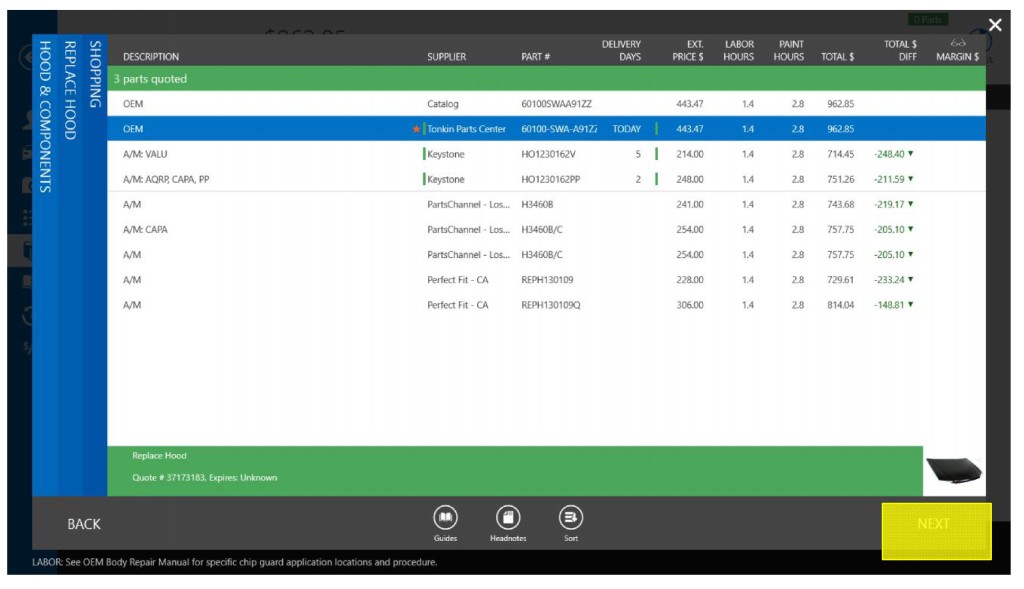 The invoice to the shop comes through CCC, which means no more reconciling supplier prices with an estimate.
"We pretty much automated that," Boden said. "… That's a big benefit, we think, to the shop." He said CCC liked to think of it as "eliminating the worst hour of their day."
Shops also get a message when the parts have shipped, "which is good information," he said.
"The new shopping cart is awesome," early user Rusty Gardner, parts manager for Tahlequah, Okla.-based Port City Body Shop, said in a statement. "Parts that I need are added to the cart as I write the estimate. Once I select the parts I want I'm able to order them all at one time, which literally saves me hours."
In another statement, he called the electronic invoicing "another huge time saver."
"Invoices enter the system with all the necessary information pre-populated," he continued. "I simply review them for accuracy and post the invoice."
The other beauty of the system is that a part can be ordered after hours — about 15 percent of CCC orders are surprisingly done outside of the business day, according to Boden — and a vendor will know about it first thing the next day through a DMS notification.
"You don't have to wait for someone to respond," he said.
Correction: An earlier version of this article incorrectly described the availability of the CCC parts program. The system is available nationwide, but only four markets have all supplier types.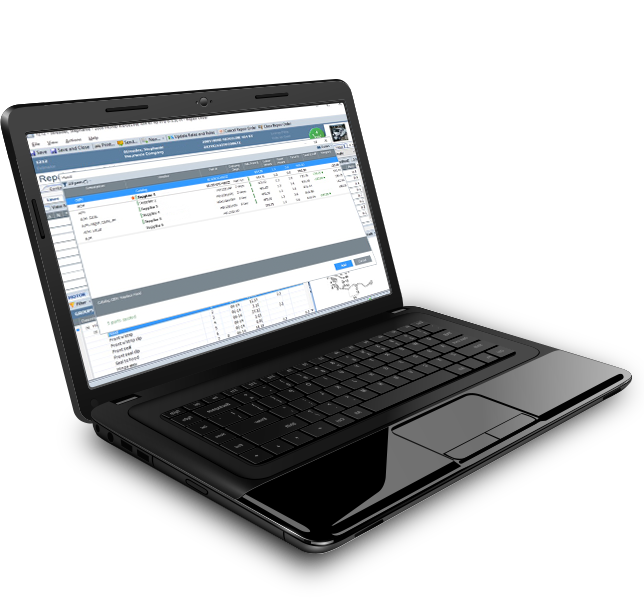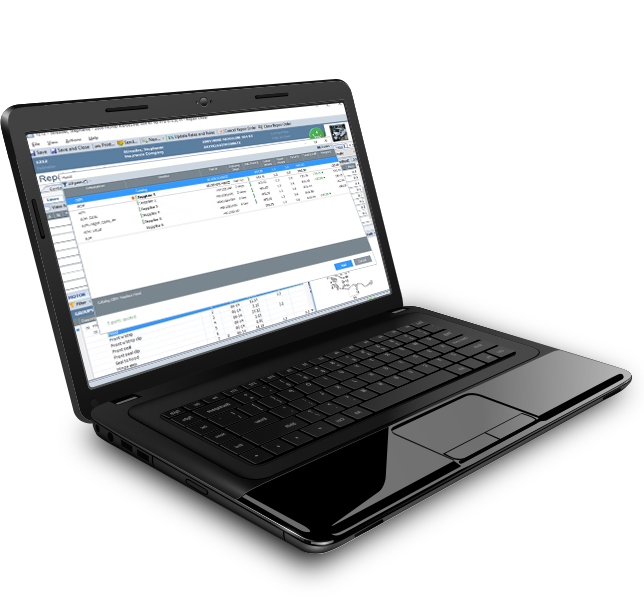 More information:
"Parts Shopping Comes to the CCC ONE® Repair Workflow Desktop Solution"
CCC, Oct. 20, 2015
Featured image: On Tuesday, CCC announced live parts pricing already available for tablet users would come to the desktop version of CCC ONE. Most collision repairers use the desktop edition. (Provided by CCC)
Share This: