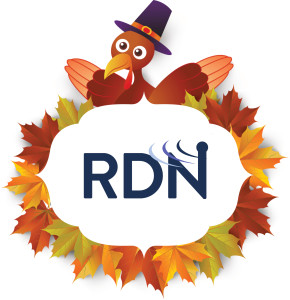 Happy Thanksgiving! Here's some RDN highlights while the turkey cooks
By on
Announcements
Happy Thanksgiving!
We'd like to express our thanks for all of you readers, sources, tipsters, businesses, associations and conference organizers whose support has helped Repairer Driven News reach its first Thanksgiving. We're very grateful to you all.
Hope you have a wonderful and safe holiday. If you need something to read during the football game ads, waiting for the turkey to cook (another example of touch time-cycle time disparity) or standing in line Black Friday, here's some of our recent highlights. It's like the Macy's Parade, but with megapascals, SEMA and legislation:
Technology
APU: Few instances of mislabled Opt-OE; auto body shops, insurers should report offending suppliers
'We gotta quit relying on the dashboard light': Why scans are more important than ever for collision repair
Honda elaborates on replacing 2016 Civic's 1,500 MPa ultra-high-strength-steel rear frame rails
With new technology in cars, calibration becomes vital with changes
Honda releases repair overview for 2016 Civic: An 'F-150 moment' for steel cars?
Why OEMs keep making you buy new rivet guns
Insurance
Report: One State Farm 'market area' pegged to large Census metro area
Liberty Mutual, Safeco DRPs to combine under one team; move follows recent DRP cost-cutting actions
Allstate likely to maintain higher rates, tougher claims handling to hit target profit margin
Business practices
Byers out as CARSTAR CEO; former longtime Allstate claims staffer Young gets top job
SEMA audience members share insight, issues on getting reimbursed for necessary auto scans
Honda asks mechanics, auto body shops to help tell customers about recalled airbag inflators
Legal
Sponsor of Pa. photo auto damage appraisal bill calls hearing unnecessary
Wisc. auto body shop choice bill took over a decade, required compromise, constituents raising issue
Tough insurance changes for drivers, auto body shops could come in Mass.
Hyundai, Rydell Chevrolet settle 'Genuine OEM Parts' case
Images:
Happy Thanksgiving from all of us and all of our clip-art. (Pacharada17/iStock/Thinkstock)
Share This: